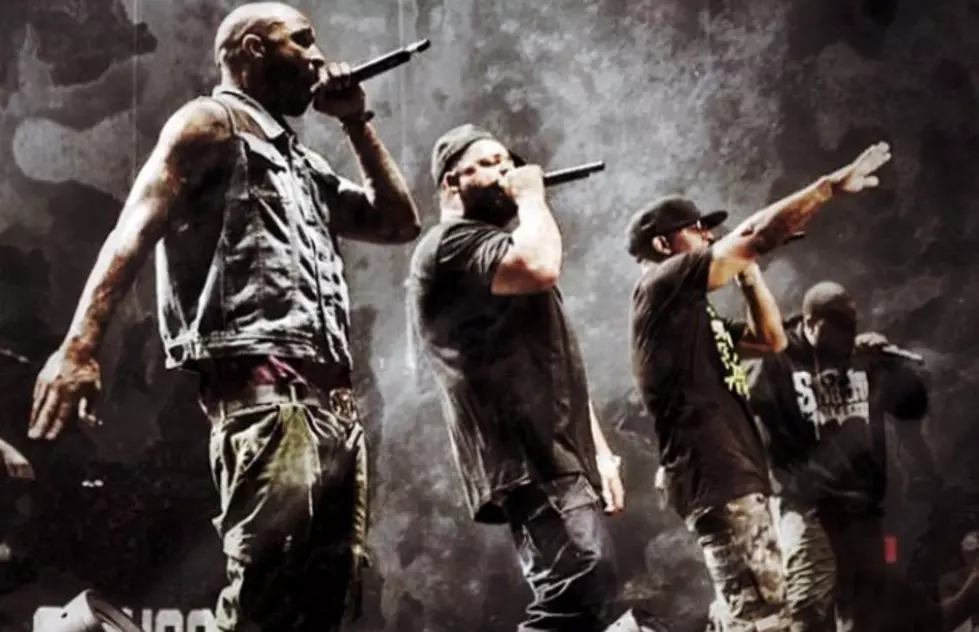 Slaughterhouse Takes Over Highline Ballroom
Slaughterhouse tearing down the stage.
Last night (July 16th), Hip Hop's most formidable supergroup, Slaughterhouse, took over the Highline Ballroom in downtown NYC.
The feeling of anticipation in the air was palpable, as the Slaughterhouse fans waited for the supergroup to arrive. Producer Illmind (who plays a role on the upcoming Slaughterhouse album) kept the crowd going, playing beats and helping throw Slaughterhouse's "House Gang" T-shirts out to the fans. By the time 9:45 rolled around, the venue was packed with loud, anxious Slaughterhouse fans draped in white "House Gang" tees.
If the crowd was unhappy with being kept waiting, all was certainly forgiven in a matter of minutes. The crowd burst into pandemonium as, one by one, each Slaughterhouse member took the stage, backed by his very own signature theme music. Once all four members of Slaughterhouse took the stage, they wasted no time in giving their fans exactly what they came for. First, they performed "Microphone" and "Frat House," fan favorites from their albums Slaughterhouse and Welcome to: Our House, respectively. Joe Budden brought out a frequent collaborator, Emanny (an R&B singer featured on many of Joe Budden's projects, including the Mood Muzik series) for the song "Who I Am."
The next two songs undoubtedly had many fans bracing themselves for a surprise appearance—one that would have brought the entire Highline Ballroom to the ground. Unfortunately, Eminem was not present to join Slaughterhouse for "Asylum," and Royce Da 5'9" drove solo on "Fast Lane." This, however, did not take away from the crowd's enjoyment of the show. All four MCs thrilled the fans with their dazzling lyricism, and drew laughs from the crowd by throwing verbal jabs at each other (and at members of the audience) during breaks in their performance.
One highlight of the evening featured Crooked I grabbing the microphone and delivering an impassioned, powerful barrage of bars dedicated to the untimely deaths of Trayvon Martin and Jordan Davis, and to the current state of America. Another Highlight of the evening came as Joe Budden delivered his verse from Slaughterhouse's "Truth or Truth Part 1." As he neared the end of his verse, he stopped rapping, and let the crowd of die-hard Slaughterhouse fans finish his verse for him. His fans did not disappoint.
Before closing out the show in grand fashion with "Hammer Time," Joe Budden promised the crowd that they could expect something special from Slaughterhouse's third studio album. The album has not yet been given a release date—once again, Slaughterhouse fans will be waiting in excited anticipation.—Chisom Uzosike