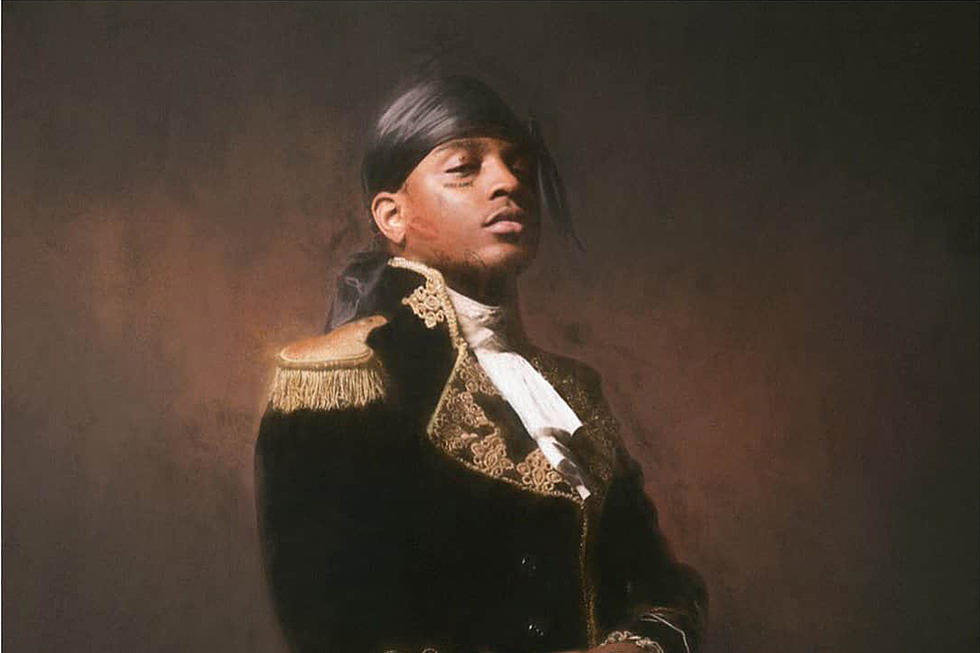 Ski Mask The Slump God's 'Stokeley' Album: 20 of the Best Lyrics
Republic Records
Ski Mask The Slump God has built a devoted, cult-like following with his music and unbridled personality. Looking to take his career to the next level, the Fort Lauderdale, Fla. native unleashes his highly anticipated debut album, Stokeley, a project packed with the quirky flows and subject matter that have made the 2018 XXL Freshman a favorite among fans.
Initially gaining traction after posting his music on SoundCloud, Ski Mask the Slump God proved to be one of a handful of artists able to transcend the streaming platform, with the rapper inking a deal with Republic Records in 2017. In the time since, Ski Mask has released two mixtapes: 2017's YouWillRegret, as well as his last offering, Beware the Book of Eli, both of which charted on the Billboard 200, a testament to the rapper's star potential.
This upward trend of Ski Mask The Slump God's stock should continue with Stokeley, an album that includes appearances from Juice Wrld, Lil Baby, Lil Yachty and vocalist Austin Lam. Production on Stokeley is handled by an array of producers, including ChaseTheMoney, CuBeatz, Kenny Beats, Ronny J, WondaGurl and others.
With Ski Mask The Slump God's latest collection making its rounds, XXL breaks down Stokeley bar for bar to pick out the best lyrics on the album.
"Nuketown"

Ski Mask The Slump God Featuring Juice Wrld

"Like a tongue, bitch, I'm looking like a lick, uh-uh/Think I'm Thanos, rock diamond my fist, uh-uh/Entertainment with your bitch at night like Nick/Drake and Josh how we team your bitch, uh-uh/Michael Jackson, one glove, I hit, uh-huh/Crying in the club with my stick, uh-huh/Icky Vicky spit, how I got slimes on deck/Metal on me like they just flicked Bic" —Ski Mask the Slump God

"Nuketown"

Ski Mask The Slump God Featuring Juice Wrld

"Rich like a White bitch, I should go blonde, bitch/I put my dick up in your mom, bitch, you ain't on shit dot-com, bitch/Desert Eagle, take his head off, make it fly like a comet/Glizzy crank your ass like Soulja Boy, screamin', 'Yah, bitch'" —Juice Wrld

"Foot Fungus

Ski Mask The Slump God

"Three bitches three different colors, Powerpuff Girls, sir/What's the word?/She gotta go through him just to get to me, yes I'm the middleman/Pokin' a bitch, she chokin' a bitch, she blowin' like a ceilin' fan/Mustard color on that bitch remind me of jacket on the Killa Cam/Ma'am I'm makin' green eggs and ham, bitch you know I am" —Ski Mask the Slump God

"Foot Fungus

Ski Mask The Slump God

"Skrrrt, uh, uh, drop it on my cock/Skrrrt, I'ma h-hot nigga, no pot/Skrrrt, niggas still gettin' buns, hot dogs/Skrrrt, niggas not fuckin' with ya, coleslaw" —Ski Mask the Slump God

"LA LA'

Ski Mask The Slump God

"I'm a god but I'm still praising God, too/Know a nigga know dogs, sell dog food/Know my game on point, no harpoon/Know a nigga said I'm fry, so I told 'em get fist/'Cause these niggas too old, too broke too/Cut em' off my frequency, no Pro Tools/Blue cheese and blue jeans and you know they're Balmains, so they come with the wrinkles like a Pug do" —Ski Mask the Slump God

"Unbothered"

Ski Mask The Slump God

"Caution, you might need emergency kit/Coffin, anything I fuck with, R.I.P./Feeling like a tongue, 'cause I'm moving like a lick/$1,000 shoes, same color Pickle Rick/Yohji Yamamoto, diamonds like sudoku/Runnin' round the city in a toga eating noodles/Think I'm a star, chillin' near Pluto/Huh, huh, yeah, you knew though" —Ski Mask the Slump God

"Unbothered"

Ski Mask The Slump God

"Order same color as pennies/Spank that bitch like I'm her nanny/Pack up on a nigga like a fanny/I'm in a Phantom like my name is Danny/VLONE/Cost a nigga green like Cee-Lo/I pop up with the pistol like a cheat code/And that bitch bust it like a freak ho" —Ski Mask the Slump God

"Save Me, Pt. 2"

Ski Mask The Slump God Featuring Austin Lam

"Sons, daughters, wives, lives all lost in the name that love that died/Mary Jane replacement for any bitch that kill my vibe/I'm hot as fuck like cast a spell/The village people couldn't even burn me alive/Bad habits, live fast, die young, fully aware of the power inside" —Ski Mask the Slump God

"Adults Swim"

Ski Mask The Slump God

"I am appalled by the battles I fight/I let them all think a nigga too nice/Like when a nigga say his dog don't bite/Yeah, uh, I shake shit like a lime in a coconut/Smoking dark green weed, my bitch call it ogre nut/Forbidden fruit in my diet, get your wisdom up" —Ski Mask the Slump God

"Adults Swim"

Ski Mask The Slump God

"You is a square like in a Rubik's/All on my dick like the hair on my pubic/She said, she ready, look at her stupid/'Cause she got a diaper booty like Cupid/Wonder how I move, liquid, let's do it/Money how I talk, bitch, I speak fluent/Smokin' on stank, you smell like a sewer/How was you feeling, vro? Bitch, like the Four" —Ski Mask the Slump God

"Far Gone"

Ski Mask The Slump God Featuring Lil Baby

"Um so to say, Transformer, I'm Bumblebee/Wish I really was Decepticon, but I don't got no evil in me/Can't comprehend what you say, that girl always on her knees/So like an episode of SpongeBob, that bitch be like no way" —Ski Mask the Slump God

"Far Gone"

Ski Mask The Slump God Featuring Lil Baby

"This ain't Lil Zane, I got hits for days, every time they play, they press repeat/We tote sticks for real, not for Instagram, when the pressure on we gon' eat/I gotta stick to the code/I can't switch it up too much, I'm a goat/These boys for real, I ain't sellin' my soul/I pop a Addy and hop in the Ghost and pour me a four" —Lil Baby

"Get Geeked"

Ski Mask The Slump God

"These niggas moving funny like they in stilettos/Tell 'em leggo like I'm talkin' 'bout the Eggo/My B, for your B/'Cause I can turn your B into who I see/It's striking, the lightning/'Cause I be icy like a cup of Hi-C/Exciting, I'm frightening/I'm on they ass like a fuckin' bike seat" —Ski Mask the Slump God

"Reborn to Rebel"

Ski Mask The Slump God

"Like Allstate, you're in good hands with me though/Taking our children, they got us searchin' like for Nemo/I won't take no shit from the government/They been had plans for this, wasn't suddenly/And any time I can, I take the system's hand and crumble it/Whenever you can make a difference, yell it out, don't mumble it" —Ski Mask the Slump God

"Reborn to Rebel"

Ski Mask The Slump God

"Yes, this is a new pea coat/And I paid my taxes
I Carmelo at the free throw/On they ass like grass, I may seem flyer than a seagull/Harry Potter glasses, cleanin' Stanley Steamer steam hoe" —Ski Mask the Slump God

"Reborn to Rebel"

Ski Mask The Slump God

"Call me Ski, no snow slope/Humanity sucks, humanity blows, no cello/No hablo Español, but dinero/Drop my top, JFK, leggo/They wanna link and try to build, Legos" —Ski Mask the Slump God

"Faucet Failure"

Ski Mask The Slump God

"Let's make a deal, Rumpelstiltskin/She wanna see my purple pickle up in the wind/Chancletas off, bitch get in/And if your nigga don't like me, hit chinny-chin-chin/Bitch, I'm hotter than a pepper, no mint/Big stepper, no stilts, big tint, uh/1K, bought my bitch a new kilt/New skirt, I skrrt, big drift" —Ski Mask the Slump God

"Faucet Failure"

Ski Mask The Slump God

"I am faucet failure, my nigga, I got drip, uh/Ashin' on your bitch, this is that Pokémon trainer shit, uh/Who's this? He should be in cockpit, uh/'Cause I'm flyer than a fuckin' ostrich, uh/On my wood, that bitch won't give me polish, uh/I might put my foot up in his socket" —Ski Mask the Slump God

"U And I"

Ski Mask The Slump God

"Don't need no more hardships, already lost my bro/I might've broke my wrist flexing on these hoes/Tell me how you feel/We gon' climb this hill together like we Jack and Jill/Don't let the clout and the message shit mix with the real/Mixing our love with some drugs/But you're my favorite pill, for real" —Ski Mask the Slump God

"Cat Piss"

Ski Mask The Slump God Featuring Lil Yachty

"In the back of my Bentley, never needed sympathy/All this gold I own, I could build a chimney/Dissin' online, I do not have the energy/Drop my top, I'ma roll like the Kennedys/Sippin' on shit, let it stick to the kidneys" —Lil Yachty