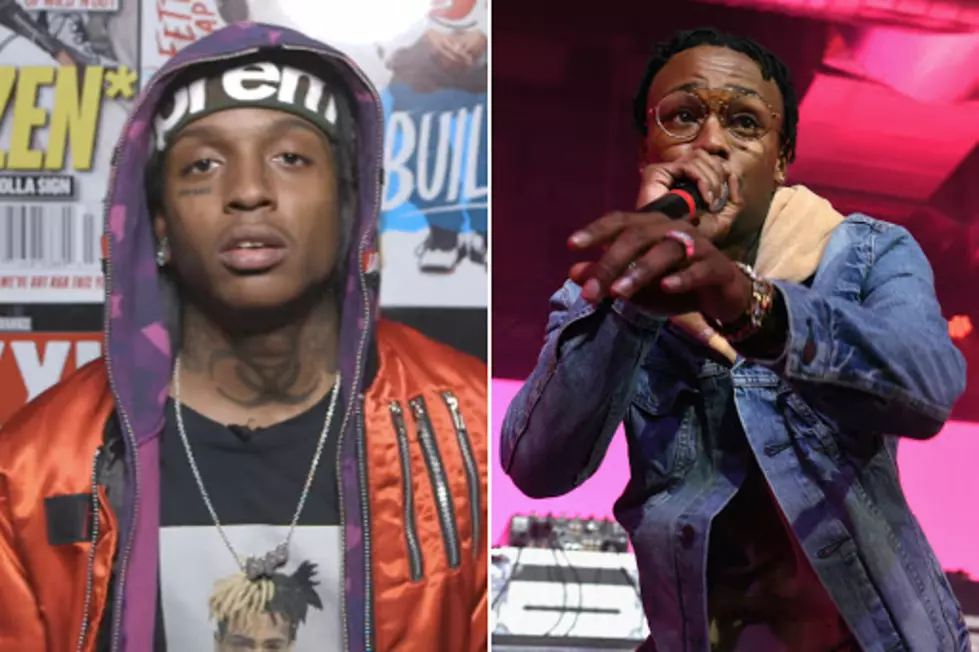 Ski Mask The Slump God Gets Escorted Off Stage as Rob Stone Performs at San Diego Show
XXL/Amy E. Price, Getty Images
Desiigner's Outlet tour is off to a rough start. Ski Mask The Slump God, who is one of the openers on the tour, was removed from the stage during Sunday's (April 9) show at The Observatory in San Diego.
According to a fan who was at the event, Ski Mask initially tried out and tried grabbing a mic. The rising star was not given a mic while Rob Stone hit the stage to begin his own set. Ski Mask became frustrated with the situation and stood still in the middle of stage. That did not go over well as the "Snomed" rapper was escorted away by some unidentified men. You can see the footage below.
Ski Mask's removal upset XXXTENTACION, who saw video of the incident on social media and let the world know he wasn't happy with what went down.
"Let them know whoever the fuck that is getting fucked in they mouth when I go on tour for putting their peasant hands on my brother," X tweeted.
The incendiary tweet did not sit well with Stone. The "Chill Bill" MC sent out a warning to X and Ski Mask.
"I'm not Drake nigga @xxxtentacion," he wrote. "Don't come around here with that bullshit @THESLUMPGOD @xxxtentacion."
Ski Mask fired back at Stone on Twitter, saying, "@youngrobstone is there a problem though cause you see how your 'team' tried me we can tell the fans all the details nigga."
Ski later returned to the stage to perform songs like "Take A Step Back," but the issue between him and Stone could make for some tense weeks on tour. Check out the remaining dates below. XXL has reached out to both of their teams for comment.
April 10 – Los Angeles, Calif. – The Fonda Theatre
April 11 – Santa Ana, Calif. – The Observatory
April 13 – Englewood, Colo. – Gothic Theatre
April 16 – Dallas, Texas – South Side Music Hall
April 17 – Tulsa, Okla. – Cain's Ballroom
April 18 – Austin, Texas – Mohawk
April 19 – Houston, Texas – Warehouse Live
April 21 – New Orleans, La. – Republic NOLA
April 24 – Orlando, Fla. – Venue 578
April 25 – Atlanta, Ga. – Center Stage Theatre
April 27 – Fort Lauderdale, Fla. – Culture Room
May 1 – Detroit, Mich. – The Majestic
May 2 – Chicago, Ill. – The Vic Theatre
May 3 – Milwaukee, Wisc. – The Rave
May 9 – Cambridge, Mass. – The Sinclair
May 10 – Norfolk, Va. – The NorVa
May 11 – Washington, D.C. – 9:30 Club
May 12 – Philadelphia, Pa. – Trocadero Theatre
May 15 – New York, N.Y. – PlayStation Theater
May 16 – Toronto, Ontario – The Phoenix Concert Theatre
Fans Name Rappers They Think Will Blow Up This Year