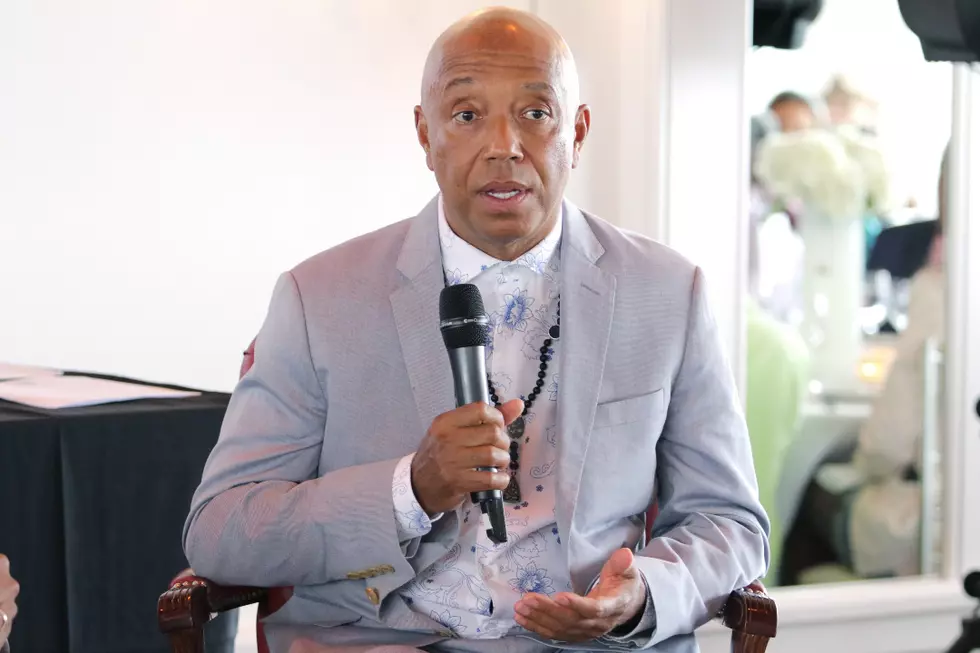 Russell Simmons Faces New Rape Accusation From Former Def Jam Assistant
Jerritt Clark, Getty Images
Russell Simmons has now been accused by 17 women of sexual misconduct. This time, a former Def Jam assistant who is now an author and domestic violence awareness activist, says Simmons raped her during her sleep in 1994, according to a June 28 article by The Hollywood Reporter.
Sil Lai Abrams says she met Simmons in 1989 while working as a hostess at a nightclub in New York, and they later began an intermittent consensual sexual relationship. After working as an executive assistant at Def Jam Recordings in 1992, Abrams briefly moved to Florida with her infant son, but moved back to New York in 1994.
That year, while staying with a friend, she made plans to reunite with Simmons and spend an afternoon and evening together. Abrams, 24 at the time, says she told the Def Jam co-founder that she was seeing someone else, and that the physical aspect of their relationship was over. Simmons allegedly said he would respect that.
The two party-hopped that night and Abrams drank heavily, she says, while Simmons stuck to sparkling water. Around 3 a.m., she asked Simmons to order her a ride home, but instead he took her to his penthouse, where she passed out fully clothed on a bed. While drifting in and out of sleep, she says, Simmons approached, naked except for a condom, flipped her onto her stomach, pulled down her shorts and raped her, against her repeated protests. Simmons then told Abrams to spend the rest of the night back at her friend's place, where she woke up.
Abrams attempted suicide the following morning and checked into the Bellevue Hospital emergency room with the help of her host's then-husband Emmanuel, whom she told about the rape. While at the hospital, Emmanuel says he called Simmons, whom he had met, to ask for help with medical fees. Informed that the hospital visit cost thousands of dollars, Simmons responded, "That's a lot of money for one night," according to Emmanuel.
Abrams was moved to a St. Vincent's psychiatric ward, where she received visits from two friends, whom she also told about the rape, they told The Hollywood Reporter. Abrams still has a 1994 receipt from the hospital totaling $3,463.
Simmons apologized to Abrams for the incident in 1998, she says. They saw each other at Moomba nightclub in New York, where Simmons was allegedly hanging out with Donald Trump. According to Abrams, Simmons approached her outside the women's restroom and said, "I'm sorry about what I did. I'm a different person now."
Simmons summarily denied the allegations. He is being represented by attorney Patricia Glaser, who also represented Charlie Walk, the former president of Republic Records, after sexual misconduct allegations were levied against him. XXL has been issued a statement attributable to Patricia Glaser.
"The Hollywood Reporter published an article despite material facts and witness statements shared with them that contradict Ms. Abrams' account, all of which were omitted from the story," it reads. "These documents include a declaration, sworn under oath, by someone who spoke with Ms. Abrams the day after her sexual encounter with Mr. Simmons and described it as consensual. Ms. Abrams' account of the evening in her own book also contradicts multiple accusations printed by The Hollywood Reporter. After reporting on Ms. Abrams' account for nearly a year, including the examination of all the facts, MSNBC and New York magazine declined to pursue the story.  NBC said its news department had enlisted seasoned investigative journalists to assist Reid and that certain aspects of the story did not meet its standards.  It's disappointing, to say the least, that THR didn't adhere to the same standards."
In addition to the 1994 incident, Abrams also details her account of an alleged sexual assault by former 106 & Park host A.C. Calloway in 2006. The Hollywood Reporter outlines both allegations, as well as the failed months-long effort by Joy Reid to publish the report in New York Magazine and on MSNBC. The full story is worth a read, as is an op-ed published by Abrams about the particular challenges faced by Black women alleging sexual misconduct.
A statement given to XXL attributed to Joy Reid explains further the process of corroborating Abrams claims and why it ultimately was not reported on by MSNBC. "After roughly three months, our team at MSNBC was far along in our reporting on the allegations against one of the accused men, but unable to confirm significant aspects of the claims related to the second man," her statement reads. "This meant that we could not report on either man. The process was clearly frustrating for Sil Lai, particularly once other women publicly accused one of the men. Investigative reports like these take time, and not surprisingly, sometimes journalists get frustrated as well. I inappropriately shared that frustration privately with Sil Lai. I completely respect MSNBC's standards and practices. Meticulous research to get the facts right was the only option, especially given the seriousness of the allegations."
An additional quote from MSNBC reads, ""When MSNBC pursues any investigative story our mission is always to be as thorough as we can, to scrutinize sources and corroborate information before we report. Anything else falls short of our journalistic standards."
Abrams is the 17th woman to accuse the hip-hop mogul of rape or assault. This includes former Def Jam executive Drew Dixon, who told The New York Times in December that she dealt with Simmons' "prolonged and aggressive sexual harassment," including him regularly exposing his erect penis to her and asking her to sit in his lap during meetings.
See 10 Times Rappers Went at Fox News