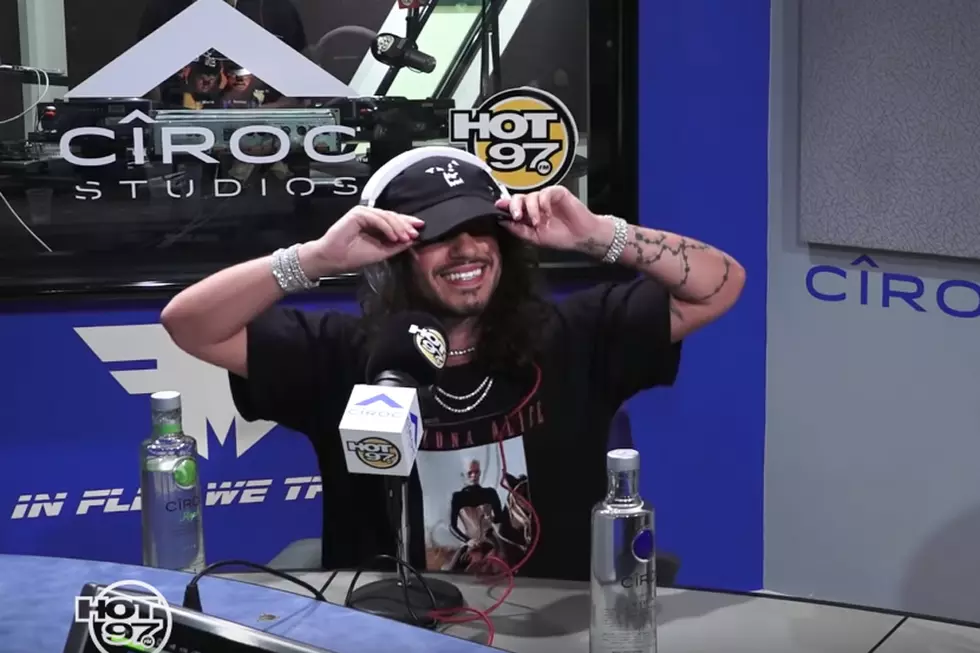 Russ Freestyle: Watch Him Go in Over 50 Cent and Mobb Deep's "Outta Control (Remix)"
HOT 97 via YouTube
The art of the freestyle will always have a place in hip-hop. This time around, it's Russ, making a stop at legendary Hot 97 DJ Funk Flex's show for a little lyrical exercise. Flex chose the beat from 50 Cent and Mobb Deep's "Outta Control (Remix)" for Russ to flow over, and he showed out.
Before he starts rapping, Flex acknowledges that Russ has New Jersey origins, even though he came of age in Atlanta. Russ then wastes no time, getting to work quickly. "Floor to ceiling glass doors, seven-figure tax forms/Country hopper, my haters wish they had my passport," he raps. He's also living pretty good, enjoying the spoils from what has been a successful rap career. "Flipping plans to the profit, I'm not a man I'm a prophet/I take my fam to the tropics and watch us land from the cockpit."
It's well-known that Russ is the recipient of a lot of vitriol from other rappers, so he took the time to address that here. "Can't even tell y'all apart, lil who? Young what?/Another dick-riding clout chaser screaming 'fuck Russ.'" Let's see what comes of this.
Check out Russ' freestyle below.
See 12 Rappers Who Have 10 or More Solo Albums in Their Catalog