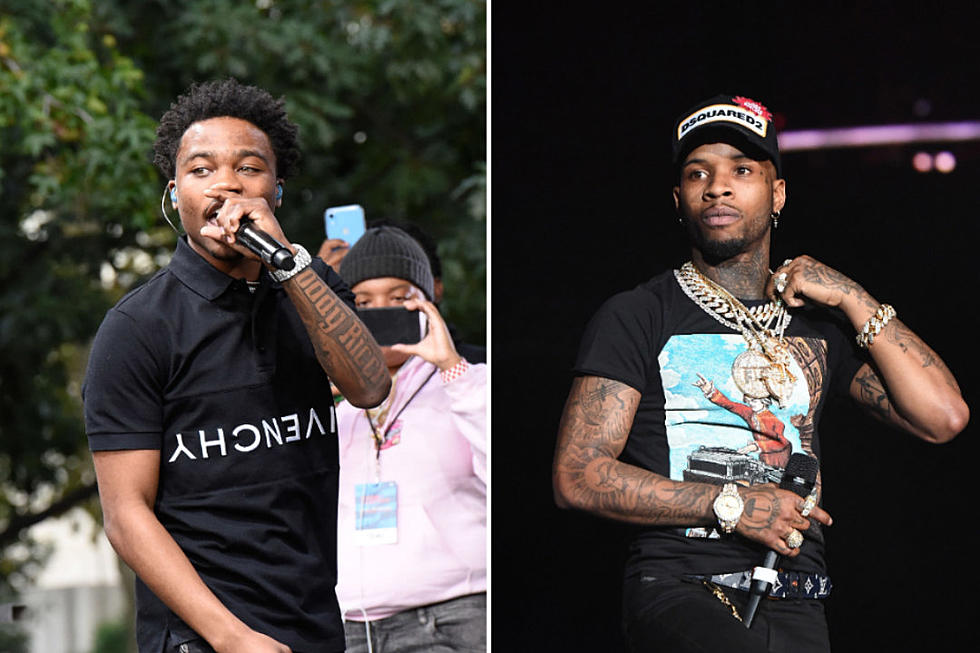 Roddy Ricch Calls Out Tory Lanez for Biting His Song, Tory Responds
Arik McArthur / Paras Griffin, Getty Images (2)
Roddy Ricch has accused Tory Lanez of biting one of his songs and the Canadian rap-crooner has responded.
On Friday (Sept. 27), Tory released the new track "Watch for Your Soul." On the single, he uses a beat similar to Roddy's "Die Young" song, and also touches on feeling the pain of lost loved ones.
When Roddy got wind of Tory's new track, the Compton, Calif. rhymer accused him of stealing his vibes. "You can't bite no harder than this. I thought you was better than this," Roddy wrote in a since-deleted comment.
Tory responded to the 2019 XXL Freshman by explaining himself. "@roddyricch I wrote this verse about my DEAD HOMIE ... I used your beat because I loved your version and wanted to tell my own story about my dog that got killed," he commented. "I didn't use anything of yours but a Beat (Millions of niggas go on other beats everyday ) .. but I'll tell u what we are better than ... we are better than going on social media talking crazy ,tryna get clout , when u have my phone number and can call me as a man I don't want to continue this here . If u need to holla at me . U got my number."
In a follow-up post, Tory further reiterated his reasoning for using the track.
"I made this song about my dead homie ... Idgaf what y'all niggas is talking bout right now," he posted. "It really means nothing .. I went on @roddyricch beat cuz I got luv for his music . And his song . I even did certain things in the song to pay tribute/homage to his song and show love .. not for y'all to tell me Im biting someone who ain't been in the game making PLATINUM records with THIS style for even half the time I have .... One thing I want y'all to stop doing tho . Is acting as if my voice ain't been the same for the last 9 years .. and that I don't play a part in a lot of these new niggas sounds and styles . First time I met him he told me I inspired him . Y'all niggas can be funny man . But fuck it ... let's just enjoy the music ... ‍♂️‍♂️"
It is unclear if the two rappers talked out their differences behind-the-scenes.
See Photos of Every XXL Freshman Ever Inducted Into the Freshman Class Over the Years