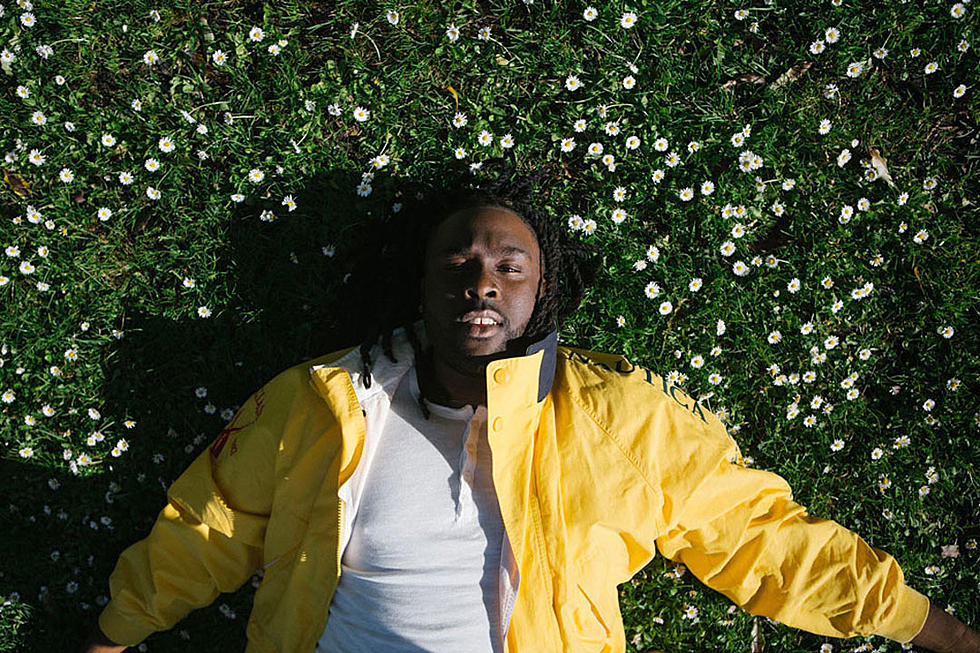 The Break Presents: Rexx Life Raj
Marco Alexander
West Coast music has always been one of the mainstays in hip-hop discussions. It's a rightfully created sub-genre that takes on many forms, dating back to the gangsta rap of the late 1980s and early 1990s. In what other state can one still hear Ice Cube, go dumb and get woke in the duration of one radio show? Exactly. Now imagine one rapper who can have you feel the energy of all three on one mixtape. Let's take it to the Bay. Meet Rexx Life Raj.
The Berkeley, Calif. native isn't new to the music scene—he's been cranking out the tunes with pots and pans before he could form proper sentences. Raj, born Faraji Wright, is the son of a Lord-worshiping mother and Black Panther father, who we'll get to hear more of on his upcoming project, Father Figure 2: Flourish, available everywhere Nov. 17.
"My parents are hella funny, they talk a lot. They talk a lot. They're fucking hilarious," Rexx Life Raj tells XXL. A chat with his parents turned into a 30-minute phone conversation combined with laughs and hard truths, which propelled Raj to give them a narrative platform on the tape. "I just pulled out my phone and started recording it. I noticed a lot of things that my dad was talking about was shit I was already talking about in my music. My dad is probably one of the biggest parts of my life. [He] hella just shaped the way I view the world. He's a deep dude."
While his old man may serve as a huge inspiration, he's definitely not the only person who's impacted Rexx Life Raj's musically. "I was really inspired by Smino's project this year. I thought that was the best project to come out this year," he admits. Rexx also shouts out a slew of Chicago artists, such as Noname, Vic Mensa, Chance The Rapper and others before expressing his love for rager, Kid Cudi. "I'm always inspired by what Kid Cudi does, that's my favorite artist," Raj reveals without hesitation. He even takes on his style for an entire song on Father Figure 2, though he wouldn't say which one. Worth the wait, though, rest assured.
Father Figure 2: Flourish will also have features from Russ, Iman Europe and G-Eazy on "Burn Baby Burn" "Lowkey Lovesong" and "Forever Lit," respectively. When it comes to G-Eazy, Raj shared that they attended the same high school and reconnected last year.
Now, Father Figure 2: Flourish is dropping in two weeks, and he's just released the breathtaking visual for "2Free" ("It was kinda awkward at first, my big ass on a paddleboat," he jokes). If you weren't hip to Rexx Life Raj before, now is the time to get familiar in XXL's The Break.
Hometown: Berkeley, Calif.
I grew up listening to: "I grew up listening to hella shit. If we're talking rap-wise, I grew up on a lot of the Bay area shit. Mac Dre, Mac Mall, E-40, all that shit. I was a big Andre 3000 fan. I liked a lot of the neo-soul shit, so Erykah Badu, I listened to a lot of that. A lot of the early Musiq Soulchild, I loved that. D'Angelo… I listened to a lot of music. Growing up, my parents listened to a lot of old-school music and shit.
"If you're from the Bay, there's a station called 102.9 KBLX, The Quiet Storm, and it's hella old school, like Sade, Luther Vandross-type shit. My mom is a big fan of church music [too], so I listened to a lot of music."

My style's been compared to: "Um, I think people have compared my shit to Drake. I think people say Drake a lot, and then I'm not too sure outside of that."

Most people don't know: "Most people don't know I used to play D[ivision] I football at Boise State, and I used to weigh 320 pounds. Then I graduated and came home, and I was still being hella fat, eating crazy. Like KFC and Popeyes, crazy shit. Ten-piece meals and shit. Then I had a dream, and in the dream—I don't remember who it was—but the voice was just like, 'You need to lose the weight now or you're gonna die.' And I swear to God, on my life, after that I lost like, 50 or 60 pounds in four months. So now I'm like, 260." 

My standout records to date have been: "'Handheld GPS' is probably my biggest record, and then 'Running Man' is another one of my biggest. 'Waiting for You' featuring Russ is pretty big, 'Shit n' Floss' is pretty big, and then 'Moxie Java' was my biggest Bay area record."

My standout moments to date have been: "The tour I did with P-Lo. I did my first two tours this year. The first of which was with Mr. Carmack, which is one of my favorite humans. Make sure you put that. Me and Mr. Carmack, we did a little four, five-city tour. That was crazy. Then I did a tour with P-Lo, which ended in San Francisco at The Warfield [Theatre] ,which was pretty dope."
My goal in hip-hop is: "That's a good question. I don't know, that's a question I kinda be asking myself a lot. I've always just wanted to be able to put out music, and be as genuinely me as I can with my music. Not conform or constrain myself because of what people think or how the game is changing. Just to be genuine at all times. So I guess my goal is to continue putting out music in the most genuine fashion, with hopes that it inspires people and motivates people to do whatever they're doing, or at least to know it's cool to be yourself. But I don't have a monetary goal like, Oh I need $10 million dollars. All that shit's for the birds."
I'm going to be the next: "Me. I don't think I'ma be the next anybody. Shit, I hope I'm the next amalgamation of hella people. I hope I'm the next fuckin' Diddy-slash-Drake-slash fuckin', Russell Simmons-slash fuckin' Childish Gambino. Shit, I'm the next R L Raj."
See New Music Releases for November 2017