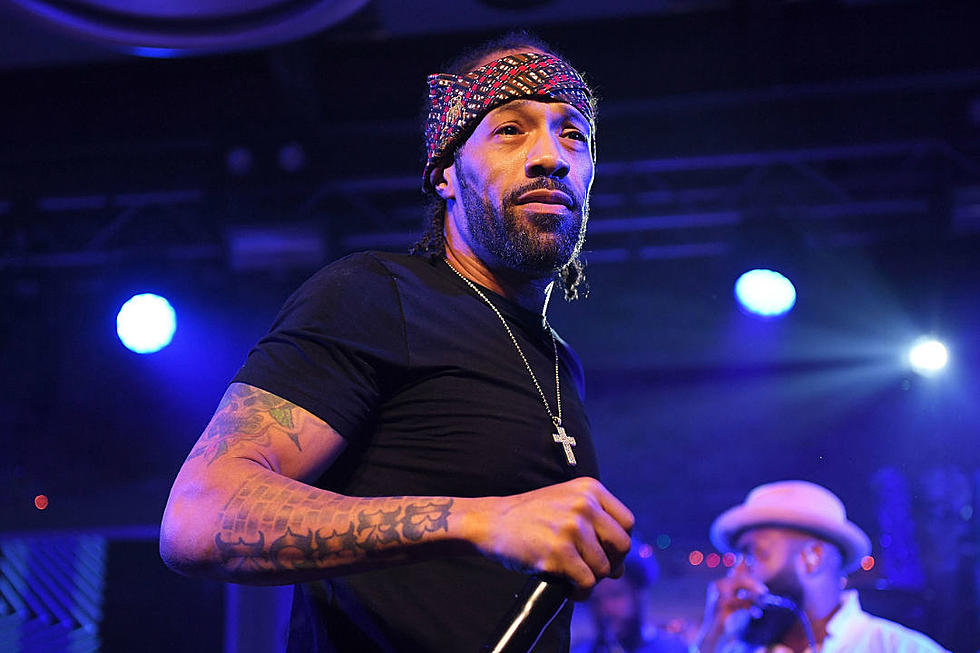 Redman Wants to Go to Acting School
Matt Winkelmeyer, Getty Images
Rap legend Redman is the latest hip-hop act to star in a VH1 show. Set to appear on the new competition series Scared Famous, the 47-year-old New Jersey rapper will serve as the Master of Scare-a-Monies on the show, which focuses on 10 former reality TV stars trying to endure terrifying and scary challenges from Red and his team.
Shot and filmed in Savannah, Ga., at an estate known for haunted houses and eerie tales, the new VH1 show will test the fright levels of each reality star. The show's cast members include Yung Joc (Love & Hip Hop: Atlanta), Safaree (Love & Hip Hop: Hollywood), Miss Nikki Baby (Love & Hip Hop: Hollywood), Erica Mena (Love & Hip Hop: New York), Don Benjamin (America's Next Top Model), Alaska (Rupaul's Drag Race), Eva Marcille (America's Next Top Model), Tiffany "New York" Pollard (I Love NY), Drita D'Avanzo (Mob Wives) and Sky (Black Ink Crew: New York).
With each participant playing for a chance to donate to their favorite charity, the cast will battle it out for a few weeks to see who walks out the winner of the $100,000 cash donation prize.
XXL caught up with the iconic Reggie Noble weeks before the start of his new show to find out more details behind the Scared Famous series, which airs Mondays at 9 p.m. EST. on VH1, as well as what's to come with his acting career.
XXL: Tell us about your role on Scared Famous and what the show is about?
Redman: The premise behind the show and my role in the show is that Redman is the master of Scare-a-Monies, which means I have a team that is direct and there, to scare the chicken shit out of these reality stars. Now, these reality stars came from different platforms of reality shows. From Love & Hip Hop to Mob Wives to America's Next Top Model and they put them all in one house.
We all stay in this haunted location—maybe 20 minutes out of Savannah and if you know the history of Savannah, Ga., it is a very haunted town and place to be at. We had to stay at this property which was vacant with a whole bunch of acres around us—no other houses for three weeks. Besides me putting these reality stars through death-defying challenges, they're getting eliminated every night. You know, with each challenge you see the fear in the reality TV stars' eyes. We have a challenge to scare the shit of each cast member on the show and they are playing for a whole lot of money for their favorite charity, so they're in there beasting.
The intriguing part about this show and why I love to show up to the set every time is because of the rules. It's not just about the person losing the challenge and getting eliminated—no. The rules vary every episode and I guarantee you you will be like, "Oh my God, how did that happen?" So that's the premise, to scare the shit out of these reality stars.
How did you get picked to be part of the show?
Well, my manager knows I didn't want to act, so that's why you guys don't see me in movies a lot and hosting shows because I want to be behind the camera. That's my goal so I'm gonna continue letting y'all know that until I reach that goal, but this show was kind of up my alley. VH1 is always reaching out. MTV is always reaching out. These platforms are always reaching out to me because I got good character and I know how to work with people very well. They found something up my lane and when they reached out, I checked out the script and it was on.
Why don't you want to act anymore? What do you plan to do behind the camera then?
I still want to go to school for acting. I'm gonna go take some crash courses in acting because when I direct I want to know what I want to pull out of my actors and actresses' when I am shooting them. So I do want to take a crash course in it. I just found my passion behind the camera. You know, if anyone has been tuned in with my albums, or anyone is a fan of Redman they know I have skits on my albums and my skits on my albums audio-wise, you can actually see it. You can visualize what you hearing through my skits; the way I put them together and that's talent.
When you can actually bring in different voices, and then lay them down and then put sound under it to make them feel like they outside of whatever atmosphere you want to be, that's talent. And I have that talent. I also have a talent of building an album. We all know that everything is in editing and an album has to have a good playlist when you build an album. It has to have a good order for a listener to listen to it from front to back, and I have maintained that kind of power and I now want to bring it to the big screen.
Have you started writing scripts yet for any movies you have in mind?
Hell yeah! I got a whole gang of them on my phone right now. A lot of people reaching out to me. I'm not just gonna sign to a company and give all my shit away. That's why I haven't really done anything. I'm stacking. I want to shoot some of my stuff on my own. Invest my own money into my own talent, but yeah, I have a ton of scripts—I even have How High 2 written on my phone right now.
Speaking about How High 2, is the movie done already? And when is it releasing?
If it was up to us, y'all, How High 3 would've been on right now, but it's all political. Big up to Danny DeVito and Jersey Films for even giving us the chance on the first How High movie, but it's being written and we actually had a first draft of How High 2 written and we didn't like it.
We're not gonna take How High 2 if the script ain't right. You know, when you're doing something like that you have to be very careful because there's a lot of movies that came out with a second part that were just horrible and me and Meth definitely decided a long time ago if the script is not as funny as the first How High movie or better, we will not do it and not taint How High, and just move on to something else different.
See 40 Hip-Hop Albums Turning 20 in 2017