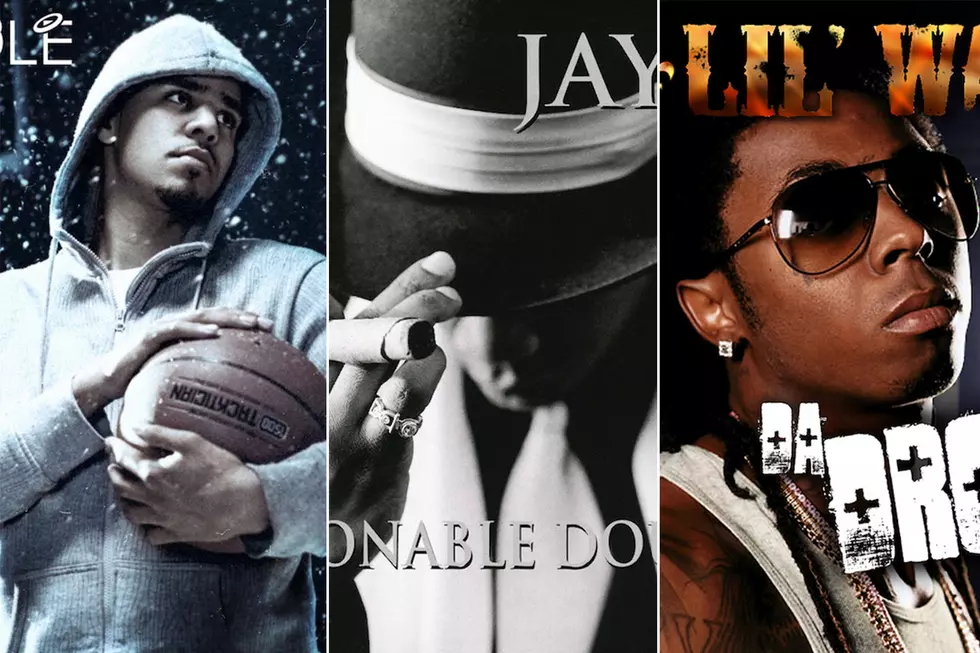 28 Rappers Who've Killed Jay-Z's "Dead Presidents" Instrumental
Dreamville / Roc Nation / Roc-A-Fella Records / Young Money
There's something special about Jay-Z's "Dead Presidents." First released as a promo single for Reasonable Doubt in 1996, the Ski-produced gem showcases one of hip-hop's then-rising lyricists deep in his bag, spinning off punchlines, street gospel and flossy raps with a characteristically conversational flow. The sparse instrumental—a sped-up sample of Lonnie Liston Smith's piano piece, "A Garden of Peace"—was so nice that Jay had to touch it twice, recording a new, equally dope sequel for his debut album.
Both versions of Hov's classic track have endured as some of his best work. And ever since the release of "Dead Presidents," the minimalist beat (which also samples Nas' "The World Is Yours") has become one of rap's most iconic, charming wordsmiths of various generations, styles and localities to try their hand at it.
Like his mentor, J. Cole took on the beat for his maiden mixtape, The Come Up, and its follow-up, The Warm Up. Meanwhile, other hip-hop kings, from LL Cool J to Lil Wayne to Kendrick Lamar to Lil B have dropped bars on the beat.
Even Jay-Z couldn't resist revisiting "Dead Presidents" once again, long after the original dropped. In 2006, for Reasonable Doubt's 10th anniversary, a snippet of a song called "DP3" hit the Internet. Meant to be a third chapter in the trilogy, the track slows and reverses the beat of the originals, also referencing its predecessors via rhyme, proof that the spirit of "Dead Presidents" may never die.
In honor of Presidents Day, XXL rounds up nearly two dozen remixes and freestyles over Jay-Z's "Dead Presidents" beat. Who killed it best?
"Dead Presidents III"

Ab-Soul, Jay Rock and Kendrick Lamar

"Dead Presidents Freestyle"

AZ

"Dead Presidents"

Chamillionaire

"On Da Spot Freestyle"

Cory Gunz

"Presidential Pondering"

Charles Hamilton and Fedel

"Dead Presidents"

Chevy Woods

"Dead Presidents"

Dillon Cooper

"Dead Presidents II"

Drake

"Talkin 'Bout Money"

Fred The Godson

"Dead Presidents"

Freddie Gibbs

"Dead Presidents II"

J. Cole

"Dead Presidents"

Joey Bada$$

"Dead Presidents"

Lil Wayne and Curren$y

"Dead Presidents Freestyle"

LL Cool J

"Dead Presidents Freestyle"

Lupe Fiasco

"Dead Presidents Craftstyle"

Marlon Craft

"Dead Presidents"

Mistah F.A.B.

"Dead Presidents Freestyle"

Mysonne

"Dead Presidents 2011"

Papoose

"Dead Presidents"

Paul Cain

"Dead President"

Starlito and Don Trip