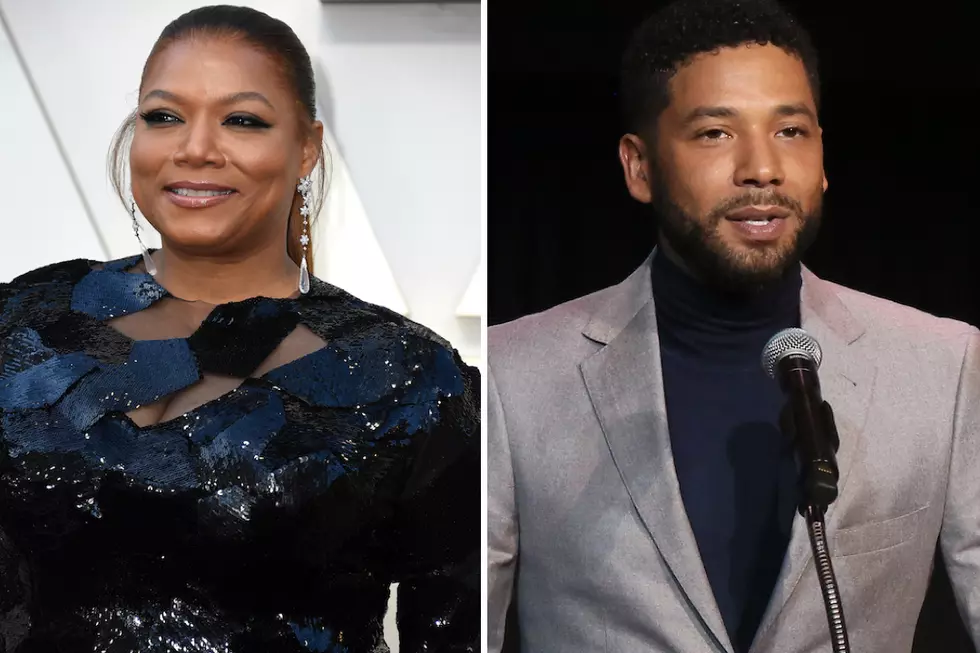 Queen Latifah Supports Jussie Smollett, Wants "Definitive Proof" He Lied
Frazer Harrison / Gabriel Olsen, Getty Images
While there are pieces of evidence against Smollett, Latifah hasn't seen enough.
"Until somebody can show me some proof otherwise, I'm going with him," she says in a clip from the interview. "The guy I've seen has always been someone who cares about people, who cares about others, and who's very kind and who's always been cool and sweet. And that's the guy I know."
In January, Smollett told police that he was attacked by two white men who yelled racial and homophobic slurs at him before putting a noose around his neck. Chicago police initially called it a possible hate crime, but after a thorough investigation, they accused the actor of hiring two brothers Olabinjo and Abimbola Osundairo. At least one of the actors had appeared in an episode of Empire.
Over the last few weeks, police have compiled pieces of evidence for their case, picking out footage of the two brothers buying red hats and other items said to be used in the alleged attack. Authorities have also pointed toward text messages Smollett exchanged with the brothers in the days leading up to the alleged attack as potential evidence.
On Feb. 21, Smollett was arrested and charged with filing a fake police report, which is Class 4 felony that is punishable by up to three years in prison. He posted bond and was released that same day. Smollett is due back in court on March 14.
Despite all of these developments, Latifah isn't ready to turn on Smollett.
"Until I can see some definitive proof—which I haven't seen yet—then, you know, I gotta go with him until I see otherwise," she reaffirms toward the end of the clip.  "All I know is that I hope everything works out in the end and everybody basically comes out unscathed."
Watch Queen Latifah support for Jussie Smollett in the video below.
20 Great Albums From Female Rappers Over the Years