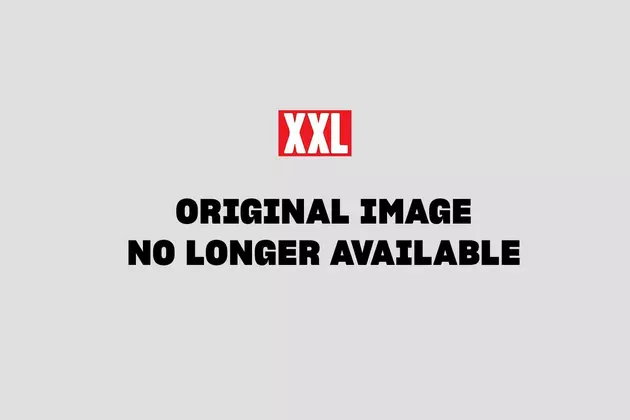 Plies Gets a Career Boost Thanks to the Power of Instagram – Exclusive
Berman Fenelus for XXL
Elevated
After showcasing crazy antics and his nutty personality on Instagram, Plies' popularity has soared.
Words: Roger Krastz
Editor's Note: This story originally appeared in the Spring 2016 issue of of XXL Magazine, on stands now.
Some quiet people come to life on social networking. Such is the case with Plies. In the past two years, the Fort Myers, Fla. native has accumulated almost 3.5 million followers on Instagram with outlandish videos showcasing the rapper's new over-the-top character that hip-hop is just now getting to know. With his strong Southern drawl, the former University of South Florida student showcases regular Instagram videos with no topic off limits but mostly focused on sex—having sex, and the opposite sex. (His popular Sweet Pwussy Satday series pays weekly homage to females and their lady parts, and includes some stories of Plies' outlandish sexual escapades.)
Despite his newly found Instagram fame, Plies, 32, is still focused on music. Even though he hasn't dropped a solo album since 2010, the Big Gates/Slip-N-Slide/ Atlantic artist has regularly released mixtapes including his most recent effort, Ain't No Mixtape Bih 2, which came out this past November and spurred the popular record "Ritz Carlton." In the video for the song, Plies debuts his own dance—jogging in place on cash while wearing a bathrobe, sunglasses, jewelry and a Fedora hat, holding a bottle of Ace of Spades—later dubbed "Ran Off Da Plug Twice." With the help of Instagram the dance has become an instant phenomenon. Besides tons of fans posting their own social networking videos of themselves running off on the plug, NFL stars such as Odell Beckham Jr. and Antonio Brown have done it, too.
But Plies can't take all the credit. Besides being the face of the fame, everything the rapper and now Instagram personality does is in partnership with his brother, Ronell "Big Gates" Levatte. Gates has been running Big Gates Records since he was released from jail in 2009 after serving three years for his involvement in a shooting at a nightclub. Together they work to keep their big dreams alive.
On this late February afternoon in Tampa, Fla., the rapper sits at a table at Ocean Prime, an upscale steak and seafood chain with his brother and publicist. Rocking a pink and tur- quoise San Antonio Spurs hat, an off-white and red striped sweater with a denim jacket, embellished jeans, some Air Max Sneaker Boots, a pair of Gucci shades and jewelry, Plies is ready to eat then hit the road to head to a show in Jacksonville that night. Before he does both, he talks to XXL about all that's changed and why it's happened.
XXL: You haven't dropped an album in six years, why?
Plies: Just trying to rebuild shit. It was more on me. My other part of my brain was incarcerated at the time, my brother, so I was just kind of the guy from the creative side of this shit, and it's the same now. Business-wise, I ain't got time to figure all that shit out, so I let my brother do that, so by him being locked up, it kind of just fucked me up because I felt like I had hit my window. I had hit my peak. I felt like I had took us as far as I could in my mind, but I was missing the other side of it, which was the business side.
When he ended up coming home he was like, "Bro, look we a little off of what we got in this shit for. We made the money, but we ain't speaking this shit for the people no more that we represented when we first came in the game."
I ain't even look at it like that but he was like, "Listen, we ain't putting out another album until we get to that point that I feel like this shit is right, so let's look at it like a house. I don't want to knock the house down because the shit that you built was one hell of a mansion, let's just renovate this muthafucka however long it's going
to take us. It don't matter if we gotta do 20 mixtapes. Whatever we gotta do to get this foundation back to how it feels right, that's when we gonna know it's time to pull the trigger on another album." And that's the phase we've been going through from that point all the way up to now.
Over the past two years you have established quite a following on Instagram. Currently you have over three million followers and you are known. What made you focus so much energy on Instagram?
My brother was trying to get me to expand a little bit. At the time, I knew Twitter and that was the only type of social media I knew. The shit was easy to do. I think of something, I just tweet it out and I keep it moving. One day my brother was like, "Nah, do the same shit, but just film the shit and post on Instagram. Just try it!" I thought at first Instagram was just about pictures. So I'm like "Bro, this shit ain't gonna work for me."
He convinced me to do one and I tried the shit and people were going crazy over it. So every time people saw me out they just started talking to me about my Instagram. I told my bro the shit was kind of weird because the people checking out my videos didn't look like my core fans. That was the biggest shit for me about Instagram, I think it allowed people to know things that they never knew about me.
How far in advance do you plan out your videos?
 
All the crazy shit I do from the Sweet Pwussy Satdays to the first video I ever recorded of me singing Adele, I never plan it. It's just how I'm feeling at the time. What I pride my social media game on is...I'm not on there trying to be disrespectful like that's never my approach. But whether you see me in
the street or on social media, I'm still trying to have a level of respect for what it is I'm doing and I think that's what makes that shit interesting to me.
Do you regret anything you've posted?
Nah, I've done did some shit that I don't think I should've posted, but I've embraced it. I pretty much want it to be as raw as possible. So I pretty much give you in 15 seconds what I can give you. I always think the organic way is the best way.
Do you feel like some of your Instagram videos are too oversexualized? Is there a line you try not to cross? Do you censor yourself?
 
Oh, fuck nah! I try to make it more sexualized, if I can figure it out. I feel like that's what people enjoy about me. They just enjoy my honesty and I think that shit is what separates me from a lot of the artists. I think there are so many layers to me. You got the music side of things, but then you got the social media side. My Twitter people look at me totally different than probably the people that fuck with me on Instagram, and then you got people that just fuck with the brand of what we do.
Do you have children and if so, what are their thoughts on your videos?

I have my son, but I don't let him see any of my videos. I ain't that much of a savage. I feel like what I do ain't for him. If my son was like 18 or 19 years old, hell yeah! But to be 11 or 12 years old, what I do, ain't for him. It's kind of like the music, what I do musically ain't for him. I've had those conversations with him all the time. I'm not trying to hide shit from him but what I do, what I talk about and what I say, is just not for kids his age.
What has changed for you now that the world has gotten to know your personality more? Is this like a different Plies or the same person?
Life has become more fun to me, as a whole. Before I would never really let people get close enough to me or even get to know me. If I was doing press or interviews, I ain't really trust nobody so I was more standoffish because of the life that I come from before I got into the music shit. I didn't trust people, so I wasn't able to distinguish the two and now I think I just got a clear understanding of this shit, and I think people see that through social media and now when they fuck with me. They feel more a part of me because they feel like they know me, you know what I mean? I don't make money off these videos, but I've grown to enjoy the presence of people more than they enjoy me now.
Besides the Instagram videos, your resurgence has also consisted of a hit record with "Ritz Carlton." The "Ran Off Da Plug Twice..." the line and dance have taken the record to a whole new level. How did you come up with the dance?
It was all my brother. I went and shot the video and once we edited it, I sent it over to him. He then hit me back and was like, "Bro, I fuck with it. But this shit missing something. It's missing your personality, your swag." There was a part that I didn't put in the video that I thought was good. I hit the director and asked him if he recorded the shit I did in the bathroom. He was like, "Yeah, but I didn't add it to the video because I didn't know you wanted it." I told him to add it and I sent it to my brother with the changes.
Once he saw it, he was like, "Bingo, this is what the shit was missing." That was the shit that gave the record its own situation. The streets were in tune with the song when it first came out on the mixtape and then when the video came out that shit just gave the record a whole different meaning, and a whole different identity.
Is this the happiest you've been in your career?
Absolutely, because the first three gold albums, you know X amount of No. 1 records, I was happy. I was happy for the shit my brother took a chance on, but it was still bittersweet because he was locked up. When he came home, I was like "Bro, this shit poppin' but I've seen this shit bigger before and I just want you to see this shit at its height like I've seen it when you was locked up." So I was like, "Once I do that, you can have this shit, I'm gonna ride off in the sunset." He was like, "No, you ain't. You love this shit too much." So now to be back to that point and in my opinion, I would say, bigger because of social media, it allowed for me to have that side and to have the biggest record out right now, that shit just give me the best of both worlds.