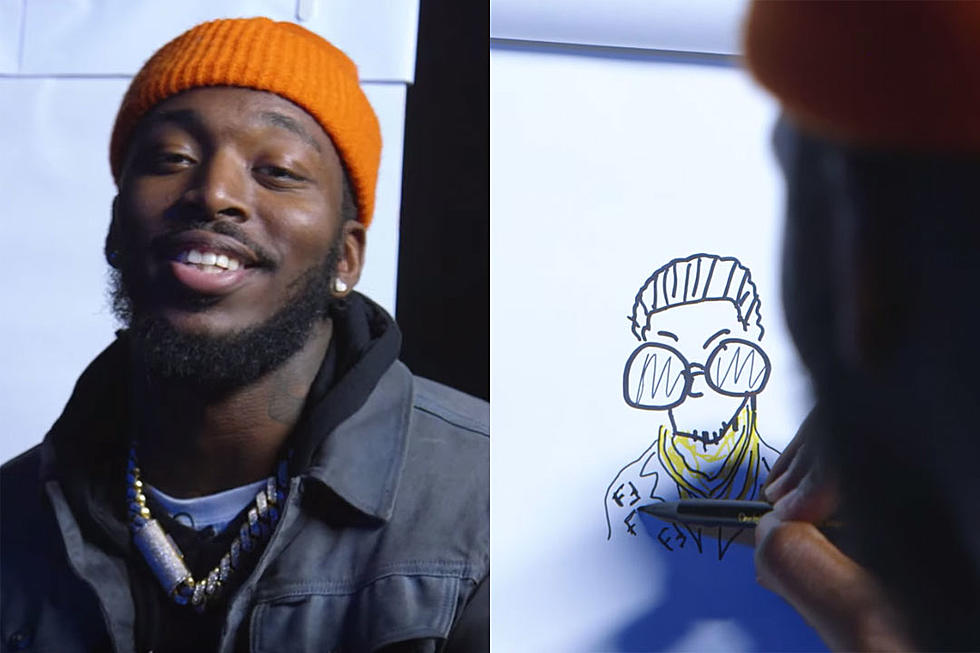 Pardison Fontaine Draws Songs on His Under8ed Project
XXL
Pardison Fontaine patiently waited in the shadows as he helped craft hits for some of the biggest names in music, but now it's his turn. Following the success of his 2018 single "Backin' It Up" with longtime friend and collaborator Cardi B, the 29-year-old Newburgh, N.Y. native releases Under8ed, what he says will be "the best mixtape ever."
The project features the aforementioned "Backin' It Up," which earned Pardi his first Billboard Hot 100 top 40 track as the main artist, as well as his first platinum plaque as the main artist—the song also hit No. 1 on Billboard's Mainstream R&B/Hip-Hop chart. Elsewhere on Undera8ed, Pardi calls on Cardi's husband Offset, as well as Jeremih, City Girls and Jadakiss.
He also gives a nod to Destiny's Child with the Jeremih-assisted "Pay Ya Bills" and samples Ol' Dirty Bastard's "Shimmy Shimmy Ya" for his track "Shea Butter." To celebrate Under8ed's release, the Section Eight Sex Symbol stopped by XXL to draw a few of his songs for our Masterpiece series.
As Pardi begins recreating Under8ed's cover art, he makes sure to choose his weapon of choice ("A black marker to match my skin tone real nice.") and notes that he's "not an artist on this level by any means." The project, which features production by Vinylz, Boi-1da, Dizzy Banko, Rob Holladay and more, shows the rapper's back on the cover with a closeup of his "section eight" and eight-ball tattoos.
"We really named this shit Under8ed because that's basically where I'm at at this point and time in my career," he shares. "I feel like a lot of people associate me with a lot of other stuff, you know what I'm sayin'? They not fully aware of my creative ability. But it's gonna change once they get through this whole project."
Pardi also adds his signature orange beanie to his drawing, of course. "You know what else? I'm from upstate New York," Pardi says as he uses an orange marker to add some color to the beanie. "It's called Orange County, too. So, you feel me, I threw that in there with my representation of my orange beanie." Stepping back to review his work, Pardi is quite pleased with the results. "That's not bad!" he says proudly.
For his first track to take to paper, Pardi chooses the DJ SwanQo-produced "Shea Butter." Released back in August, the visuals feature a bevy of beautiful women, so Pardi used that as inspiration for his drawing while explaining how the entire song came about.
"I happened to be taking a shower and I'm looking at that little caddy thing that's in the shower that holds all the stuff and I'm just looking at what's in here," he explains as he begins drawing the outline of a woman. "I'm like, 'Damn, she smell like TRESemmé and shea butter, she bad!' And that's how the hook came about, and then of course I had to get some superb, superior representation in the video so I'ma start with drawing one of them."
For his last drawing, Pardi opts for his Offset-assisted track "Take It Down," produced by Dizzy Banko. As he mentions things like New York City eatery Coppelia, Uber Black and Uber Pool on the track, Pardi decides to draw all of them, along with what he calls a "Boondocks Offset."
Watch Pardison Fontaine draw some tracks off his Under8ed project while explaining the meaning behind some of the songs below.
See 15 of Hip-Hop's Weirdest Album Titles