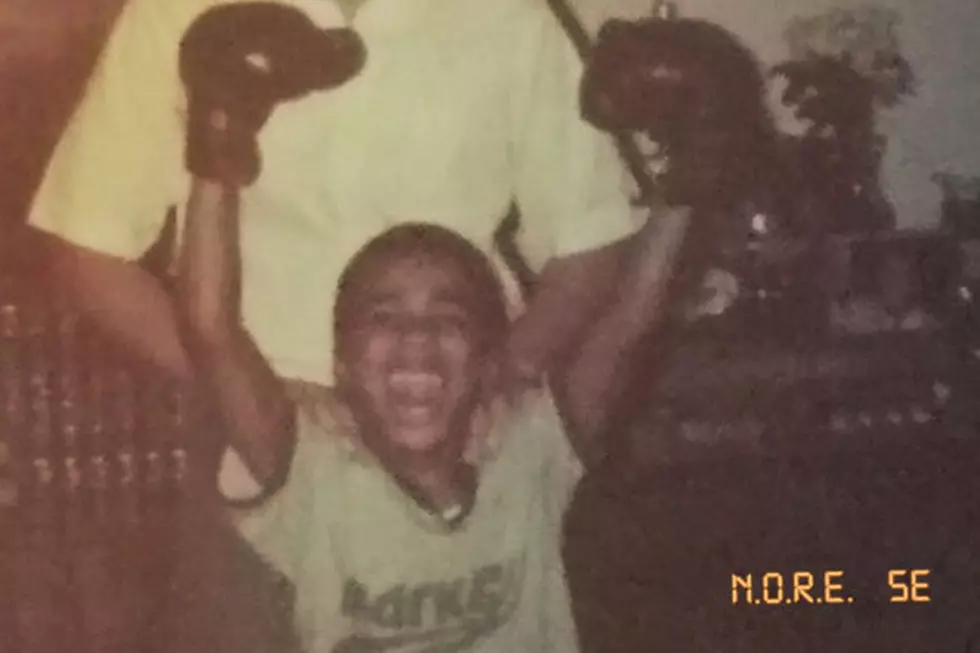 N.O.R.E. Stages a Triumphant Veteran Return With '5E' Album
Mass Appeal/Militainment
Through his decades-long career, N.O.R.E. has shined in several different outfits. As half of Capone-N-Noreaga, he released one of the hardest, most celebrated rap albums of the 1990s in The War Report. He followed that with a solo run accented by a string of hits with The Neptunes ("Superthug," "Grimey"), his grimy street raps grounding the duo's futuristic production. N.O.R.E. even made a brief foray into reggaeton music during the height of the genre's popularity.
Reinvention has been the recurring motif of Noreaga's career, and in these recent years he's reemerged as a rap gatekeeper and elder statesman. His weekly podcast Drink Champs regularly boasts high-profile guests from the Wu-Tang Clan to Pusha-T. That veteran status reflects on N.O.R.E.'s latest album 5E, a project released almost exactly 20 years after his self-titled debut. It plays like a victory lap celebrating the Queens rapper's storied career.
Competition is a driving factor here. On album opener "In the Beginning," N.O.R.E. admits he couldn't let a summer with projects from heavyweights like Jay-Z, Drake and Kanye West end without him throwing his hat into the ring as well. "Let Me Be Great" is an anthem about pushing haters and inferior rappers out the way.
The self-proclaimed Podcast Papi invites old friends to 5E. Fabolous lends a hand to the bravado-packed "Big Chain." Wyclef Jean provides hook duties to the weed-inspired "LaLa" while Jadakiss effortlessly trades lines with N.O.R.E on the track. But Fat Joe brings out the best of N.O.R.E., popping up twice on the album. They celebrate their shared Puerto Rican heritage on "Bendicion." Joe laces the hook for "Don't Know" while N.O.R.E. does some of his best rapping on the project: "I be out late night/Opposite of play fight/See slime break night/Then slime break night/My wristwatch is like a brake light/And you can get it right on your gravesite."
5E is also a testament to N.O.R.E.'s versatility as a rapper. He sounds just at home on the shiny, Tory Lanez-guested "She's Mine" instrumental as he does on more trap-inspired beats like "Let Me Be Great" and "Big Chain" or SPK's soulful work on "No Reason." He even reunites with Pharrell Williams for the Latin-tinged "Uno Mas," a bonus track that feels refreshing yet fails to live up to the pair's previous hits.
There are some cracks in 5E. N.O.R.E.'s lyrics often don't match up to his energy and flow. He immediately dates his own references, rapping about how LeBron James might want to leave the Cleveland Cavaliers on "In the Beginning"—minutes later he mentions LeBron being a Los Angeles Laker on "Bendicion." And while the guests all have chemistry with N.O.R.E., the album is a bit too feature-heavy. Only "In the Beginning" is credited solely to N.O.R.E. and that track is less than two minutes long. The project could use a few more solo cuts to feel more like a statement from the artist.
Still, 5E is a welcome listen from a grizzled rap veteran. The album's 11 songs breeze by, showcasing N.O.R.E.'s talents well and proving he's still got plenty of gas left in the tank.
See 60 Hip-Hop Albums Turning 20 in 2018