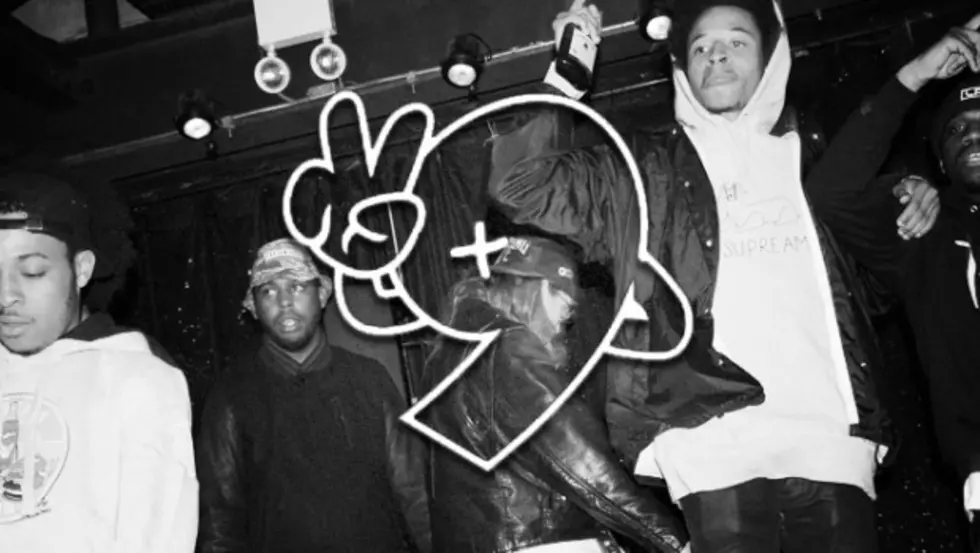 Meet the Members of Two-9
Over the past few years, hip-hop has witnessed a resurgence of the group. From boutique label squads like YMCMB and G.O.O.D. Music to cliqued-up entities like OFWGKTA and the A$AP Mob, groups have become a revitalized industry standard, offering lead solo acts to showcase their respective movements in full.
Now, XXL introduces you to one of hip-hop's most buzzed-about and fastest-rising crews Two-9. With a trap-heavy sound and punk rock aesthetic, the Atlanta collective has carved its a niche for itself as a raucous and sonically diverse group of up-and-comers with influences ranging from A Tribe Called Quest to N.W.A to even Elton John. Check out our introduction to every member of the group after the jump. —Sean Ryon (@wallysean)
Role/Style: "I'm a rapper in the group, I make a lot of the beats in the group, and I'd say I'm one of the leaders and one of the founders of the group."
On Co-Founding the Group: "It was pretty much just me and my brother Key!, man. He had called me one day and said he wanted to start this kinda like, collective-thing, and we ain't really know what to call it 'cause we were young as hell. We just want to make this group of rappers, and we're not going to be a 'group,' but we're just going to rap and we're going to be together - yada yada yada. I was like, 'Alright, let's do it'…we all just kinda came together, kinda like just one day said, 'Fuck it, let's really do this shit.'"
Role: "Like Curtis said, I'm a co-founder…I came up with the name and shit, but the creative mind is my brother Curt. I really just did what I can by taking the name over there - 'cause Two-9 originally is some street-shit."
Style: "My style individually probably differentiates [from the rest of the group] 'cause I'm Southern, I'm from Atlanta, I was born and raised. My family's from Atlanta, so I'll probably bring you the most Atlanta [sound], now and old Atlanta."
On Repping Atlanta: "Can't nobody say we ain't from Atlanta, straight up. They're gonna meet me and I've got that slur."
FatKidsBrotha (Johnny & Dave)
Dave: "We rap in Two-9 as a whole. We're just one of the groups - there's two groups and there's two solo acts…we try to make our surroundings sound like everything, like a Beverly Hills. I'm not ashamed of where's I'm from, I love where I'm from 'cause it made me who I am today. Our project East Side Paradise, we were just trying to show love to the east side of Atlanta."
Johnny: "What we bring to the table is basically like…we're from the 'hood, and even though we might not look 'hood or nothing, I like to bring paradise wherever I'm at. That's how we make music; it's a paradise everywhere, in the 'hood, in Iraq. You just got to look outside the window and make that shit up."
Dave: "I love West coast music, like old West coast music, old N.W.A."
Johnny: "We're originally from Detroit, and if you go to Detroit, a lot of people from Detroit talk like they're from L.A. A lot of them is from L.A., a lot of them moved from L.A. It's kinda the same shit in Detroit, but we moved to the A, and now we're repping with the gang."
On Bring "That Grimy Sh*t":
Dave: "I feel a lot of our shit is grimy as Hell. I like to bring that grimy shit. I'm more of a hip-hop head, the Nas and J Dilla and Slum Village - I listen to all them people. We just like to bring that grimy shit to the table."
Johnny: "That's basically what we bring - that grimy shit."
Retro Su$h! (CEEJ & Jace)
Jace: "Just as far as within the collective, we're definitely the more eclectic. We all turn up and we all have that Atlanta sound, but me and Ceej, just coming from varied backgrounds, we're definitely the more outsider group in that sense."
CEEJ: "I think we're a little bit more eclectic, I would say, a little bit more melody-driven. We work a lot with melody. [Our music's] about the feeling. I think we've grown a lot - especially me, as a producer - to like [where we're] getting real musical with it. Back in the say, we were just rapping and shit, and that was cool, but now we're real musical with it and we focus on melodies."
On What Makes Them Outsiders:
Jace: "[Ceej] has a very strong rock background. His dad was a rock [manager] and shit, and I have a very New York background, just 'cause my family's from there. I was raised off like Tribe and shit and he was raised off Super Tramp and Elton John and Bowie, so that kinda just sets us a part."
CEEJ: "We're just two weird-ass kids."
Role/Style: "I just make sure [it sounds good for] the fuckin' people, for the shows and I make sure the tape sounds."
On Being Two-9's Sole Female Member: "I'm the only female of the group, so I keep the balance for these guys. It's fuckin' awesome and it sucks 'cause they're assholes, and sometimes I get on my female-ways and I be like, 'Ugh,' and then it's like, 'Okay, fuck y'all, I'm doing the same shit you guys are doing.' They're all dickheads, and we're all dickheads, so I'm like the bitch of the crew so I get in my bitchy mode and I set them straight and they set me straight. It's a balance."
Role/Style: "My role in Two-9 is kinda like creative direction, stylist, and I also do graphic design. I've done a lot of the artwork for Two-9, merch - just that whole division."
On Two-9's Grunge Underpinnings: "Right now, I wanna say we're on some grunge-type style. Not to bite anybody or anything like that, it's just real rambunctious, anti-type of style. It's very hip-hop, too. I also say that much just being from Atlanta, there's some various styles in Two-9, but I think that's reminiscent of the '90s, that whole grunge and just mobbed-out style."