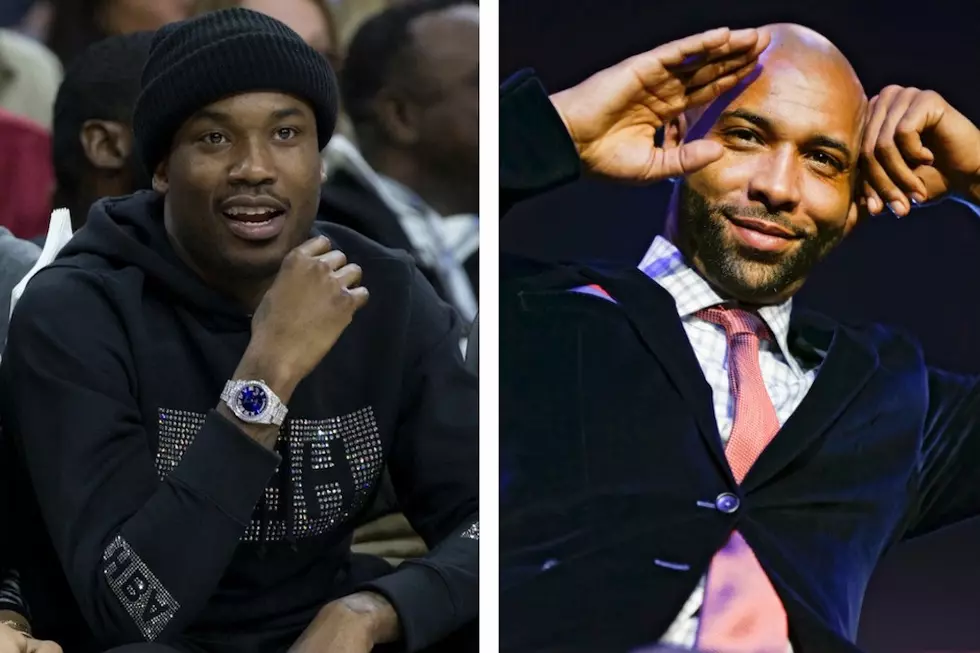 Meek Mill Makes Fun of Joe Budden Running After Drake Fans
Brian Ach / Mitchell Leff, Getty Images
Over the weekend, Joe Budden confronted two amateur paparazzi who had tailed his BMW and attempted to record the rapper as he exited the car. "Are y'all fucking crazy," he says before appearing to charge at the men who quickly retreated before the video stops. The whole encounter wasn't amusing to Joe, but Meek Mill, who has been playing the sidelines during the whole Budden-Drake back-and-forth is having a good laugh at it.
"Chasing opps!" Meek wrote on Instagram Sunday night (July 24), "he live a wild life in real life lol." Meek and Budden have gone at this themselves over the past few weeks with Joe eventually writing earlier this month, "@meekmill You keep talking everything but rap (I think we all understand why lol)..Do yourself a favor, sit back & watch a real MC do what you couldn't." The two rappers, who seem to be far removed from uniting over their common enemy, exchanged jabs over social media at the top of the month, Meek calling Joe a crackhead, Joe calling Nicki Minaj stupid for continuing to date Meek.
Late last week, Budden revealed why he started his lyrical onslaught against Drizzy, telling The Brilliant Idiots podcast, "I'm hurt. I am hurt. I'm appalled that nigga who know my pen game… he know I don't care about none of that fame, success, attention, none of that. He know what I do. And you want to use your celebrity to do that to me? We smoked hookah together. How could you do that?"
It remains to be seen if Joe turns his aim toward Meek, but he certainly did give the Philly rapper fair warning to stop the pot shot barking. Check Meek's latest IG post up above. Below meanwhile, Meek previews what can only be material off Dreamchasers 4, which happens to include the line "Niggas say that we beefin, probably ain't gonna see him."
Further down, Zoey Dollaz joins in on the meme-making fun in a since deleted Instagram post.
20 Rappers Who Appeared in Video Games