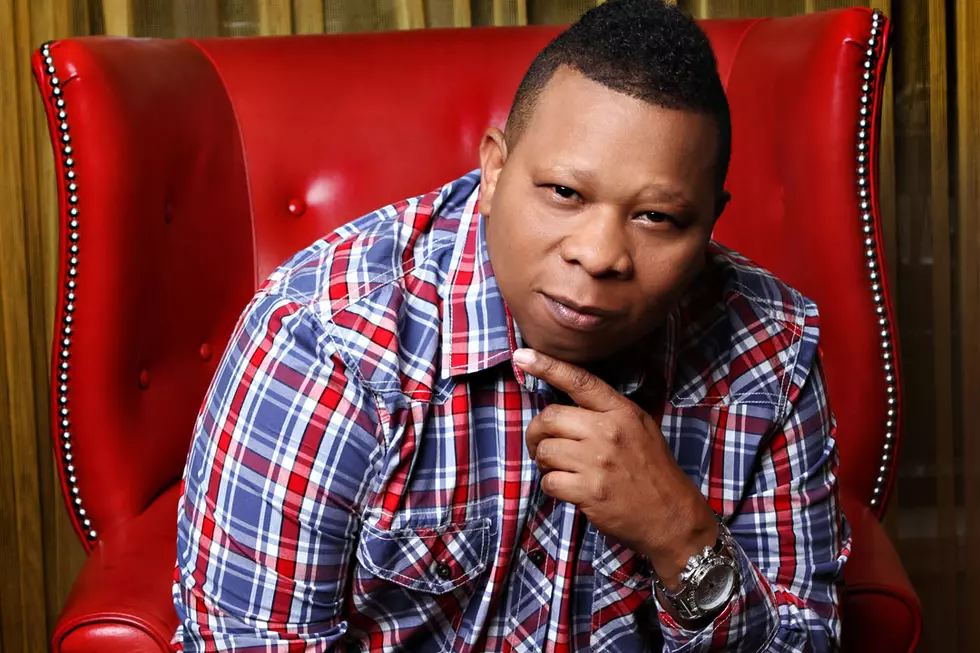 Mannie Fresh Calls Birdman a Marketing Genius for Signing Blueface
Mannie Fresh
Long before Drake, Nicki Minaj and now Blueface became the faces of the Cash Money Records, Mannie Fresh was laying the foundation for one of hip-hop's most storied record labels. The architect of the original Cash Money sound, the producer and DJ laid the sonic backdrop for just about every release from the iconic record label between the early '90s and the mid-2000s. Platinum chart-climbers like Juvenile's twerk anthem "Back That Azz Up," Lil Wayne's "Go DJ," "Still Fly" by the Big Tymers (a group comprised of Mannie and CMB's head honcho Baby) and B.G.'s posse cut "Bling Bling," which turns 20 years old later this month, were not only hits upon their release, but were also certified classics years later.
"If you go to a party and the DJ is failing, you can always go to a Mannie Fresh song," says Fresh. "That's not me blowing my own horn. It's just a fact. Put on one of my records and it will bring your party back. Now after that's over with I don't know what you're going to do." One of New Orleans' finest, the legendary producer was responsible for hard-to forget-singles, as well cult classics and deep album cuts, due to him crafting the production and co-writing many of the early Cash Money releases in their entirety.
Many of the signature sounds found throughout Mannie Fresh's lengthy catalog can now be sampled by other beat makers. He has partnered with music production platform Splice to release his very first beat pack that features drums, loops and even vocals that have become synonymous with the Grammy-nominated hip-hop maestro. Days after ringing in his 50th birthday, Mannie Fresh hopped on the phone with XXL to discuss a couple of 20th anniversaries, his forthcoming project with Lil Wayne and his new partnership, which launches today.
XXL: How did your new partnership with Splice come together?
Mannie Fresh: I've always had people ask why I haven't done a sound pack yet. I just figured, why not partner with a company that I actually get sounds from, because Splice has always been my go-to if I was in a jam and I forgot something. Sometimes you can be somewhere across the world and somebody asks you about doing a beat and I'm like, damn I didn't bring nothing to do the beat. But I know where I can get a kick from or a snare from, because like I said they've been my go-to to do that. So that was kind of like the marriage. They are 100 with how they do it, how they put it out and how they support it.
How did you get introduced to Splice?
I got a friend who I do music with. He's kind of like my tech guy that keeps up on everything that's new. My background is more old school like SP-1200 and MPCs, so I got into Ableton from him and then from Ableton he was like, "There's this shit Splice and with Ableton it's like peanut butter and jelly." Since my dude put me on it's been my go-to whenever I need hi-hats or kicks or something that I need to do fast production wise that's going to be quality.
The 20th anniversary of B.G.'s classic "Bling Bling" is coming up. What do you remember about making that song two decades ago?
Even when I was creating that record and others, I always knew they were going to be big songs. I always knew these songs were going to be big songs and big to the South. What I mean is these songs have stood the test of time. I'm super blessed that my songs are still being played and are still in rotation 20 years later. I'm from the generation of my songs play 20 years later. That's incredible to me. I feel super blessed.
The 20-year anniversary of Lil Wayne's debut Tha Block Is Hot is also this year. If you now could give the Wayne from back then any advice, what would it be?
I always give dude advice. I'll tell you the last thing I texted him with. I told him take care of your crew. Make sure your people are right. This is not a shot at Cash Money or anything, but Wayne is now his own company. Lil Wayne is a brand, so just know that your word means everything. When you tell somebody you're going to do something, do it. When it's time to pay somebody, pay them. If you say you're going to show up, show up. That means everything to me. All of the rest of it is going to take care of itself. A lot of us have dealt with people in this industry that in one way or another took advantage of us and if you knew how that felt, don't do that to nobody else. And I'm not saying that that's him as a person. No way, no how.
Speaking of Wayne, you announced that there were enough records left over from Tha Carter V sessions for a project you said would be called The Fresh Files. Is that project really dropping?
Hell yeah! People are asking when are we're going to do this, but it can't interfere with Tha Carter. We have to let it get to the point where they feel like now go ahead you can do this. I get it, because it's not just him. It's Universal and all of that. The label is like, because Mannie is your dude, we're allowing Mannie to do this. It ain't got nothing to do with Universal. It would be purely just me. The world is definitely going to get those records. If I could've put it out with Universal it would've been out.
What should fans expect from The Fresh Files?
I feel like it's the Wayne that people want to hear. The format of those songs are even different from the two that are on this album. The format on "Start This Shit Off Right"—that wasn't the way the song was put together. There were some people that felt it was too musical and they dumbed the song down. On the project that I'm putting out, you're going to get the version of how the song was before it was touched. When you do something with people, you have to compromise. By no means am I arguing with it. At the end of the day, that's Wayne's baby. Tha Carter is his thing. I get it. Tha Carter was important to him. Wayne was gone for so long, so I knew why he was so protective of how he did this one. The cool thing is that there are some diehard Mannie Fresh and Lil Wayne fans that want to hear Wayne over Mannie Fresh beats without engineers tampering with it or without a room full of people going, "It would be cool if we moved this here." So the ones you're getting from me are the way Mannie Fresh would have did it. They are unreleased songs. Shit, I got about two albums worth of songs on Wayne.
What are your thoughts on Cash Money's latest star, Blueface?
I'm still a hip-hop baby. I'm a fan of music in general and I'm a DJ. That's one of the hottest songs right now. That's one of the go-to songs. You gotta play that song. You can't be somebody that's bias to some shit or whatever. I've always been that way. Even when I was going through whatever with Cash Money, if it was a cool song I still played it. That dude right now is representing the West Coast. You can't sleep on something that's proven. You have to give Baby his credit. He is a marketing genius. He knows how to find shit that happens that people want to hear. No matter what's going on with him, Cash Money finds something. You can't take that away from him.
See Photos of Lil Wayne's Different Looks Over the Years