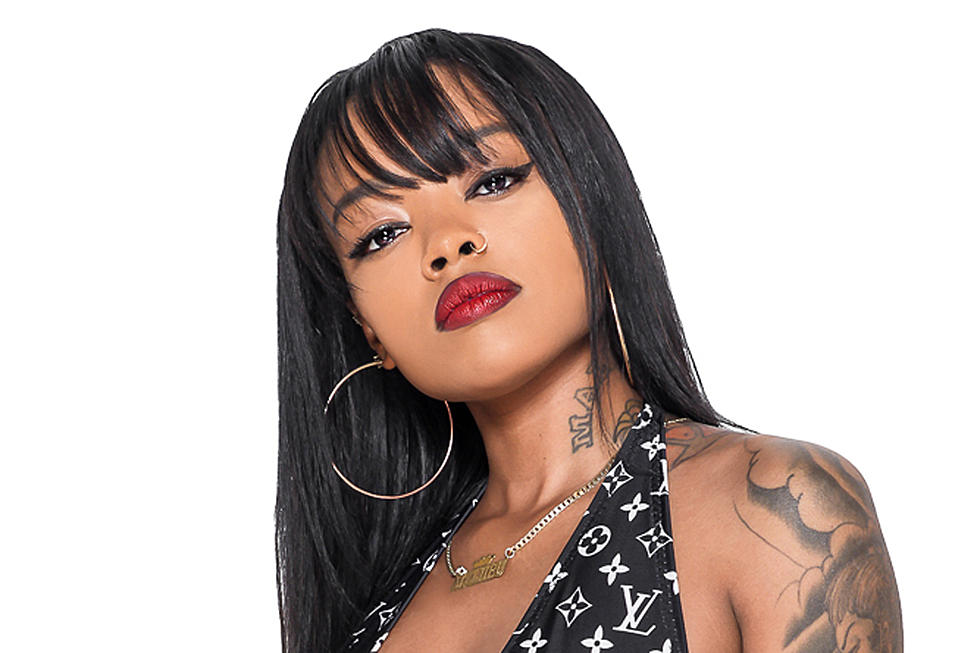 Maliibu Miitch Wants to Work With Cardi B and Drake
Bradley Thornber
The Bronx has been on a roll as of late. From the rise of Cardi B and A Boogie Wit Da Hoodie to the return of Remy Ma, the borough has been spitting out rap artists with undeniable talent and bars for days. Maliibu Miitch is the latest rose to bloom from the concrete, and she's ready to blossom into a musical heavyweight.
The 27-year-old artist has been carving out a nostalgic sound for her upcoming mixtape The Count, which is powered by prominent golden-era hip-hop samples. (Miitch has previously updated Lil Kim's 1996 classic "Crush on You" and Eve's 1999 hit "Gotta Man.") Her latest track "Give Her Some Money"—produced by Lee On The Beats and Hitmaka (f.k.a. Yung Berg)—is an anthem for sexy, fearless women that defines the pint-sized rhymer to a tee.
"The inspiration behind The Count was just super-'90s chill vibes—good vibes, feel-good cookout music," Miitch tells XXL of the project, which features guest appearances by Fabolous, Jadakiss, Jeremih, Ty Dolla $ign and YG. "I'm excited about it, to just be getting embraced by different artists. It's really cool."
The Count, tentatively scheduled to drop this summer, is the bubbly Bronx spitter's reintroduction to the rap game. She first signed a solo deal with Ruff Ryders eight years ago, at age 19. She moved onto Island Def Jam as one-half of the rapper-singer tandem Maliibu N Helene at 23. Now signed to Atlantic Records, she's undergone a creative rebranding that includes a modified style and delivery.
"My attitude changed, my writing style changed, my voice changed completely," says Miitch, whose vocals recall Foxy Brown's vibrato. "I used to rap in my natural tone of voice, but I wanted guys to be able to really fuck with my music too... I was always saying some real shit, but my voice is so high-pitched. When I started putting it a little deeper, that's when I started getting love from the guys too. I've always had love from the females."
"I used to be a little wild firecracker—I am still, but not so much," she continues. "I'm more chill, I think. I've just grown so much. From each deal I learned something new. I learned composure, I learned how to be chill and patient; I never had that before. You need a lot of patience to be in this industry."
The "Gwapamole" rapper has already worked with greats in the game (she's featured on "Pop Sumthn" on Jeremih and Ty Dolla $ign's forthcoming album MihTy), but she's got some other dream collaborations on her bucket list. "I wanna work with Cardi [B] because she's from the Bronx and that would be so lit," she says. "And the video would be so fuckin fire for us to do in the hood. Oh and Drake—how could I forget Champagne Papi like that?"
Although she's excited about the influx of female rap artists making moves in music—"Now it's a group of us, we could mob on these niggas!"—Maliibu Miitch doesn't want to be placed in a box due to her gender. "I just wanna be your favorite rapper—whether it's a guy or female," she says. Along with the impending release of The Count, Maliibu Miitch plans to do whatever it takes to make reaching that top spot a reality. "I wanna do so many shows that I can't fuckin' stand up on my two legs anymore," Miitch adds with an laugh. "I just wanna work my ass off."
See New Music Releases for May 2018