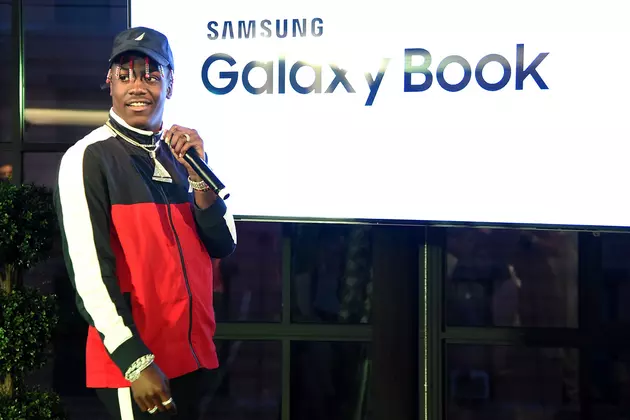 Lil Yachty Wants to Break Barriers, Says "F*!k Album Sales"
Jamie McCarthy, Getty Images
Samsung hosted an exclusive panel and launch party for the new Galaxy Book on Wednesday night (June 14) featuring hip-hop's King of the Teens, Lil Yachty. The rapper spoke on the importance of branding yourself and building key relationships, which he's well-versed in.
Joining Yachty on the panel were the twins Adam Goldston and Ryan Goldston, founders  of Athletic Propulsion Labs (APL), and Jaymee Messler, the President of The Players Tribune. Highlighting the new faces of today's two-in-one CEOs, all panelists were featured in individual campaign videos highlighting their passion and drive. Showcasing Samsung Galaxy Book's new impressive  features, Yachty and company then discussed their next business ventures and shared stories on how they made it in their individual careers.
To cap off the eventful night, Yachty performed a few of his mega hits and collaborations before closing out with an new song from his latest album, Teenage Emotions. Right before the "1 Night" rapper hit the stage, XXL caught up with the hip-hop sensation to talk about his collaborative work with Samsung, chilling with Pharrell and Swizz Beatz and much more.
XXL: We're here for the launch of the Samsung Galaxy Book. Discuss your partnership with Samsung.
Well, we trying to make it happen. This was more of a collaborative event for the Samsung Galaxy Book but you know we trying to get there and add this to the list of accomplishments.
You were recently spotted chilling with Pharrell Williams and Swizz Beatz. Tell me about that moment?
You saw that! Ohh, man! Well, all I can say is it was one of the most amazing moments in my life, you know what I'm saying? Swizz Beatz, Pharrell, Justin Timberlake was in there. Alicia Keys was in there for a minute. You know the energy was positive, you know what I'm saying? Before any music was even played, just the conversations. I just felt blessed to be a part of it, you know what I'm saying? To be a part of the toast that happened and just to communicate with these people. I didn't even know Justin Timberlake knew who I was? You know what I'm saying? So it was crazy.
Should we expect a collab from that gathering?
I saw you with Macklemore recently in a photo. What was that about?
Me and Macklemore worked on something really dope and I really think people are going to love it.
You dropped your Teenage Emotions album last month and the feedback from your fans has been amazing, but your haters are pointing out the low sales. Do you even care about album sales?
I do, but it doesn't matter, bro. You know what my job is, my goal is? I want to be that guy that breaks that barrier, you know? I want to be the guy that breaks...okay, 44,000 in sales whatever, I'm still shifting culture. Still have a movement. Selling out tours, you know? I want to be the guy that breaks the barrier like, fuck album sales, bro, you know? If you're a star, you're a star and if you have a following, a movement, loyal fans, who cares about album sales. No one even buys albums anymore. But it is what it is.
How do you feel like your fans have responded to this project?
My fans love it, bro. That's all that matters to me. That's all that I give a fuck about, you know? The project was long but that's because it was for my fans. I hadn't dropped a song or any music in a long time like without a feature or a collaboration or some shit like that, you know? So it was important to feed them that.
How's your partnership with Nautica going?
Real good, man. I'm getting ready to drop my capsule and it's going to be crazy.
So this will officially be your first collab capsule with Nautica?
Exactly! It's gonna be the first one that I actually touched. You know, I've been modeling in a lot of their clothing but I had no creative mindset on it. I just modeled it. The stuff I actually made is about to drop. It's gonna be colorful and a lot of bright colors.
When is the first collection dropping then?
Any particular name for the collection?
You know, it's just Nautica and Lil Yachty. My name is on it, and you know it's gonna be my clothing collab when it drops 'cause it's some summer shit on some dope '90s vibes. Just dope shit.
What's up with the Sailing Team? Any compilation project in the works?
Man, so right now, and I'm really about to break this—I don't think this is out—but right now we're working on a QC [Quality Control] compilation album me and Migos. That's next, like really soon, which is exclusive. I'm gonna try to break some Sailing Team members on that, and after that they touring with me again. Then hopefully we drop this Sailing Team collaboration tape.
You know, it's a lot of work, man. You know dealing with myself and nine of my friends that I grew up with. It's just hard. You can't be boss with them, you know? I grew up with them. It's a lot, but we're working on it.
Go Behind the Scenes With Lil Yachty at 2016 XXL Freshman Cover Shoot