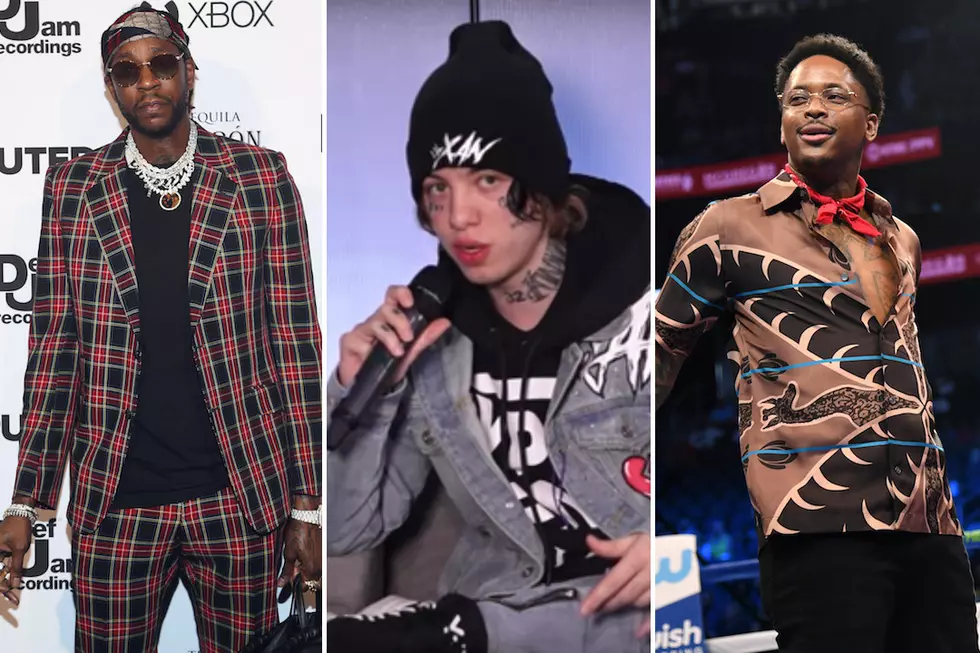 Lil Xan's 'Total Xanarchy' Album to Feature 2 Chainz, YG and More
Tommaso Boddi, Getty Images/Hot 97 via YouTube/Ethan Miller, Getty Images
After creating his massive buzz over the last year or so, Lil Xan is ready to drop his anticipated Total Xanarchy album for fans. The 21-year-old rapper stops by Hot 97 to talk with the Ebro in the Morning crew, where he reveals some details about his forthcoming studio LP.
While the project was originally slated to release on March 17 this month, Xan confirms that it has now been pushed back to April 6 instead. Fortunately, however, the wait will be worth it, as he has some star-studded features on the album, including 2 Chainz, YG and more.
"I got YG, 2 Chainz, Charli XCX and Diplo," Xan explains. "We really wanted the album to be something else."
During the interview, Xan also explains how Total Xanarchy, which follows in the footsteps of his tour of the same name, will be different for his sound and style.
"This album is where I feel like I shine with the whole creativity," he states. "It's a lot of stuff people haven't heard. It's a very mature sound. I don't think they're going to expect it."
Xan confirms that he is officially changing his name to Diego as he moves away from his current Xanax-infused title, but the name change won't take effect until his second album. During the conversation, he also names Mac Miller as the artist he grew up on that influenced him the most, and shares the story of speaking to him for the first time.
See Lil Xan confirm some of the guests on his upcoming Total Xanarchy album around the 27:45 mark during his interview with Hot 97 below.
See 20 of Your Favorite Rappers Naming Their Favorite Rappers