Lil Wayne Disses Oklahoma City Thunder Again, Hopes Miami Heat Wins NBA Finals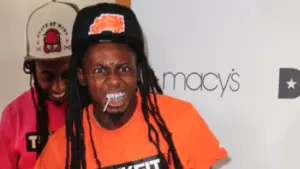 Lil Wayne has taken issue to both the Miami Heat and Oklahoma City Thunder basketball teams before.
But when it comes to the NBA Finals, Weezy wants the Thunder to feel the Heat.
There's no love lost for Lil Wayne when it comes to the Oklahoma City Thunder.
"Again I was treated like sh!t by the Thunder arena staff...dam..I hope da Heat beat da dog sh!t out em!!"  Weezy tweeted after the Thunder defeated the Heat in Game 1 of the Finals last night (June 12).
The tweet indicates that Wayne continues to hold a grudge against the Thunder in angst that stems from May 31, when the rapper was denied entry into the Chesapeake Energy Arena to watch the Thunder host the San Antonio Spurs in Game 3 of the Western Conference Finals for failing to have a ticket.
In response, Weezy told the AP that Thunder stars Kevin Durant and James Harden had offered him tickets, but they're missing the point.
"It's the players stepping up but of course the players aren't White," Wayne told the AP on June 1. "I don't want to be sitting there on behalf of you and I'm sitting next to a (person) that's like 'I don't want this (guy) sitting next to me.' (Forget) you ... I'm in Forbes."
Last year around this same time, Wayne wasn't feeling the Heat. The rapper voiced his anger toward Heat stars LeBron James and Dwyane Wade for not shouting him out when they seen him sitting courtside during games in Miami. When the Dallas Mavericks then defeated the Heat in the 2011 NBA Finals, Weezy partied the night away with Mavs' owner Mark Cuban and their star player, Dirk Nowitzki, at Miami's Club Liv.—Mark Lelinwalla