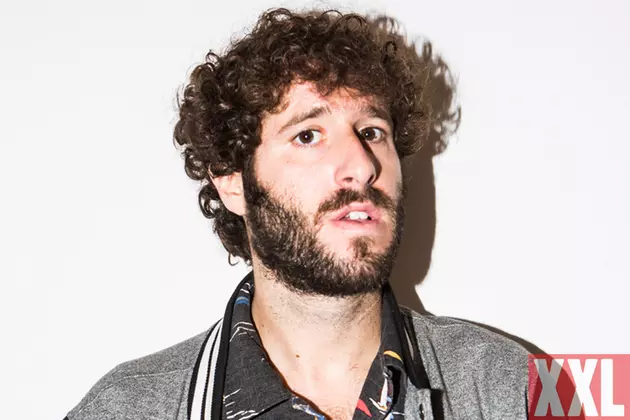 Lil Dicky Focuses on Creating His New TV Show
Lauren Gesswein for XXL
"Where's Lil Dicky been" is a question that many rap fans have been pondering as of late. Aside from hitting the road on his Dick or Treat Tour, being tapped as a member of the 2016 XXL Freshman class, collaborating with Trinidad James for "Just a Lil' Thick (She Juicy)," and Kent Jones for "Sit Down," the latter part of 2016 was a relatively quiet year for the rapper. However, Dicky says that although he may have been in the shadows for much of 2016, the year was still a successful one with many highlights, one of which was receiving a text from his manager informing him that he would be appearing on the XXL Freshman cover.
"It's so cool," Dicky, who was stuck in a traffic jam on his way home from the Coachella music festival, says when asked how being selected as a XXL Freshman has affected his career. "I feel like a lot of what I do can be funny or jokey at times, so I think it just helped me legitimize everything. It made it all seem like, yeah, even though he's joking around, it's still something to be taken seriously."
Listing Anderson .Paak as the XXL Freshman from his class that he's built the strongest rapport with and keeps in touch with the most, Dicky also gave a nod to another rapper who he feels has earned a spot in the 2017 XXL Freshman class. "I think MadeinTYO would be a great choice," the 29-year-old shares, before delving into his reasoning for picking the "Skateboard P" creator. "I just really like his music. One of the guys who used to work with me works with him now, so I just met him really early on and I really just like all his music."
In addition to his recent stop at Coachella, which Lil Dicky says taught him that he's "just not a big festival-goer," the rapper recently came out of the woodwork to unleash the music video for "Pillow Talking," a song on his debut album, Professional Rapper. The visual reunites Dicky with director Tony Yacenda, who was also at the helm of his 2015 smash "$ave Dat Money." The clip finds Dicky chatting with a hottie in bed after having sex, until the conversation goes completely left—a talking brain even appears. The 49th most expensive music video ever created, the "Pillow Talking" video, which runs over 10-minutes long, is required watching and yet another slice of the rapper's every-man tendencies and comedic personality.
"I kind of just began to date girls when I moved to L.A. and I was just experiencing a lot of different, like, awkward conversations throughout my dating history," Dicky explains of the inspiration behind the song and video. "And I knew I wanted to make a song be, like, very conversational and funny, like a long story of the song. So I kind of just decided to make it about a post-sex conversation that could've happened naturally and then I took a few days to map out the story."
Filmed in the valley in Los Angeles, the concept for "Pillow Talking" was crafted by Lil Dicky himself, who then shared his vision with Yacenda, who in turn executed. Filled with unexpected twists and interesting wrinkles ("They used the wolves that are the Game of Thrones wolves so that was a cool thing"), the "Pillow Talking" video is a pleasant surprise for fans, but is also sure to increase anticipation for Dicky's long-awaited sophomore album.
With Dicky's debut album, Professional Rapper, having been released in 2015, nearly two years have passed since the world has gotten a full-length project from him. When asked about the status of his next album and if it will be released in 2017, he responds with "Hopefully," and is non-committal about the issue, insisting that it will be released when the time is right. "Stuff's not ready yet, so I'm in no rush," he shares. "I don't ever cater to people wanting things faster, it's done when I think it's done so we'll see. But there's no deadlines in or anything."
He's mum when it comes to dropping any hints or clues as to what fans can expect from him next. Dicky likes to keep his ideas a secret until the time is right. "It really varies, I have a lot of really good ideas, but it's like another example of not sharing stuff," Dicky says. "I would never say I'm making a whole song about saving money with Rich Homie Quan and Fetty Wap before it came out, you know what I mean? I have a lot of good ideas that are certainly funny and out there, for sure, but I don't like revealing the premises of the songs I'm working on, if that makes sense."
Details surrounding his next album may be sparse (he wants to surprise people as far as features go as well), but according to Lil Dicky, there's a good chance that you may hear his voice on a few tracks from other artists. "Yeah, there's a few people that I'm doing some things for, but I don't know what their plans are or anything so I can't really speak to their stuff, but I'm always doing something," he admits.
However, Dicky perks up slightly when the topic of producers he's working with comes up. "I've been working a lot with Benny Blanco, he's a producer," Dicky says. "And I've been working with Diplo and a bunch of other people. Detail, Charlie Handsome. A variety of people."
It's not uncommon for artists to be less than forthcoming about unreleased material, especially in an age where capturing the spirit of an event is just as paramount to an artist's success as the actual music. Rap, like most things, is altered when the element of surprise is removed, a jewel that the Pennsylvania native is apparently aware of. A perfectionist when it comes to crating, Lil Dicky has no qualms about putting the time in to craft art that is up to his standards, and will go to drastic measures to ensure he is satisfied.
"Yeah, so I'll have a bunch of different ideas, like, let's use '$ave Dat Money' as an idea, for example, off my last thing," the rapper states as he breaks down his creative process. "I had that idea for a while, but then I go to all these sessions and I hope to get a beat that I think would work well for that idea and eventually I'll get one and then I'll have a whole list of ways I save money and then I apply that verse to the beat, and then I write it, and then I get features on it. So it's like, I'll have all of these ideas and then I wait until I pick beats to fit the ideas perfectly. And then, in the mean time, I'll do sessions and get beats that don't necessarily fit the idea as well and they'll spark a new idea and eventually I'll just keep making music and then we come with the album."
Relatively young in rap years, Lil Dicky's buzz has afforded him the chance to record with a few big names, across multiple genres. Looking back on the past few years, he says that three experiences in particular with artists have stuck with him and stand out as landmark moments in his career. "Well, Snoop Dogg and T-Pain, to me, are like legends so it's like any time you get to work with a legend like that, it's cool," he affirms. "And it was just really cool to me that they even knew who I was and was interested, so that was just a cool thing. Like, I grew up on those two guys. And then Brendon [Urie] was one that I actually did get in the studio with 'cause T-Pain and Snoop Dogg, it was all digital, but Brendon Urie, I was there with him and it was just cool experience to be in the room with the guy and just being himself with you."
Although Lil Dicky says he's made plenty of use of his in-home studio on the regular, insisting that he goes to the studio just about every day and that music is high on his list of priorities, he is also making inroads in the realm of television. His popularity has come in part due to his acting and comedic chops. While a number of rappers, including Will Smith, LL Cool J and more recently, Childish Gambino (Dicky names the latter as an influence and blueprint for his own career), have found success simultaneously as both actors and musicians, Dicky is primed to become the next one to cross over into prime time TV as the focal point of a show.
"I'm working on a TV show," Lil Dicky reveals, before adding, "but it takes so long to develop that you won't really see any of that for like a year and a half, but it's in the works.
As far as his goals for 2017, Dicky says that his main priorities are TV and music. If all goes well, his TV show is sure to open many doors for him and become an institution of its own, aside from his music. "I'm pretty focused on this one thing," Dicky says. "I think my TV show is gonna be my big thing so I'm pretty focused on that and I think doing that will lead to all of the other opportunities I want, to jump to movies and other stuff, but it starts with that."
With Coachella now in his rear view, as well as countless cars also stuck in the traffic jam created by the frenzy that is the festival, Lil Dicky is ready to go home and work on music and his TV show. As the conversation begins to wind down, he takes a thoughtful second before leaving his fans with a lasting message.
"I would say that I don't make music quickly, like, my process has been very slow and my bar is very high and I don't really rush to make music just to get something out there," he discloses. "I'm under the assumption that if the stuff's good, it can come out any time and still hold its own. It's like I feel I have a unique product that's not really like anybody else's stuff, so I imagine that you'll feel rewarded because every time I put something major out, I think it's gonna be pretty next level and epic."
Behind the Scenes With Lil Dicky at the 2016 XXL Freshman Shoot