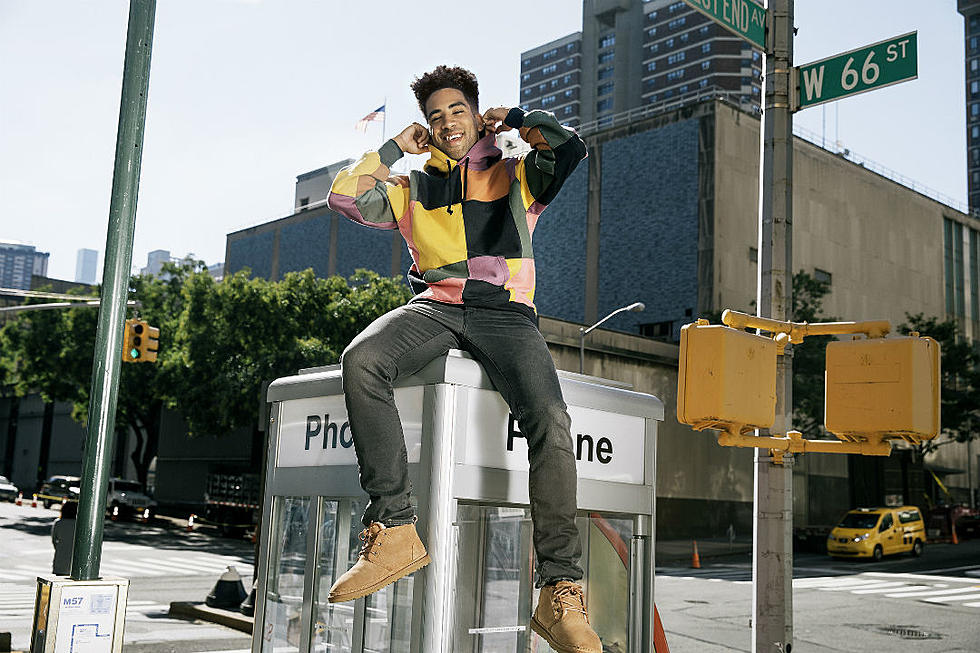 Kyle Teams Up With UGG and Footaction for New Campaign
UGG x Footaction
West Coast rapper KYLE is the latest hip-hop act to star in a major campaign ad for a renowned footwear brand. Teaming up with UGG, in partnership with Footaction, the multi-platinum rapper is featured in the brand's latest marketing campaign as he embarks on a trip around New York City wearing the all-new UGG styles.
Shot by photographer Chris McPherson, KYLE's New York adventure with UGG and Footaction starts off in Manhattan as the rapper cruises over the Hudson River on a New York Water Taxi while observing The Statue of Liberty. KYLE's next stop in his campaign features him posing in front of the "Imagine" landmark in Central Park. While wearing a pair of exclusive Neumel Color Block's, the Ventura, Calif. native pays tribute to one of the legends in music, famed Beatles member John Lennon.
KYLE's New York City expedition with UGG and Footaction continues with the rhymer making his third stop in the busy area of Chinatown. He's then taken to the popular West 4th Street courts to play basketball with a few of his friends as he sports the Harkley silhouette. The 2017 XXL Freshman's excursion concludes in the popular NYC area of Times Square. In typical SuperDuperKYLE fashion, the "Nothing 2 Lose" rapper is seen crowd surfing in the middle of the busy tourist destination, wearing his signature varsity jacket and the exclusive Neumel Color Block shoes.
XXL got a chance to speak with the 24-year-old rapper about his involvement with the UGG campaign and his New York City adventure, and much more. Check out KYLE's thoughts on the campaign and the photos from his New York adventure in the gallery below.
XXL: How did you end up teaming up with UGG and Footaction?
KYLE: Well, UGG and Footaction teamed up first and when they reached out it was really organic. Personally, UGG has been a huge part of the city where I'm from since I was a little kid. Everybody was always rocking UGGs. All these dudes that knew how to surf really good were always rocking UGGs, so partnering with them was so dope and so natural. It was something that I was already a part of for a very long time.
The campaign shots look great and it looks like you had a lot of fun. Talk about the day of the shoot and your thoughts on how the campaign images came out.
It was really dope! The campaign was actually shot in reflection to how I actually felt in New York. I've never really spent more than a day in New York and that was the first weekend of me being in New York because I was shooting a movie. They had me doing a lot out of tourist stuff for the campaign. As a California kid locked in the city, I like going around doing all this awesome stuff. So, I got to do a lot of stuff that I always wanted to do in New York like seeing the Statue of Liberty and stuff like that and they just documented the whole thing, which was really cool. So, they really captured KYLE's first trip in New York.
Do you remember the first pair of UGGs you bought? What do you remember about that pair the most?
Yeah, I do! I remember UGG boots were definitely going dumb in Ventura. I remember it was classic boot they had at the time and I remember me, my mom, my sister and my bother and we all got UGGs. This had to be either the summer of my eighth grade year or the summer of my ninth grade year, but I do remember that first pair. We would always wear something different up top, but our feet were always matching uniforms.
See Photos of KYLE's UGG x Footaction Campaign