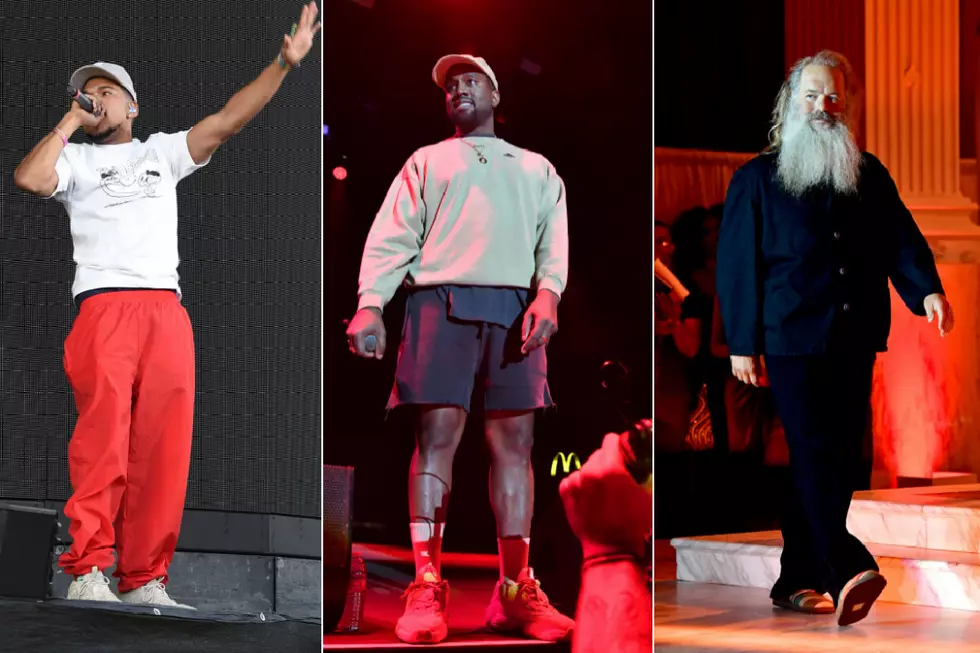 Kanye West, Chance The Rapper and Rick Rubin Hit the Studio
Kevin Winter / Neilson Barnard / Frazer Harrison, Getty Images (3)
It's crunch time for Kanye West. His new solo album is due out in less than a week and it looks like he is still putting the finishing touches on the project. On Friday (May 25), frequent collaborator Mike Dean shared a photo of West in the studio with Chance The Rapper and legendary producer and rap exec Rick Rubin.
In the picture, all three artists seem to be deep in thought. There is an open laptop in the foreground and an engineer appears to be playing back music for the trio to listen to. The sage Rubin sits shoeless with his legs crossed. This seems to confirm news that broke back in April that West and Rubin were working on the Chicago rapper's new album. Rubin was instrumental in West's 2013 LP, Yeezus.
A couple weeks back, Kanye shared video of himself mashing out beats, surrounded by potential tracklists for upcoming G.O.O.D. Music LPs. It looks like all the albums will be seven songs. Chance might get an opportunity to be in one of those limited spots.
In related news, Chance recently found himself apologizing for defending Kanye's support of Donald Trump.
Check out Mike Dean's post below.
See Photos of Kanye West's Different Looks Over the Years