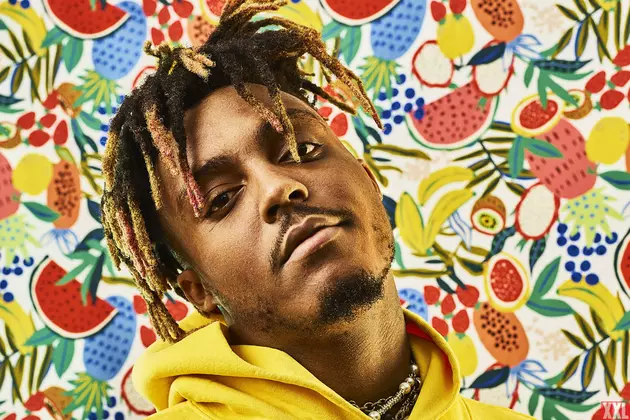 Here's Everything We Know About Juice Wrld's New Album: Exclusive
Ahmed Klink for XXL
Juice Wrld is about to go two for one. Speaking to XXL for the Fall 2019 issue of XXL magazine, the dynamic Windy City artist revealed plans to drop another album this year. The project, currently untitled, is set to be released on Dec. 2, which is the rapper's 21st birthday.
If the Chicago native follows through with his plan, and this third studio album goes No. 1, Juice will have two No. 1 albums in a calendar year. This feat will place him alongside other superstars like Future and Justin Timberlake, who also released two No. 1-selling albums within a year.
The forthcoming effort will serve as the follow-up to Juice Wrld's Death Race for Love album, released in March. The gold-certified LP has since spent 29 consecutive weeks on the Billboard 200 chart after hitting No. 1 upon its initial release. His platinum-certified, debut album, Goodbye & Good Riddance, has never left the Billboard 200 since it peaked at No. 4 on the chart in May of 2018, when it was released, bringing the total to 71 weeks and counting.
A year-and-a-half removed from officially breaking into rap stardom, Juice, a freestyle dynamo, has a lot up his sleeve for his latest album, which will obviously be accompanied by big-time expectations. Most likely, his goal is to surpass the commercial success of songs like the platinum-certified "Robbery," with 234 million streams on Spotify, and his breakout hit "Lucid Dreams," currently five-times platinum and having more than 377 million YouTube views.
Check out everything we know about Juice Wrld's for yourself in the list below.
Young Thug Will Be Featured

Juice Wrld has tapped Big Slime for his Death Race for Love follow-up. Young Thug will appear on the Chicago rhymer's third studio album. Thugger and Juice previously collaborated on "Mannequin Challenge," which is a track from Thug's So Much Fun album. Juice reveals plans to put at least one of the several collabs he's recorded with Thug on his new LP. We can't wait.

Direction Deals With His Current State of Mind

The rapper is so committed to his new music that his friend and engineer Max Lord lives with him so he can record with Juice at any time. Lord says Juice's new LP takes a different thematical route than the rapper's previous offerings.

"We're focusing a lot more on [Juice Wrld's] evolution in terms of where like the first album was more dealing with the bad relationship and with heartbreak and with the torment that brought," Max explains.

"The second album was really going through finding love again with his girlfriend, Ally, and kind of finding some solace in gaining success and how to handle it. And now, a lot more kind of dealing with the anxieties and the current state of mind that he's in now where, you know, it's everything that's happened over the last year... catching up and dealing with a lot of responsibilities and how he's able to wrestle with that in his own mind."

A Popular Song Snippet May Be Included

Like other artists of his generation, Juice Wrld previews a ton of music on social media. From Instagram to Twitter, the singer has delivered plenty previews of sessions in the studio this year. In turn, fans have put the snippets of songs on YouTube, where they've even named some of the unreleased tracks. One song, which fans titled "Man of the Year," was recorded with producer Rex Kudo and a band in London this past July.

Juice speaks on his success and his turmoil on the song. "Man of the year, still got problems/Lookin' in the mirror, you look awful/Talkin' to myself, do it too often/J-K, Juice Wrld, you're so awesome," he sings on the punk rock-inspired track.

Metro Boomin Will Produce a Track

Metro Boomin has also been enlisted for Juice's new LP. Juice knows he's got one of the best crafting a beat. "[Metro Boomin] was at the front end helping create the waves and shit, so, I can't do nothing but respect him and respect his talent and respect his hustle and work ethic," Juice tells XXL. "If you a real muthafucka, you gonna always gravitate to genuine energy and activity. He one of the greats. He a legend, for real."

Juice Wrld says he's recorded up to 10 songs in one night in preparation for his new album. Sometimes, though, he says he focuses more on perfecting one particular song. "It's really just something that I'm feeling my way through," Juice says of his recording process for the LP. "It's always good to put thought into shit, but something's gonna come more from like, a feeling and heart and the soul, less like the mind."

Nick Mira to Produce a Song

Nick Mira, who crafted beats for Juice's previous hits "Lucid Dreams," "Lean Wit Me" and "Robbery," to name a few, will also create some of the production for the impending opus.