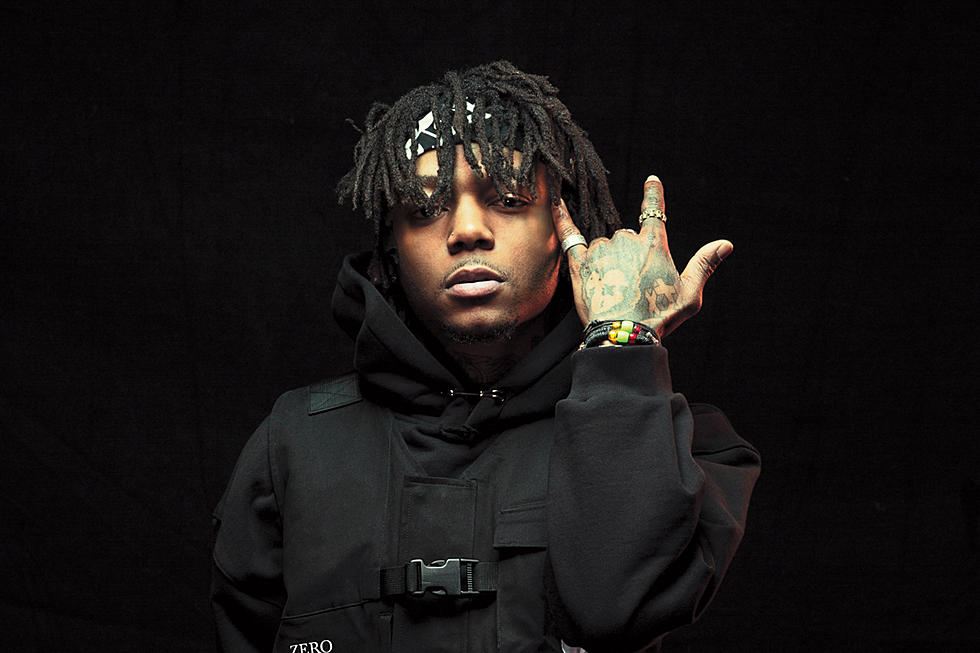 J.I.D Breaks Down The Lyrics to His Song "Slick Talk"
Travis Shinn
Train of Thought
Interview: Robby Seabrook III
Editor's Note: This story originally appeared in the Winter 2018 issue of XXL Magazine, on stands now.
"Look, OK/This the type of shit that have niggas in beef/That slick talk followed by some stick talk then sleep/Pissed off, I done took my fifth loss this week/Big dog, I can scratch that shit off like fleas/I got a lotta shit to say, but I'ma keep my list short/I know a lotta your favorites not gon' fuck with this part/When I'm done, please know that I was trying to diss y'all/'Cause if this is a competition, then I'm setting this bar/In my city, who's with me? I'm in my own lane, Jack/Nigga said, 'J.I.D so flame,' I propane rap/I'm from East Atlanta like Gucci and Travis Porter/But my story is similar to the hare and the tortoise/Pen so sharp, told stories you thought I forged it/Back in the fourth grade, never read Curious Jorge/My nigga Corey kept a little 40 inside his North Face/Left a nigga with no face and beat the court case/Coming home from ball practice, took the street to short way/We from the East, but never gave niggas a reason to try it or think it's easy/Soft pussy niggas eat the sorbet/Or eating your face, or squeeze the heat, then leaving your place/I've been telling you life's a bitch, but it's a beach in your case/I've been yelling and throwing fits, I'm tired of screaming all day/I've been fighting these fucking demons all day/Man, this shit ain't never been easy, maybe I just need a breather/Hand your boy the blower, let me squeeze it/Blow a little steam, ain't hating, I'm just heated/Niggas know what I mean, but niggas don't know what I been through/So, if I offend you then, uhh, uhh, uhh, uhh"
XXL: There's a lot of boasting on this verse. Where does that confidence come from?
J.I.D: Just me being an athlete, playing sports. If you know you worked all summer, did your spring training, did all this shit to prepare, who can really stop you besides yourself? That's what I be on. This song was started in 2015. The second verse came a little bit later. I just sat on it, then my manager said, "What you doin' with 'Slick Talk'? Talk more shit on it. Keep going!"
What was it like coming up in Atlanta when artists like Gucci Mane and Travis Porter were thriving on the scene?
Travis Porter, we all the same age. We all graduated around the same time. Them the homies, so when they was poppin', I was about to go to college. It was just a good moment for Atlanta. Some Eastside shit. Everybody knew of Gucci—crazy Gucci before all the muscles and shit and Travis Porter being the ratchet-ass lil' Eastside niggas, just having a good-ass time. They spawned a lot of good shit.
You talk about bouncing back when things don't go your way. How did you get to that point where you could just brush it off?
I react like any other person would. That shit bring you to a place of discouragement. I deal with that shit so much in my life, being let down by people. Even where I'm at right now, I be tryna find other ways to get that shit off, 'cause I be super stressed. Making a song—that shit becomes fickle as fuck to me sometimes. I really need to talk to somebody. If it's real-life shit, I don't wanna be like, "I'm G, I can't get upset! I can't let this hold me back!" I'm a fuckin' person. So, I deal with that shit like everybody else. You take that shit in stride. The other side of it is how you deal with it. Being a man about it. Don't be a bitch about whatever you go through. Try to be as fluid as you can through the process of going through some shit.
You compare your story to Aesop's classic fable, The Tortoise and the Hare. Which character are you?
Whoever won. Everybody else hares. I know the tortoise won. I ain't going at nobody else pace. I'm just on my own shit. If I stay with that mindset, I'll be where I wanna be at the end of the day.
See Photos of J.I.D Behind the Scenes at the 2018 XXL Freshman Class Cover Shoot