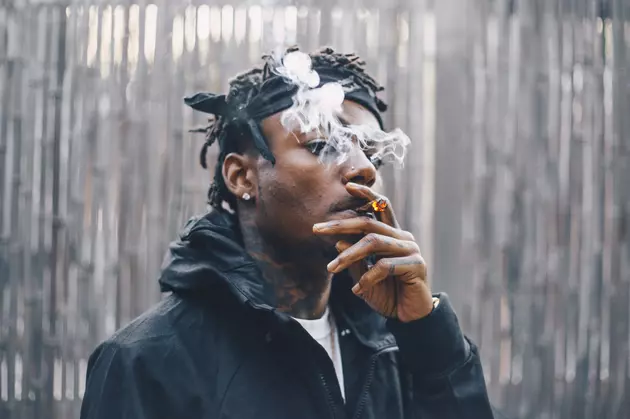 The Break Presents: J.I.D
Michael Kelly
When you think of the new sound of the young wave of artists coming out of Atlanta, nine times out of 10, you're going to think about trap music. The common myth about new MCs coming out of ATL is that lyrics aren't a high priority. That logic doesn't hold true for every artist and J.I.D, an Atlanta native who just signed to J. Cole's Dreamville Records, is trying to change how people think about the new generation of rappers.
"People try to discredit our city," J.I.D tells XXL while in New York. "Our city has a lot of flavors and it's not all one type. It's a different scene, it's a different vibe and it's Black people everywhere. Black people are creative as fuck; we are a different type of people. So Atlanta having all these qualities, they emphasize one side of it, the trap, and the flashiness. It has been and it's people there who can do it and I just want to be on the forefront of that and this is what I came here to do."
The East Atlanta rapper has been making waves in his city for a couple of years now. He released his Dicaprio EP in 2015, and in 2016, along with the Spillage Village crew (which is also comprised of EarthGang, Jordxn Bryant and Hollywood JB), the budding upstart dropped Bears Like This Too Much, a fantastic 12-track LP. The project, which quietly became one of the better projects of that year, found J.I.D displaying his witty lyricism and ear-grabbing delivery.
So how did an Atlanta rhymer link up with North Carolina's own J. Cole? The relationship began when J.I.D went on tour with EarthGang, Bas and Ab-Soul way back in 2014. It was there where J.I.D struck a friendship with Cole's right-hand man Bas and producer Cedric Brown.
"EarthGang went on tour with Ab-Soul a few years ago," J.I.D shares. "I went with them, just doing a song and performing and Bas was with there. That's how the relationship started. Meanwhile, I met Cedric Brown, a close friend with Cole, and me and Cedric were cool organically, just getting high with the homies. But after the tour I would send [Cedric] music and shit, thinking he was just enjoying it. He was playing it for Cole the whole time. Cole took a liking to it. He came to Atlanta one day and we went to one of his shows and it was history after that."
J.I.D inking a deal with Dreamville is a great match. The label, which is home to Bas, Cozz, Omen and singer Ari Lennox, are all excellent with the pen but each bring a distinct style that's truly their own. The new signee fits that fold. With his new project, The Never Story, on the way, XXL sat down with J.I.D for The Break to get to know more about his come up.
I grew up listening to: "My parents are old as hell; I'm the youngest of 7. So I was listening to old school shit; Sly & the Family Stone, big Earth, Wind [& Fire] fan, stuff like that; Black family stuff. I always loved hip-hop, being a Black little kid, I always used to freestyle on the bus when I was young. It was always a part of my life.
"I started taking rap seriously I would say around 2012. That's when I locked in and I said I really want to do this shit. It was around the time I got kicked out of college. I started reading books and reading other great writers and listening to Jay Z and shit. New York hip-hop inspired me a lot. That's when it started for me.
"I got my name from my grandmother. She used to call me jittery when I was a baby because I used to move around real fast and shit so I just broke it down to J.I.D. It stands for something when I feel like it."
My style's been compared to: "I get comparisons but I feel like when something is new you have to make it feel familiar to you in some type of way. I've gotten a few comparisons like Kendrick [Lamar], just because of vocal tones and Anderson .Paak for the same reason. I describe my music as just like a cluster fuck of good shit. I don't try to make one thing, I really try to experiment, even if its just the vocals or the beat. I can't really describe my sound."
Most people don't know: "I love turtles. I'm an animal freak. I can give you facts for days. Turtle fact, they nut like half their weight [laughs]."
My standout records to date have been: "'Never,' just because it sounds like what a lot of people are going through. It sounds like pain, frustrated but at the end it still like hope for the future. It's like a progressive as song."
My goal in hip-hop is: "Just to be, overall, I want to be one of the greats. Overall, someone that leaves a good mark, someone everybody always remember."
I'm going to be the next: "I want to be the next no one because I want to be the first of me."
Standouts: J.I.D : The Never Story
See 15 of Hip-Hop's Weirdest Album Titles