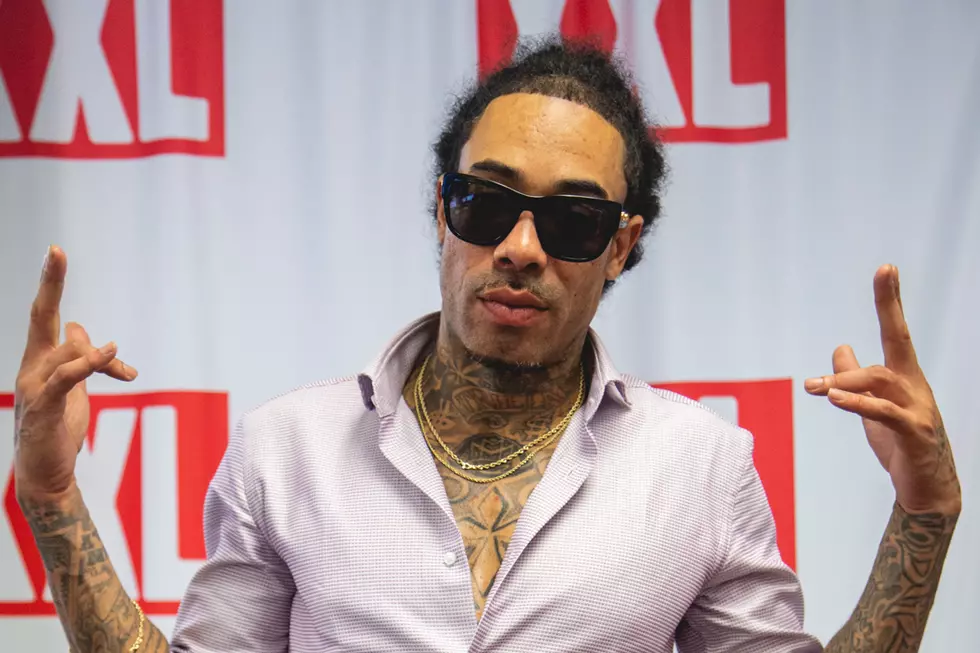 How Gunplay's Street Ties Helped Make His Gritty 'Active' Album
@wheresdiggity
As a rap star, maintaining your edge isn't always easy, but Gunplay makes it look that way on Active, an LP that finds the Miami artist delivering street tales with just as much conviction as the day he first started.
"I just feel comfortable in the trench, for real," the 38-year-old rapper reveals while visiting XXL's Manhattan office. He spends the entirety of his time on Active making that point, serving up 31 minutes worth of bars so emotional and vivid that they sound like they could've been recorded immediately following a drug deal gone bad. Despite having spent the last decade living life as a rap star, Gunplay says he can take listeners on a tour through his trife life because he's still living it.
"That's why the album [is] called Active, because a nigga really active for real," Gunplay says, alluding to continued involvement in the streets.
With tons of new music and a distribution deal with Empire in tow, Gunplay chops it up with XXL to talk about the role the streets play in keeping his music fresh, Active, a potential new collab with Kendrick Lamar, new music with Rick Ross, Meek Mill's current legal battle and more.
XXL: You've been a rap star for a while now. How do you keep your lyrics so organically street?
Gunplay: I feel at home [in the streets]. I'm really active, for real. I can't talk about shit that I don't see. [If] the checks are really, really, really big—alright. That's my homie now. Checks is cool but that's my fall back, man. The streets. If rap was to stop, if I don't sell no records, I'm good in the streets. I can make a move or two, bend a corner or two—make it happen. You can't make it happen if you not there. Not knowing what's going on. Not knowing no numbers for no work. You don't even know the numbers, so what you doing?
What was your favorite song to record for this Active?
It gotta be "Finish Lines," 'cause I just talk to 'em—let 'em know what's really going on, you know? I say something about, "Trying to leave the trap but I'm more active than I ever been," and that's real. "Finish Lines."
Between Dreadlocks & Headshots with Mozzy, The Plug, Haram and Active, you've dropped four projects in just about a year. How do you have so much to say in such a relatively short amount of time?
'Cause when I write my music, it's whatever space I'm in at the time. [Whether] I'm up [or] down, if I have to make music at that point, I'ma give you how I feel right now, what I'm going through right now at the time. So it's real easy for me to pull from when it's time to create. At the time, if I'm going through something real on a case or something like that, I'll talk about a lot of judges and a juries or something like that. That's what I pull from—whatever is going on.
Was there any specific happening that left its mark on Active?
Yeah. I had two close friends of mine die. One died of natural causes and the other one was murdered. And some other situations in the street. Subliminally, you know, [those things] were addressed on the [Active] album cover and the music. I had a close friend betray me real bad. Some real fucked-up shit.
And then the next [project] I wanna hear myself—the growth. I wanna hear what I got next. That's why I'm making moves so I can pull from when I do make these TV deals. When I do get this next distribution deal. When I start really, really bossing up. Second album [under Empire distribution] I can give you a different perspective.
Then you can see a contrast like, "Oh shit, the first one, this nigga was on some murder, murder." The next one, "He's on some murder, murder, but I'm getting money now." Shit like that. The first independent album they're hearing me on, I'm already talking about money and shit, flashing and shit, I said, "Nah." Let me draw from some pain. Let me draw from some revenge. Vengeance. And then the next album, I'll talk about some prosperity and shit.
Sounds like you want to branch out. 
Yeah. I don't wanna box myself in, [but] I wanna keep my core audience satisfied, No. 1. You're always gonna get a Gunplay. Not gonna—even if I do make a record with a well-known producer and it goes commercial, whatever, you will still get a Bogota mixtape. Anything else is just something that I'm trying out. I gotta keep my core audience satisfied first.
I'm open to start getting some records done with some other artists that people wouldn't expect. Like Russ—I wanna work with Russ, I've been watching him for a while. [He's] been getting his fan base really big. My cameraman is on tour with him now. We got some things in the works and it might be another Kendrick and Gunplay collab. I don't know. Gotta make sure it's right though, 'cause you know—he's not K. Dot no more [laughs]. We gotta make sure it's legendary.
So maybe a "Cartoon & Cereal Part 2"?
Yeah, we just gon' work, man. Whatever floats. I'm waiting to hear that sound. If I hear a producer play anything that talks to me loud enough for me to send to him.
Yeah. We got some more shit coming, too. Now that I'm really focused and really in the studio and keeping my priority—you gon' hear a lot of good shit with me and fat boy. 'Cause that's all he wanted for me. Just to get both feet out the street.
Ross is the person who pulled you out.
He could do but so much, and then it's up to me. He was just waiting for me to get these cases behind me and start focusing on this music. So we got a couple of other songs that we finna release—it's dope.
Have you spoken with Meek Mill since he got out of jail?
I ain't talk to Meek yet. I've just been hustling and grinding and shit. I'm seeing what's going on. I'm seeing the reaction, how the public is just rooting for him. And I love it because it's a lot of people that's in his situation that don't got no voice. He was a victim of that [and] he got a voice—"Gotcha" [laughs]. That's all we needed 'cause it's an ongoing, [systemic] bullshit thing going on.
And finally somebody could speak up for it and people rallying behind him in front of the courthouse was crazy. That was nuts. That's the support, the city and game as a whole support.
What's next for Gunplay in 2018?
Edibles, marijuana stocks. Anml Shltr. That's with all of my homies from L.A. to Atlanta to Miami. We got a compilation coming out a month after my project, Anml Shltr. I'ma drop every quarter—every three months I'ma drop a compilation. I'ma drop songs with all my partners and their solo songs so they get some shine. When they labels start looking, "Oh shit, another Anml Shltr." You know, someone's song might be hot in Chicago. And then next, they get a deal. You ain't gotta sign a contract with me or nothing like that. It's just like a dog goes into a shelter, gets a happy home—you might get a deal.
So this is you doing for other people what Ross did for you?
​Exactly, to a tee. 'Cause you can't save everybody, but you give 'em enough shine where, if they're a real hustler, they can use that and run with it.
Check Out the 2018 Hip-Hop Music Festivals You Need to See