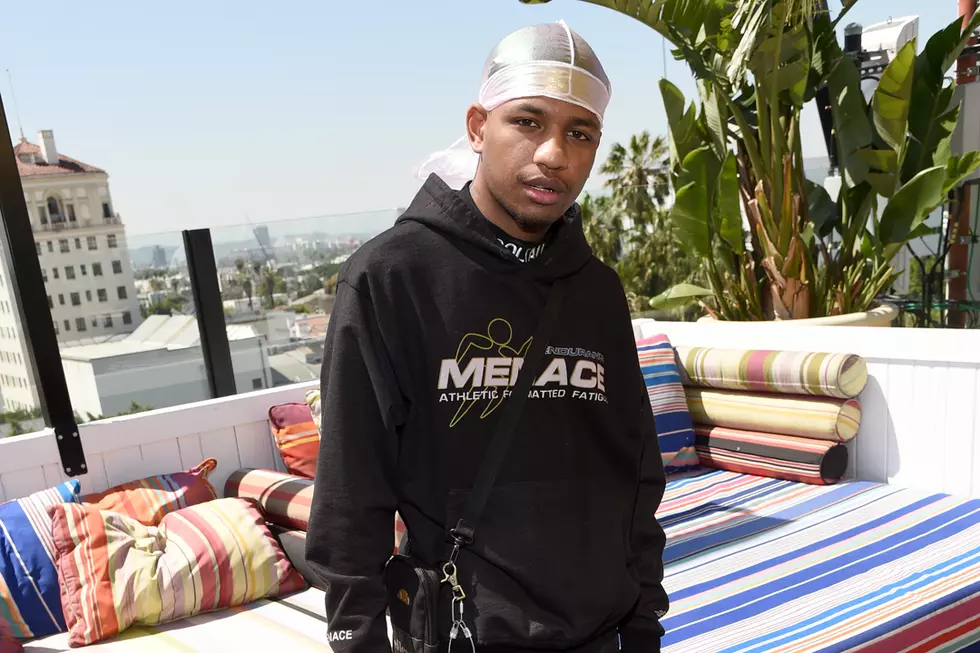 The Break Presents: Guapdad 4000
Michael Kovac / Getty Images
In hip-hop, personality has always mattered. Some of the genre's biggest stars and most memorable artists stuck out from the pack due to how they carried themselves. Guapdad 4000, a 26-year-old Oakland native, has always understood this.
First becoming known for viral videos centered around his past as a scammer, Guapdad simultaneously pushed his music, rapping because he looked the part. His songs exhibit his off-the-wall sense of humor and shameless schemes to get money. This, along with a unique voice and sense of style (check out the flamboyant do-rags) earned him attention across the internet, with him releasing his first (and only) project, 2017's  ScamBoy Color. He completed it while living in an L.A. studio, moving from Oakland to find more opportunity
In 2019, after spending two years forging friendships with rappers like Drake, Big Sean and Wale, Guapdad 4000's career is starting to take shape. By releasing singles over time, like the ominous ""Red Flags" and the reflective "Flossin," he's managed to drum up more interest in his music. A chance meet-up with J. Cole got Guapdad one of the biggest looks of his career, when he was invited to the now-storied Revenge Of The Dreamers III sessions. By his count he recorded on 36 songs, with three of his contributions making the album's final cut. ROTD3 debuted as the No. 1 album in the country and Guapdad received plenty of props for his work on it. Up next his is new project, Dior Deposits, as his Mozzy-assisted single "Scammin" bubbles.
Read up on Guapdad's unorthodox road to the top in this week's edition of XXL's The Break.
I grew up listening to: "Dom Kennedy, Mac Dre, Pharrell, Kanye [West]. [My favorite] is between Kanye and Mac Dre. I take so much. I got so much from 'em. I like personalities because I got a big one."
My style's been compared to: "I get compared to Ma$e a lot because we both got this soothing voice and my flow. People say I look like a young Fab because I dress saucy and I wear a do-rag. Him and Cam'ron."
My standout records to date have been: "'Flossin'—that shit's going crazy! 'Costa Rica.' 'Shameless' on Buddy's album. Another song I got called 'Bitch I'm On' [is] super popular; I perform it at all the shows. The underground niggas and people on subreddits who talk about me like this song I got called 'Money.'"
My most slept-on song: "I got a song on ScamBoy Color called 'Everything.' That song's just so beautiful. I wish I could've made it now so it could be on Dior Deposits. Then it would get way more attention, 'cause that song is just ridiculous. I was tryna get T-Pain on it 'cause I had just met him and he wanted to work, but the timing just wasn't right. I just didn't put the song in position to get heard like that, and at the time I didn't have the resources to. You see what happened with 'Flossin'."
My standout moments to date have been: "Emotionally, moving to L.A. and starting one. Industry-wise, probably the Dreamville camps. I'm friends with Wale, Drake, J. Cole—all my generation's rap legends. Big Sean. But the camp let me know that I was really as tight as I thought I was. We like gladiators in there, but in the most like loving way. It was hard not to be opportunistic, but at the same time, that's what we was there for. It took away the malicious aspect behind it and just left the door open to remove the chip off my shoulder, the one that every lyricist has. It removed the Wale boulder from my neck. No disrespect to Wale, that's my man."
Most people don't know: "I eat with both hands. I eat and paint with both hands. [But] I can't draw with both hands."
I'm going to blow up because: "I'm too fuckin' raw and I'm too fuckin' handsome. And I'm around the right people. Unless somebody in the industry in a position of power is really hating on me, there should be no reason why it don't work for me. My personality too powerful, I'm too good at fuckin' rappin'—I'm like god-level excellent. I'm really a part of like this new-nigga shit, where we really rappin' but we not tryna be like Eminem or J. Cole for that matter. We just tryna make music."
I'm going to be the next: "Mega-star."
"Costa Rica" Dreamville featuring Bas, J.I.D, Reese LaFlare, Guapdad 4000, Jace, Ski Mask The Slump God, Smokepurpp
"Scammin" featuring Mozzy
See 106 Artists Who Were Invited to Dreamville's Revenge of the Dreamers III Recording Sessions in Atlanta