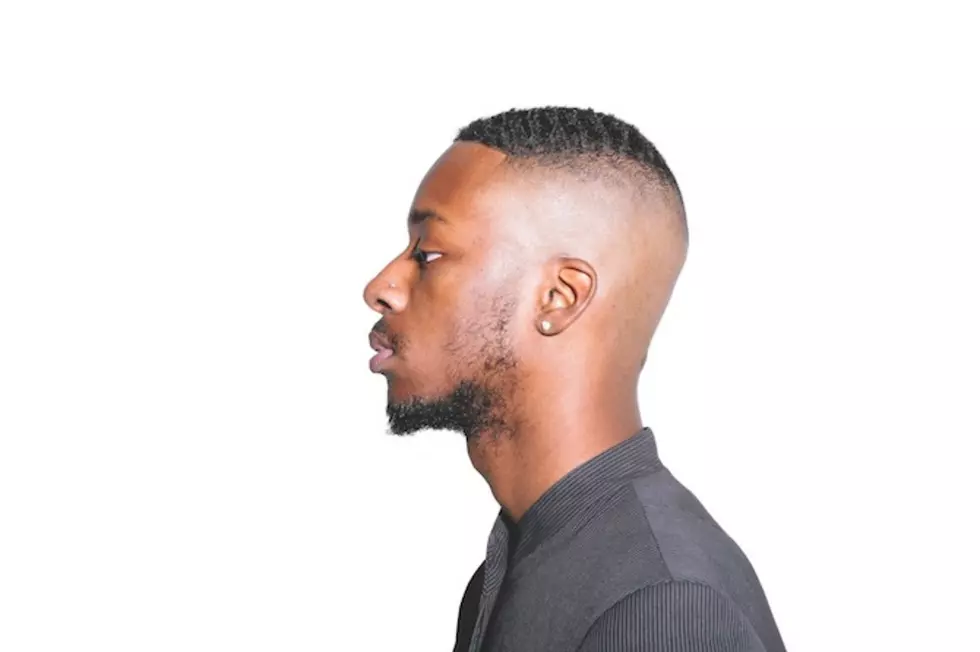 GoldLink Says Future Bounce Is "Almost Like Redefining Music"
Photo Credit: Jabari Jacobs
Life can come at you quick, and for DMV rapper GoldLink, it changed in the blink of an eye. The young MC dropped his debut project The God Complex back in April and his been on a roller coaster ride ever since, touring in Europe, performing at hometown festival Trillectro, and meeting legends in the game such as Rick Rubin and Andre 3000. But the pressures of the come up aren't always easy to handle, and for someone like GoldLink—a quiet, introverted kid with a penchant for pumping out electro-dance-rap that he dubbed "future bounce"—the runaround of touring for seven months wasn't an experience he'd like to recreate any time soon.
Luckily for him, he probably won't have to. Now that The God Complex has made its mark and taken him to stages and studios around the world, 'Link is preparing to settle down and take his music to the next level, wherever that may be. While in New York City, GoldLink stopped by the XXL offices and sat down to talk about how much life has changed this year, the direction of his new music and why he won't be headed out on tour again any time soon. —Dan Rys
XXL: How have things been since The God Complex?
GoldLink: Things have been moving really quick, really fast. You know, life changed in the last six, seven months.
In what way?
Ways like, my music is played everywhere. I'm traveling all the time. I have to pay taxes. [Laughs] Copyright infringements, niggas wanna sue you and shit.
You've had to deal with that?
Yeah, 'cause I guess I blew up really quick. Just shit, man. Lotta opportunities; meeting Rick Rubin, Andre 3000, certain things like that. Just tremendous. Yeah.
When did you meet Rick Rubin?
I wanna say a little over a month ago. Out in L.A., I met him at the studio. He was cool. Just conversated for like a couple hours, really. I just asked him things, he asked me things, we played each other tracks. His inspirations, my inspirations. We vibed really well.
What did you take away from that conversation?
Honestly, I feel like the biggest thing I took away from that conversation was that there is no limit to what you can do. At all. That was like the main thing that I took from that. From that man starting in an NYU dorm to doing everything that he does now and he's not even close to 60 years old? It's crazy to me. So that just shows you that you can do whatever you wanna do if you just work hard enough and put your mind to it.
I mean, you can see his dedication in his beard.
[Laughs] It's crazy. I want that so bad.
Before I heard The God Complex I had never heard of the term "future bounce," and now you're leading the charge. What does it feel like to be on the front lines of a movement like that?
I don't know; it's almost like redefining music. Redefining genres. Blurring the lines. And making people feel again, you know? Give people projects again. Stop having people in agony when they listen to the radio. [That's] what future bounce really is. It's almost like a nostalgic thing, like how we used to dance to Next and Montell Jordan and Blackstreet; it's the same thing, but just futuristic.
I can't hear Blackstreet without getting "No Diggity" stuck in my head for a week.
Exactly. That's what I want, you know? Exactly.
It feels like a lot of the next generation of artists don't want to be labeled as rappers, but would rather have rap as one part of what they do. Do you feel like rap is still a core element in your music?
That's a good question. It is still a core of what I do; I rap, I can rap. I guess rap has such a bad name, because everybody can do it now, and that's probably why people don't want to be considered as rappers anymore, they're not taken seriously anymore. But yeah, rap is definitely the core of what I want to do. But I'm also an artist so I try to do as many things as I can, but I always keep rap in the equation. I'm never gonna steer away from it.
Is the new music you've been making changing direction?
Yeah, for sure. Just growing; growing the sound more. Sticking to what people love but also just growing it to make it bigger, better, louder. You know, just better-sounding. I just wanna make more music, legit music as opposed to keeping the same constant thing. I wanna show growth in the music, pretty much.
Are you working towards another EP or a mixtape or an album?
Ah, yeah. Eventually. Yeah. Definitely wanna make it better, so I'm gonna take my time. No real time limit on what I'm gonna do. But I'm gonna build a lot more of the story this time around, so when the album or whatever it is comes next it's just gonna be really big and make a lot of sense.
Who else are you listening to?
Childish Gambino. I love his work, I think he's a genius. He's so great at music, he pays attention to detail and he has concepts, which is a lost art in hip-hop and music, period, to me. So I think he's a genius. I like Childish.
Feels like everybody raps about the same shit and no one is telling stories sometimes. Like, earlier you were talking about Big L.
Huge. Exactly. You know, Slick Rick was tight at telling stories. Andre, "Da Art Of Storytellin'," Andre and Big Boi. That's a lost art.
So what do you have lined up for the next six months? Making music? Are you gonna get back out on tour?
I personally don't wanna tour. Not really [a fan of it]. I love meeting people, I love seeing faces. I don't enjoy going through cities so quickly that I don't understand it, [that] they all look the same. It's like performing in a bubble. And plus, when I'm on tour, my life stops. So I have to jump back six months and go fix that, if that makes any sense. So everything's always on pause. So I don't really like touring.
You feel displaced?
Yeah. And it's tiring; if you go one hour forward, one hour back, six hours forward, three hours back... So that messes your body up. So I'm just like not really a big fan, and I've done that for the last seven months now, since the tape dropped, and I don't really wanna do that anymore. I kind of just want to chill, get back on what I was doing six months ago before I did all that, and then create. And do the same thing I did, just bigger and better this time around.