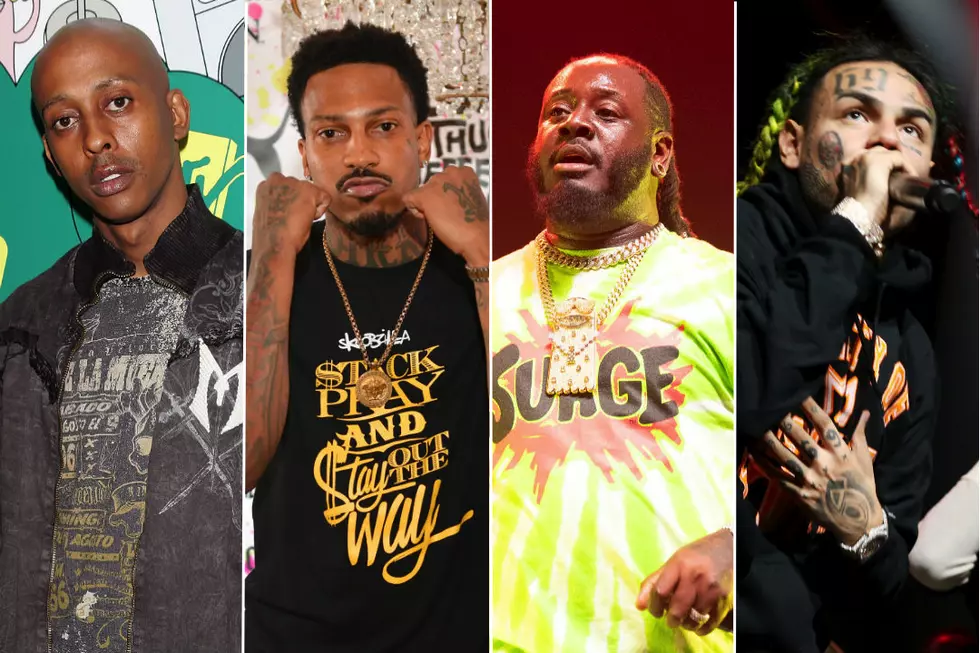 Gillie Da Kid and Trouble Are "Ashamed" of T-Pain for Saying 6ix9ine Should Snitch
Scott Gries / Prince Williams / Earl Gibson III / Bennett Raglin, Getty Images (4)
T-Pain stopped by Big Boy's Neighborhood on Thursday morning (Feb. 28) to promote his new album 1Up, and the topic of 6ix9ine's cooperation with federal authorities came up. The singer said he would have snitched if he was in the Brooklyn rapper's shoes, and his comments aren't sitting right with Trouble and Gillie Da Kid. Following the interview, both rappers jumped onto social media to call out T-Pain over his words.
"Aint this the same nigga was screamin "I'm sooo Hoooood'!" Trouble wrote on Twitter, along with a clip of Pain's interview. "I forgot, its only entertainment! Dese niggaz so pussy in real life! @TPAIN Im ashamed of u dawg"
Gillie Da Kid, who previously called out 21 Savage for not being "a gangsta" after he appeared alongside then-girlfriend Amber Rose at her 2017 Slut Walk, also chimed in soon after seeing the interview. Like Trouble, he wasn't feeling the message that Pain is putting out.
"If you a young nigga and you feel how this nigga T-Pain feel? Don't sign up for the streets," Gillie said in a video posted to Instagram. "Once you sign up, you already crossed the line! Nigga, ain't no going back! You out here giving out the wrong messages. You should tell them niggas, 'Don't get in the game if you gon' snitch hard,' because once you in the game, bitch it's called stand what you do, nigga. You just act like a nigga could snitch and ain't no consequences gon' be behind that!"
Trouble soon shared Gillie's video on Twitter, adding, "These the real nigga viBes im on thug!!"
In the instantly controversial interview clip in question, Pain tells host Big Boy that he would "snitch so hard" if he were 6ix9ine because he has a family at home.
"I would snitch so hard," Pain said with a laugh. "But on the real though, the man has a family and a daughter! A lot of people say, 'Well he wasn't thinking about that when he was doing that!' Yes he was!"
Pain continued by stressing the importance of family over everything else.
"At some point, when does the street code override your family?" the singer asked. "These some niggas you just met like two years ago. You got a full daughter, my nigga. You gotta figure that out. You got a whole daughter, bro. Who are you really being loyal to?"
Check out T-Pain's interview, along with Trouble's tweets, Gillie's video for yourself below.
See Photos of 6ix9ine on the Red Carpet and More