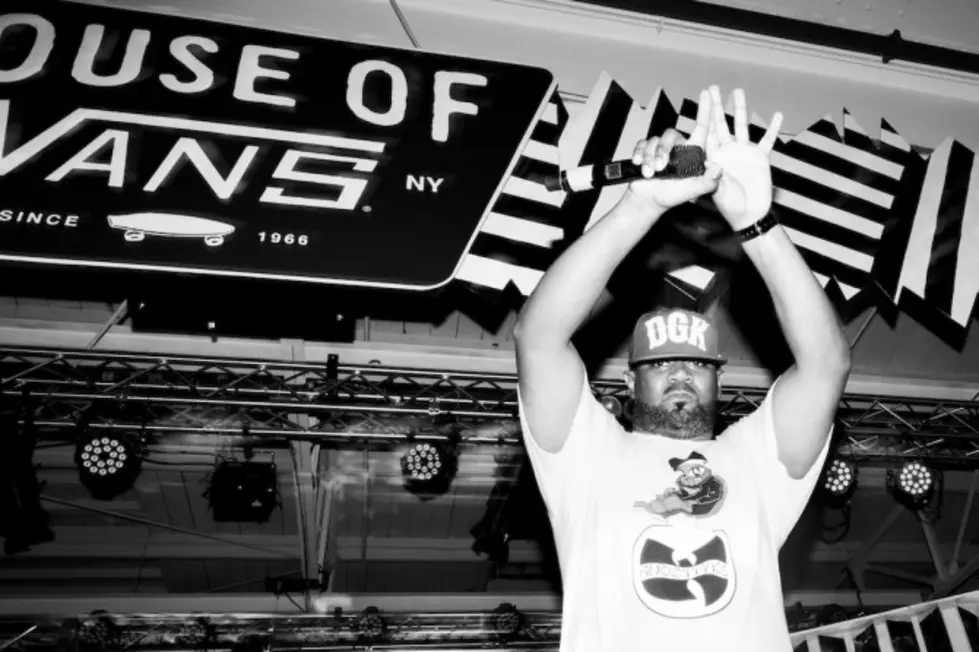 Ghostface Killah Says His Beef With Action Bronson Is Over
Photo Courtesy: Ryan Kobane
Last night at the House of Vans in Brooklyn, Ghostface Killah, GZA and Cappadonna took the stage to perform a slew of their hits including some rare Wu-Tang deep cuts. The show in Brooklyn also counted with a free carnival and a special guest performance by Joey Bada$$ and his Pro Era crew. Setting the tone for the night was the young BK MC, who rocked the stage performing hits off his debut album B4.Da.$$ and tracks from his critically acclaimed mixtapes 1999 and Summer Knights. Shortly after Joey's high energy set, Ghost hit the stage with his special guest GZA, and even surprised fans by bringing out Cappadonna during his set.
XXL caught up with the one and only Tony Starks to discuss a number of topics including the status of his upcoming album Supreme Clientele Presents... Blue & Cream: The Wally Era, the possibilities of a Wu-Tang Clan biopic and his beef with Action Bronson. —Roger Krastz
XXL: You put out another outstanding album with Adrian Younge this year. What is about the chemistry between you two that works so well?
Ghostface Killah: I mean, Adrian is a soulful guy. A lot of times he makes beats that are right up my alley, you know what I mean? He just has a vision and it's like I was telling the other guys like, "Yo, once you call me to do something, it's like you calling on a hitman," you know what I mean? And it's like, "Yo, I need you to take care of these three bodies real quick," and that's what I do, you know what I mean? So when they send me those shits like that, I study them. First I see if I want to take it, straight like a hitman, you know what I mean? "Shit is aight... Aight, you know what? I'll handle that for you." So I done handled one and two from the Twelve Reasons to Die series, did my mans and them in Canada with the Sour Soul album [with BadBadNotGood]. So I've just been doing that, but I left my project alone for a minute, but now I gotta go ahead and deal with my project. So I think the people need to hear just me, just Ghost. These are other guys' visions. What I do is my vision. I need y'all to see my vision now. And that's it.
What's the status on Supreme Clientele Presents... Blue & Cream: The Wally Era album? Will it still be dropping this year?
Top of the year. They are saying I put too much shit out this year. It's going to be some shit. I can't even lie.
Next year marks the 20th anniversary of your debut album Ironman. How are you going to celebrate that classic album?
I mean, I'm not really into the anniversary shit, you know what I mean? It is what it is. I'm going to give y'all Supreme Clientele and maybe down the line... I don't know. I just... I mean, it is what is. I give all praises due, but I'm not stuck like I gotta do something for an anniversary.
Have you seen Straight Outta Compton?
Nah, I just got off the road. I ain't even get to see it, but that's on my list.
Do you think we'll ever see a Wu-Tang biopic?
I mean, we've been talking about that years ago, you know what I mean? So I don't know if brothers might get inspired from what they have seen. But we've talked about that before we even heard about N.W.A. was doing a movie. But you know how it goes, it's timing, and you know, a lot of other stuff behind it.
What actor would you want to play your role in the movie?
I don't really know. I told Rae I wanted to play me, you know what I mean? But I know I might not be able to play a younger Ghost or all the other shit like that, but I don't even know. I swear I don't know.
Mike Epps made a parody video of your response to Action Bronson in that beef you had earlier this year. Did you see that?
You know, I [didn't] really get to look at it like that. I took a glance at it and stuff like that because I had to go, but what I did see—he's hilarious. That's Epps, you know what I mean?
So is the beef over between you and Action Bronson?
I mean, yeah. I mean, I don't even speak about that shit, you know what I mean? What was said, it was said. I don't even acknowledge it no more. Just keep it moving and shit like that, you know what I mean?