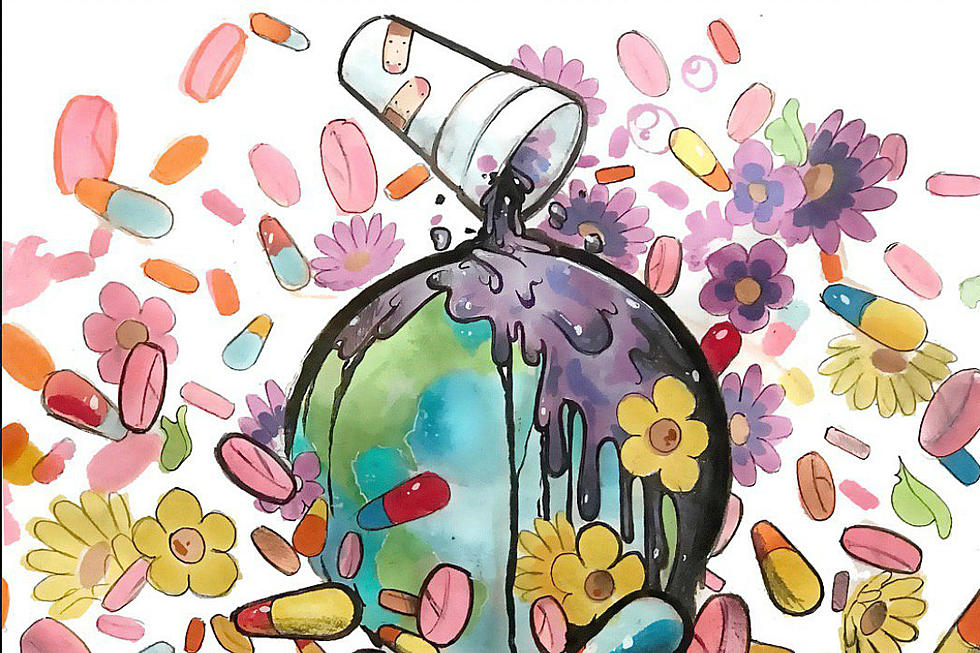 Future & Juice Wrld 'Wrld on Drugs' Album: 20 of the Best Lyrics
Epic Records
For an artist, there's usually no higher honor than collaborating with your musical idol—especially early in one's career. Rising star Juice Wrld experienced this first-hand after he and rap vet Future locked themselves in the studio and left with enough songs for a full-length release, which has been packaged as Wrld on Drugs, the new pair's joint album.
Juice Wrld, who released his debut studio album Goodbye & Good Riddance and made a big splash with his 2018 hit single "Lucid Dreams" has emerged as one of the prized rookies in rap. On the other hand, Future has been active in 2018 as well, serving as curator of the Superfly soundtrack, dropping his own Beast Mode 2 album and serving as primary artist on DJ Esco's Kolorblind mixtape.
Boasting appearances from Lil Wayne, Young Thug, Nicki Minaj, Gunna, Yung Bans and Young Scooter, Wrld on Drugs packs plenty of star power, with each guest turning in solid performances that bolster the album's replay value. The album finds Juice Wrld and Future in tandem for a majority of its 16 tracks, with their melodic vocals and boisterous raps complementing one another over beats production steered by Wheezy (Murda Beatz, Frank Dukes, Cubeatz, Don Cannon and Happy Perez also contribute). It's one of the more seamless collaborative projects of the year.
With Juice Wrld and Future's collaborative spirit and chemistry translating into a heavy buzz surrounding the project, XXL gave the album a few listens to pick out 20 of the best lyrics from Wrld on Drugs.
"Jet Lag"

Future and Juice Wrld Featuring Young Scooter

"Poppin' me up, drugs/Got a bad bitch like Meagan Good/Choppa long like a golf club/Hold that bitch like Tiger Woods/Fuck your bitch, I might as well/I heard that her pussy good/Aww, ride in the Range, ride in the Rover/I'm switchin' lanes, losing composure" —Juice Wrld

"Astronauts"

Future and Juice Wrld

"Alien, I'm not a regular guy/Emilio Pucci, not regular fly/It's been a year since I went in the mall/I'm not a regular guy/We put them beams on a semi, you better be ready to die/I got on wings like a Bentley, I feel way too high/Left the sticker on the window still got the paper tag/Louis Vuitton bandana, too many shopping bags/Richard Mille or the Rollie, it don't tick tock/Hermes bandana just like Tupac"—Juice Wrld

"Astronauts"

Future and Juice Wrld

"Blood on my hands, blood in my eyes/Codeine in my cup, money on my mind/Gonna take this Percocet and try and see stars/Presently, they askin' young niggas I got bars/Hope you never get to murder solvin' like nothin' wrong/Hope the day you run into your ops, you get 'em gon'/I be with my Chi-Town brothers, Al Capone/Me and Juice killin these niggas like they got they hands down" —Future

"Fine China

Future and Juice Wrld

"Shorty like a thousand dollar plate, fine china/Tell her that she beautiful every day, I remind her/Then I jump in the pussy like a lake, I'm a diver/And her last man was a pussy, had a vagina/I get lost in her eyes, like dust from the skies/It's her body or nobody, I refuse to compromise/So if she leaves, I'ma kill her, oh, she'll die/Did I say that out loud? I'm so crazy about mine" —Juice Wrld

"Red Bentley"

Future and Juice Wrld

"It's a Therapedic, pop the new tags/When I piss on diamonds, you can smell the Xan/I'm wipin' my hoe down with gold, you don't understand/Niggas in Paris, I'm with the gang members in France/Got a half a ticket scattered on my hands/I'm on three drugs, I need a CAT scan/Wipe the barrel off the nose of that yoppa/I got 'em comin' off the bench, Jamal Crawford" —Future

"Red Bentley"

Future and Juice Wrld Featuring Young Thug

"I kick my shit like Liu Kang, you know that counts/Cream and green Rolexes, slime bastard/These bitches greet me on their knees 'cause I'm their master/I caught a tall European and we wrestled/Wrist on a brick, uh, I was just servin' these nicks, uh/You on the list, uh, on the Chi, you gon' get hit/Pullin' on niggas sticks, think twice 'fore you diss/Better not trust that bitch, better not swap your spit" —Young Thug

"Oxy"

Future Featuring Lil Wayne

"It says Hermès on my clothes/20 mg, that's my dose/I fucked her off one of those/She act like she saw a ghost/Wake up baby, comatose, wake up baby, vamonos/Sleeping like we on an island somewhere in Galapagos/It's lonely at the top we hold hands, Geronimo/100 percent cotton oxymoron, oxycontin" —Lil Wayne

"Oxy"

Future and Juice Wrld

"Drinkin' sake, Hachi Tachi/I eat beef, Johnny Rocket/Over the bowl in the faucet/Crank that hoe, John Gotti/Ben Frank, meet the pocket/Pocket watchin', pick a pocket/Richard Mille prolly/Got me lookin cocky/Drinkin' in the lobby/Catching, Jeremy Shockey/Cuban link my wallet, and it's camouflagin'/It ain't no discussion, had her hit your target" —Juice Wrld

"7 AM Freestyle"

Future and Juice Wrld

"She give me top in the Tesla/I may invest in the extra/I'm getting money, power, hoes, clothes, nigga et cetera/I'm on a whole 'nother level/I take Perkys to fight all my demons/It don't help that my bitch is a devil" —Juice Wrld

"Different"

Future and Juice Wrld Featuring Yung Bans

"I'm the realest, feel like Tupac, call me Makaveli/It really ain't shit a broke nigga can tell me/I'm walkin' around with the chopper, it heavy/Popped that lil' boy, sound like confetti/Shot that lil' boy, now you in heaven/I only like girls, told my mama don't worry/She hate on my car cause she said it look girly/Ain't fuckin' these bitches, I know y'all ain't worthy/Don't play the position, you gon' lose your jersey" —Yung Bans

"Different"

Future and Juice Wrld Featuring Yung Bans

"Yeah, talkin' it and doin' it a different story/I be doin' it, not talkin' it, that's mandatory/Countin' up blue faces watchin' a lil' Rick and Morty/Yeah, just chillin, I'm still the richest nigga in the buildin'/New car got stars in the ceilin'/AMIRI my jeans, rip in the denim/New gun, his head rip when it hit 'em/Fuck her, then leave, I'm not sentimental" —Juice Wrld

"Realer n Realer"

Future and Juice Wrld

"Shit getting realer and realer, uh/I lost my bro to the system, uh/I lost my bro to a pistol, uh/They tried to take me with him, uh/I can't go for that, no, no, I stay with killers every day/Keep a 40, it's hungry, I turn your block to a buffet/Yeah, I spend a lot, Balenciaga jacket, Dior shades/I got a lean stain on it, I'ma give it to my maid" —Juice Wrld

"Realer n Realer"

Future and Juice Wrld

"Gucci and Louis shoes everywhere, I don't got no closet space/Versace drawers, my underwear cost what you make in a week/Uh, big shit, expensive shit, all that shit/12-gauge, hit him, he do backflips/40 hit him and he Michael Jackson/Uh, big shit, expensive shit, all that shit/Only wanna fuck one time, baby, I'm on the fall back shit/Matter fact, you wanna fuck her, but you on the call back list/But if I hit it already, chances are I ain't finna call back, bitch" —Juice Wrld

"Realer n Realer"

Future and Juice Wrld

"All these tennis chains on, I kinda feel like a slave/Bitch got a cum stain on my Gucci shirt, I threw it away/I'm so fly to you, I'm high to you, I take that to the grave/Having a thrill off these pills, I could OD any day/Shit getting realer and triller, I came up on a lotta Ms/Gotta pop on the opps, we shootin' out soon as we see 'em/Mobbin on the G6's, gon' be very hard to see him/I turned a stripper to a maid, bringing Magic to the crib" —Future

"Wrld on Drugs"

Future and Juice Wrld

"I came in stylin', I don't need a stylist/Yeah I'm good on deposits, I don't need a wallet/'Bout to go up, call me Scotty/I'm 'bout to go up, you can pass me a water/I pop the pills in the 'Rari, had lil' mama gone in the passenger/You tryna sneak and get high, you need to come talk with me/I just be actin' shy, poppin' these Mollies/I can't never be sober/I'ma come knockin' at your door like Jehovah" —Future

"I pop my shit and live lavish, I never switch sides/You go to college, get a crib off the clothes I buy/We get on the top of the fuckin' Hills off the Sunset Drive/I'm a product of the field, I'm just in my disguise/He been trippin' off a pill, but don't give me some cake/I've been jumpin' on these Lears, that's the way I'ma chase 'em/Franklins comin' by the layers, that's the way we gon' make 'em/She don't when I'ma pop 'em so she gotta sleep naked" —Future

"Aint Living Right"

Future and Juice Wrld Featuring Gunna

"I just mixed the Ciroc and some red/Couldn't pick one, it was hard to decide/Hit my niece, then I talk to the don/Got a new Bentley, seat can massage/In the P.H., just me and my niggas we alright/On the P.J., sippin' codeine on long flights/Damn, I forgot her name, only fucked her for one night/To give my Rollies rage, know young Gunna ain't living right" —Gunna

"Transformer"

Future Featuring Nicki Minaj

"Transformer, I just popped a transformer/Lit the room up, all I did was hold my arm up/Went through Barneys, I spent 20k on Amiris/Got my weight up, now I'm talkin' back to Siri/Smashin' foreigners, murder shit at the coroner/Jackie Joyner, racin' racks all summer/Woke the don up, all I did was hold my arm up/Top goin' up, it look like I lit the sun up" —Future

"Transformer"

Future Featuring Nicki Minaj

"What the fuck, I'ma have to pump brakes on these hoes/Real shooters, I don't ever pump fake on these hoes/Me-me-me and Pluto pull up in that new Ferrari drip/Always eatin' Japanese so I'm a need wasabi dip/Four-four-four albums in, pull a milli' for a show/While these bitches is servin' Milli Vanilli on the low/Spent my money on some dope, where my money envelope?/Transform it to a Billy 'cause I really am the goat/Transformer, I just popped a transformer/Master bathroom, two jacuzzis and a sauna/They ain't warn her, now she out here facin' karma/Had a chance, but got at me now she's a goner" —Nicki Minaj

"Transformer"

Future Featuring Nicki Minaj

"Where my bad bitches? Fuck these niggas, give them trauma/Coulda fixed his life but now that nigga need Iyanla/All his friends tryna kill it, eat it J.A. Dahmer/Niggas snakes but, stupid, I'm the snake charmer/This a different tax bracket, upper echelon/I'm still the bad guy, I am a Decepticon/Some call me Nicki but some call me Megatron/I'm stoppin' bags and I don't need a red octagon" —Nicki Minaj