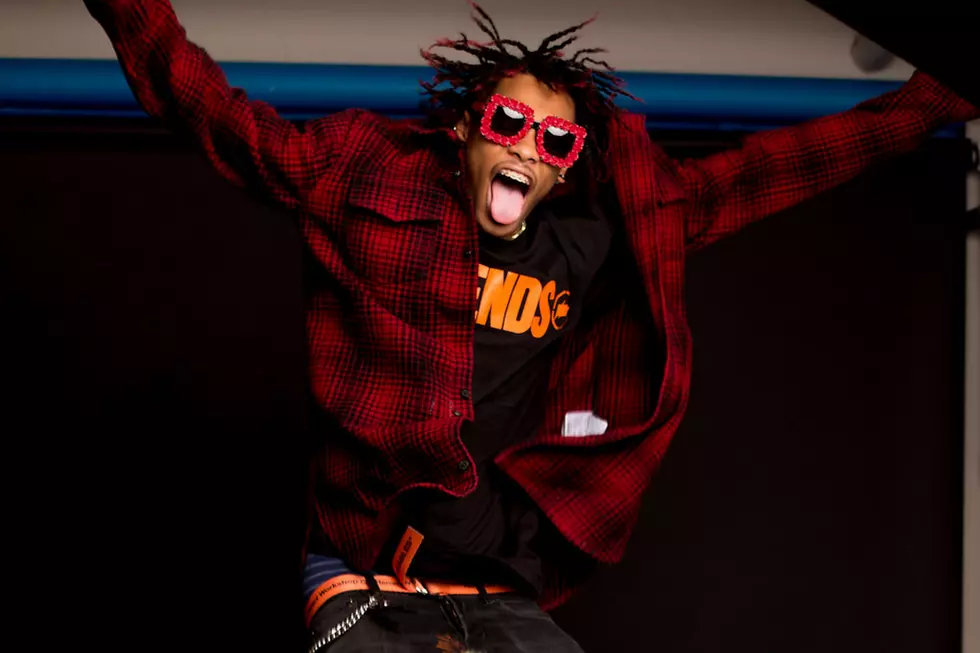 The Break Presents: Fijimacintosh
Donté Maurice
Fijimacintosh has barely released enough songs to comprise a standard-length album, yet he has already created a buzz that's landed him a spot on Smooky MarGielaa's nationwide MarGielaa Madness tour.
The Canton, Ohio native is no rap beginner, though. Fiji, who recently turned 17, has been rapping since he was 4—a deep dive on YouTube reveals pubescent songs and videos, some of which feature cameos from his cousin, Trippie Redd. "He was inspired by me making music," Fiji tells XXL. "Then he started making music and doing his own thing,"
Fiji, who now resides in Atlanta, released Satellite Crash nearly two months ago. The project, led by the infectious "Wintertime Nights," is his first official release through Empire and his own label, Cybersound 777 Ent, LLC. The 10-track project's sound—grungy, melodic trap anthems—recalls transcendent SoundCloud rap or what Fiji calls "the evolution of a melodic butterfly."
The response to his latest music landed Fiji a spot on Smooky MarGielaa's MarGielaa Madness Tour, as well as studio time with PnB Rock. While he's not rocking shows, studying or working on his upcoming seven-track EP with A1 Billionaire, the home-schooled teen rapper still finds time to enjoy his youth. "Me and Lil Xan, we good friends," he says. "Every time we hang out it's all about being a teenager, turning up and having fun. We don't really talk about music like that at all."
Today, Fiji debuts his latest visual, the Miggy-directed "Greatful Alive, I Could've Died," here on XXL. "I murdered myself to bring my new self," he says of the video. "Before, I didn't know what I wanted to be, but now there's clarity."
Check out the video below, and learn more about Fijimacintosh on the latest installment of XXL's The Break.
Hometown: "Canton, Ohio—I'm from the same block as Marilyn Manson."
I grew up listening to: "Kid Cudi, Bone Thugs-N-Harmony, Lil Wayne and 50 Cent. Neil Young, too. Kid Cudi helped me get through school. Whenever I felt down I'd listen to Kid Cudi and it would inspire me to continue. Neil Young's melodies really affected my music—it's more like a chillax thing, but still fire."
My style's been compared to: "Travis $cott and Blink 182 [laughs]."
Most people don't know: "I run my own company [Cybersound 777 Ent, LLC]. I'ma make it bigger later on; right now I'm just focusing on me and my artist, NoirIllusions. Later on it's gonna be on some Cash Money/Diddy-type shit. I [also] executive produce my own projects and engineer my own stuff."
Most slept-on record: "'Pain Heals' and 'Fade Away.' It just has so much content. People usually are attracted to more turn-up [music], and I just like to get to content and timeless music. I feel like that song is timeless."
My standout moment to date: "Only having 12 songs out and being able to go on a nationwide tour, and showing up to the first show and not realizing I had so many fans that knew the words to my songs.
"I really was nervous, because I didn't know that that many people knew who I was until I came out and did all the shows and stuff. It was amazing, a new learning experience. So now I know what touring would be like when I go back on, what not to do and how to move."
My goal in hip-hop is: "To make timeless music and bring life back to hip-hop, 'cause I feel like it's going down a dark path. And with my movement I feel like I could change it."
Why I'm going to be remembered in hip-hop: "'Cause I'm a rebel—a rebel with a cause."
I'm going to be the next: "James Dean [laughs]. Because he was a rebel with a cause."
"Greatful Alive, I Could've Died"
"Joy Ride Thru Heartbreak City"
"Carnival Corpse" Featuring NoirIlluisions and A1 Billionaire
"mil·len·ni·um" Featuring KiD TRUNKS
See New Music Releases for May 2018