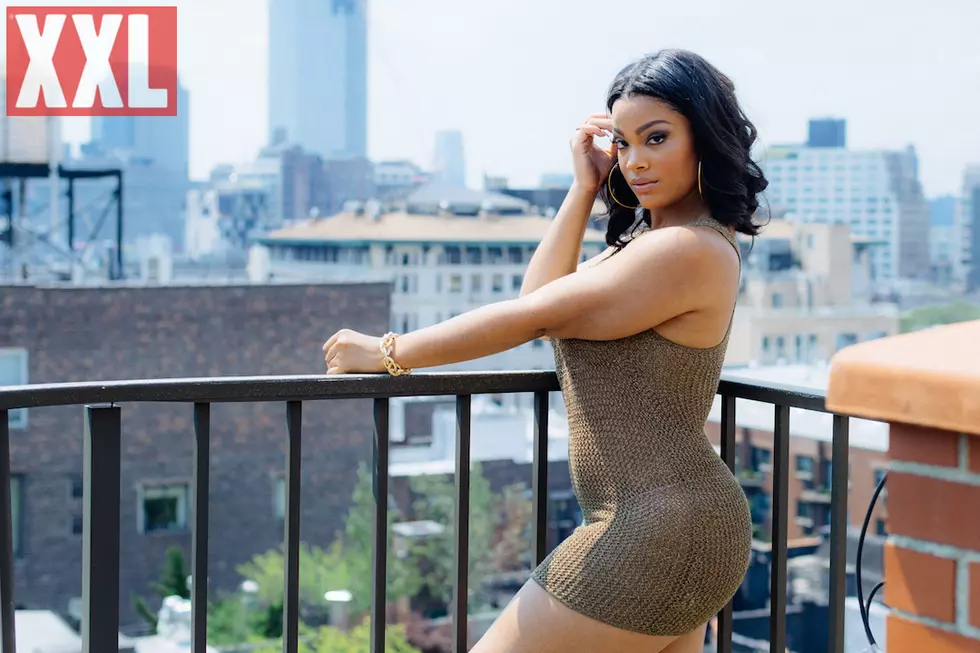 Ahmed Klink
Stay Trill
Basketball Wives LA's Mehgan James holds nothing back. Not her words or her sexiness. You'll see.
Interview Sean A. Malcolm
Images Ahmed Klink
"Why do people really think TV is real?" Mehgan James, the latest breakout star on VH1's Basketball Wives LA, wants to know. "I don't understand. Didn't your mom tell you what you see on TV isn't real? My momma told me that. You can't jump out the window and fly like Peter Pan. You'll die!"
If it comes off that the 25-year-old Houston honey is over this line of work, it couldn't be further from the truth. Since the age of 18, she has been featured on 50 Cent's MTV show The Money and the Power (2008) and Oxygen's Bad Girls Club (2012) plus its various spinoffs. Entertaining anecdotes aside, Mehgan is cognizant that the attention is a means to an end. "I just feel like all publicity is good publicity," says the reality television vet, who aspires to one day be an actress on actual original programming. "I feel like I'm unique. A lot of people don't understand me because I think outside of the box."
XXL: If you had to decide between your experience on Bad Girls Club or Basketball Wives, which would you choose?
Mehgan James: Basketball Wives, for sure, because Bad Girls Club was like jail. Word, it was jail!
Okay, convict. Sing like a canary.
Everything ran on a clock. We had lights up, lights down. We had to ask to go, basically, to the bathroom. We used to get fined for talking without our mics on. We had to ask to do everything. So, I would choose Basketball Wives any day because that's like a real job.
Where cattiness with co-workers is a requirement.
This is the real tea, though. When I first got on the show, nobody really respected me because they were like, "Oh, here's this little bitch from Bad Girls Club. Why is she here?" Them bitches were trying to plot to get me off the show before I even started filming.
The Bad Girls rep stays with you, huh?
I'm really trying to change my image. If you watch the show, I don't lay a finger on nobody, because those bitches in Hollywood sue. I'm not going to jail for you hoes. [Laughs]
What is the biggest misconception of being a reality TV star?
People watching feel like they know your real life. You don't see the whole story. You get to see what the network wants you to see. I think it's unfair that people judge people just from what they see on reality TV. It's real to a certain extent.