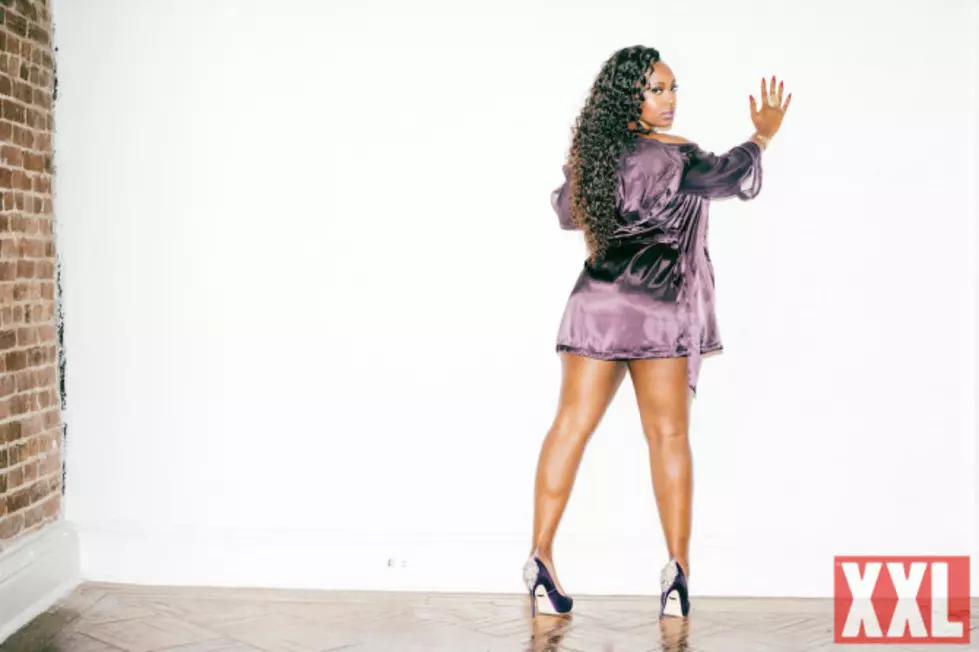 Photo Credit: Ahmed Klink
Cell Therapy
Hanging up her two-piece for a career in psychology, Briana Bette gets a proper send off.
Interview Sean A. Malcolm
Images Ahmed Klink
Editor's Note: This story originally appeared in the Summer 2015 issue of XXL Magazine featuring our 2015 XXL Freshman Class. Check out everything from our Freshman issue right here.
Consider this Briana Bette's victory lap, because after you read this article and gaze upon her Dallas-bred 36C-28-45 "everything is bigger in Texas" chocolate-y goodness, she's chucking the deuces for the world of psychology. "Modeling has been full of great adventures and travel," says the 28-year-old vixen who graduated from the University of Houston with a Bachelor's Degree in Psychology in 2010, and is currently working on her Masters. "I've met a lot of great people along the way, but my love and focus is helping those who simply need someone to listen and be there as a mental support system. That's why I love psychology."
Not that we don't appreciate brains to go along with our beauty around these parts (Briana also sparked her #FitButtCurvy movement on social media). But, once her statuesque 5'8" bawwwdy landed the co-lead model role in Kendrick Lamar's "King Kunta" video, it was only right that she showcased her sexiness one last time, exclusively for these pages. "I always wanted to be an XXL Eye Candy," Briana says. "It has always been something I wanted to accomplish. I'm glad to mark it off my list."
XXL: When did the psychology bug bite you?
Briana Bette: The first psych class I took as a freshman, I knew that I loved it. I love trying to find out the deeper root of the problem, which many people may overlook.
Then how did modeling come about during this time?
I started modeling while I was in school. It started really as a hobby. I loved taking pictures and doing photo shoots. From those pictures, that's how everything began. I like to embrace my curves and continued to do so, and things flowed from there.
Does a potential interest have to embody the same intellectual level for you to flow with them?
[Laughs] Yes! I love debating and analyzing everything! If a man can make me think about things that I never did before then I may fall in love. That is my ultimate turn on.
So is the thought of a sexy psychologist we can spill our guts to. Thanks for that, B!
It's okay to be sexy and smart. The brain has no limits and I refuse to be just like anyone else.
Aight, Doc! Considering you've worked with a good amount of rappers, all with varying personalities, what would you say is the common trait they share?
A common thing for rappers is their love for being surrounded by many people. No matter if it is a concert, video, club appearance, award show, etc. They learn to constantly be around and work with many people. So many of them are not shy and can express their feelings through words. After all, music is a form of therapy. Being able to express one's thoughts through words and beats is a common talent.