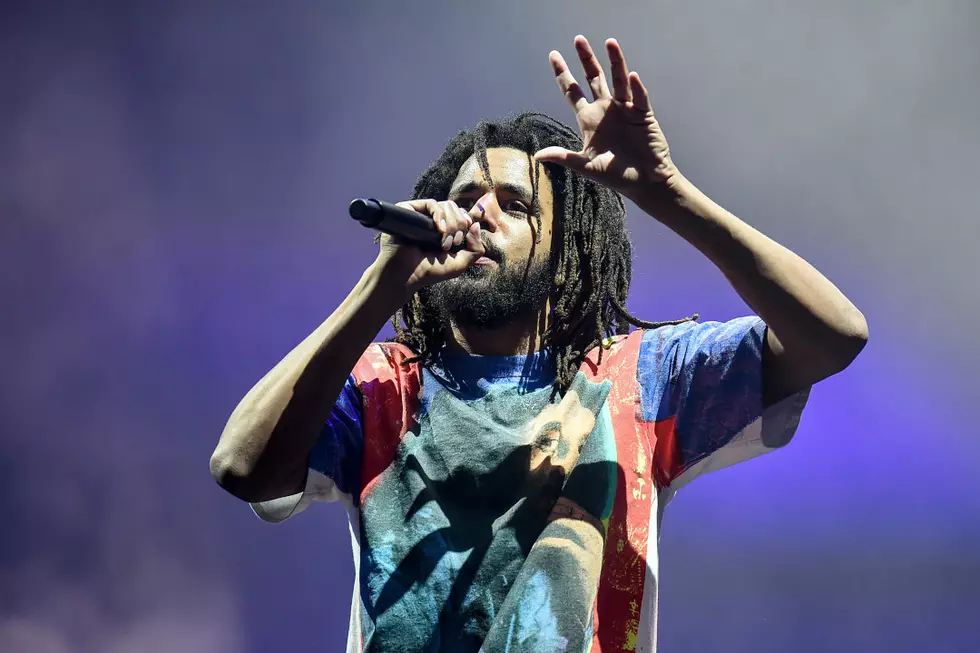 Here's Every Song That J. Cole Has Been Featured on in 2018
Tabatha Fireman, Getty Images
In an industry filled with oversaturation, J. Cole is one of the few artists who still believes in quality over quantity. The North Carolina MC has released five albums in seven years, all of which have debuted at No. 1 on the Billboard 200. He hasn't put out a solo mixtape in nearly a decade. Despite being one of the game's premier players and very much in high demand, Jermaine is a bit of a rap recluse when it comes to passing out guest verses, comparatively speaking. The Dreamville head honcho hasn't deviated much from his formula in 2018 while at the same time providing some memorable guest moments.
Mr. Platinum With No Features released his KOD album back in April, another completely solo project that reignited the conversation of drug addiction in rap. He's seemingly been on the road since then, officially kicking off his KOD Tour along with Young Thug, Jaden Smith and EarthGang in August and recently wrapping in October.
Even with the hefty road schedule, Cole has found time to hop on a select few songs from rappers like Jay Rock, Royce 5'9", Dreamville artists Bas and Cozz, and a few more. Hearing Cole on his own records is one thing, but hearing him musically mesh on another artist's track is a rarity that should be appreciated.
"You don't get too much personal shit as far as J. Cole goes," 6lack told XXL of the "ATM" rapper's appearance on his song "Pretty Little Fears." "You get what he gives you. For him to step aside and talk about something and write something that even fans kinda perceive it as, 'This isn't just a verse; he's talking to somebody.' I love that feature."
Here's to hoping we get more Magic Johnson-like assists from Jermaine Cole in 2019.
Listen to all of J. Cole's 2018 feature verses below.
"Zendaya"

Cozz Featuring J. Cole

J. Cole hops on his Dreamville artist Cozz's "Zendaya" single from his Effected album. Jermaine not only provides the beat but also kicks an effortless 16.

"Boblo Boat"

Royce 5'9" Featuring J. Cole

Royce taps Jermaine for the Book of Ryan track "Boblo Boat." The two lyricists float over groovy production from Cool & Dre and 808 Ray, reminiscing about the good old days.

"OSOM"

Jay Rock Featuring J. Cole

Cole teams up with Jay Rock on the TDE rapper's "OSOM" single. The result is another rare and irrefutably fire verse from the KOD rapper.

"Tribe"

Bas Featuring J. Cole

J. Cole and Childish Major co-produce the uptempo track for Bas' Milky Way album. Cole notches another notable outing on the upbeat single about being in love with a real one.

"My Boy"

Wale Featuring J. Cole

The two former XXL Freshmen reunite for Wale's Free Lunch EP, on a track that finds Cole channelling shoot-'em-up-bang-bang bars. The track marks the first time they've collaborated since Cole addressed Folarin on "False Prophets" and the D.C. MC replied with "Groundhog Day" in 2016.

"Pretty Little Fears"

6lack Featuring J. Cole

6lack gets Cole to tap into a different vibe for his East Atlanta Love Letter cut "Pretty Little Fears." The Dreamville boss does not disappoint with a potently personal assist.

"Sojourner"

Rapsody Featuring J. Cole

The Carolina connection comes courtesy of 9th Wonder. Rapdiddy and Jermaine set the bar high on the uplifting number.

"Say Na"

Moneybagg Yo Featuring J. Cole

After a chance meeting at a Los Angeles studio, country cousins Moneybagg Yo and J. Cole unite on one track. "I got the trap J. Cole," the Memphis rapper told XXL shortly before the song's release.

"Off Deez"

J.I.D Featuring J. Cole

Cole gets extra nimble alongside his Dreamville cohort and 2018 XXL Freshman J.I.D, continuing to prove why he's one of hip-hop's most respected lyricists.

"Shea Butter Baby"

Ari Lennox Featuring J. Cole

Cole tries a little tenderness on "Shea Butter Baby," the titular lead single of Ari Lennox's debut album (which also appears on the Mike WiLL Made-It-produced soundtrack to Creed II).

"A Lot"

21 Savage Featuring J. Cole

J. Cole covers a lot of ground on his collaboration with 21 Savage, delivering perhaps his greatest guest verse. Here, the Dreamville founder reflects on his history-in-the-making feature run, name-drops 6ix9ine and maintains his G.O.A.T. ambitions.