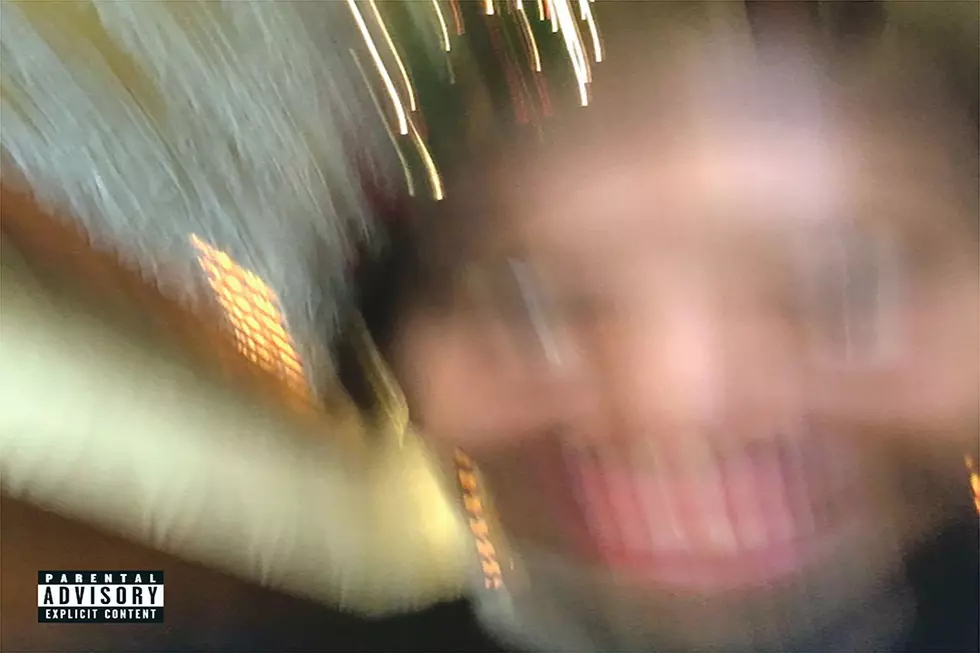 Earl Sweatshirt 'Some Rap Songs' Album: 20 of the Best Lyrics
2018 Tan Cressida, under exclusive license to Columbia Records, a Division of Sony Music Entertainment
During his Odd Future days, Earl Sweatshirt was regarded by many as one of the most creatively and technically gifted rhymers in contemporary rap. His mysterious hiatus in Samoa, acclaimed debut mixtape and multisyllabic rhyme patterns made Earl into this highly regarded yet peculiar persona by the turn of 2010.
Earl Sweatshirt's 2010 mixtape Earl, which heavily featured his tight-knit OFWGKTA crew, would remain his only project until dropping Doris three years later. Fast forward five years and Earl, seemingly distanced from the disbanded Odd Future, is emerging from an elusive span of his career with Some Rap Songs, his third official album released on November 30.
Earl's sound before Some Rap Songs could be described as low-fi and even as fringe-rap, but this collection of 15 tracks is his most idiosyncratic work to date. The tracks are short, usually comprised of only one verse and filled with muffled, off-beat rhymes that are as brilliant as they are bizarre. Throughout the album he details his life over the past three years, the state of his mental health and the new relationships that have seemed to keep him sane.
XXL skimmed through every bar of Some Rap Songs to highlight the 20 best lyrics. Check it out below.
"Shattered Dreams"

Earl Sweatshirt

"Boy, I take the tour chips and go and get some decent decor/Is you gon' ribbit or will you jump?/Get some more ribbons for the born winners from the jump/Niggas don't listen 'til they whole mission was a bust/No sit-up, but it's crunch time, shootin' in the clutch/The midsummer sunshine found me on my ones, face drippin" —Earl Sweatshirt

"Red Water"

Earl Sweatshirt

"Locked and load, I can see you lyin' through your teeth/Fingers on my soul, this is 23/Blood in the water, I was walkin' in my sleep/Blood on my father, I forgot another dream/I was playin' with the magic, hide blessings in my sleeve" —Earl Sweatshirt

"Cold Summers"

Earl Sweatshirt

"Niggas come in the door and smoke somethin'/Choke up on the slugger from home run-ins/Nigga it's on, chest thump, his head thump on the floor/We pressed up on the boy, no more bluffin'/Cold summers, don't tussle with strangers/Some of those keep one in the chamber
Three spliffs had my wing tips clipped, I was stuck in a hangar, nigga" —Earl Sweatshirt

"Nowhere2Go"

Earl Sweatshirt

"Every nigga that's trippin' around me serve as reminder that/I gotta watch my step/I keep it quiet as kept /Yeah, I think I spent most of my life depressed/Only thing on my mind was death/Didn't know if my time was next" —Earl Sweatshirt

"December 24"

Earl Sweatshirt

"Silent when the pigs came browsin' in his shit/Bang like two mallets, too callous for your bitch taste/Member when they had my grandmammy on a drip drink/How much of that gin straight? Could have filled a fish tank/My doggy hit my cell, say he got me off the strength/Ask him, 'That's just how it is?' say/"You die and then you live, huh?" —Earl Sweatshirt

"Ontheway!"

Earl Sweatshirt Featuring Stand On The Corner

"See you shooting but your angles is trash/Don't play with us, I revisit the past/Port wine and pages of pass/Momma say don't play with them scabs/It's safe to say I see the reason I'm bleeding out" —Earl Sweatshirt

"Ontheway!"

Earl Sweatshirt Featuring Standing On The Corner

"The wealth be the labor's fruit/The loop hold up the belt, G's felt/All praises due, the juice unattainable/Like Tang in the booth/Dark face on the news/Clouds grey on the move/On the way like the truth" —Earl Sweatshirt

"The Mint"

Earl Sweatshirt Featuring Navy Blue

"Hold me down, hold me up/Hold me close 'cause my times is up/Show they true colors, don't know who to trust/Mind workin' like the water when it rush/Growin' from my father, bitter to his touch/Now I'm solely honor, livin' is a must/All this for my momma 'til I'm dust
God gon' deal the karma, lost my trust" —Navy Blue

"The Mint"

Earl Sweatshirt Featuring Navy Blue

"Two years I've been missin', livin' life/You was wildin', every day was trash/Crackers pilin' in to rape the land/Early morning, wash my swollen hands/Hit the showers, cleanse my soul and crash/Tiptoein' over glass, brodie go too fast, told him slow up/Know I use too much of everything at hand/Except the difference is now I control it" —Earl Sweatshirt

"The Bends"

Earl Sweatshirt

"Got memories of your face/The photo still on the mantle
It's real when you seal up letters with wax/Shit changed, now the checks that we seein' is handsome, real/Mike WiLLy shit, we went gorilla, they really gave us the ransom" —Earl Sweatshirt

"Main line, underneath the skin of the grapevines/Save time, serpent, no need to hiss/Found a reason to live, doubt could be an abyss/Keep fallacies off your lips, see casualties in the wind/Uh, we gathering in remembrance/Galaxy's the distance between us by Christmas/Now we crumbling, leaf over tree pre-twist" —Earl Sweatshirt

"Niggas didn't have faith, so I stopped tryin'/Apologize, and we outta time/Please get ya alibi straight, you ain't gotta lie/Shook tradition, did it my way/No sense in looking in the sky/Trace elements meddle with minds/Mind-state live, fissures and fires" —Earl Sweatshirt

"Face looking like I stumbled out of bed, hundred-dollar jet/I piss problems out, the bottle empty/Mama said she used to see my father in me/Said I was not offended/Press, King, Navy, Med, MIKE on the bench/Living life like a nigga put a price on my head" —Earl Sweatshirt

"Say goodbye to my openness, total eclipse/Of my shine that I've grown to miss when holding shit in/Open my lids, my eyes said my soul is amiss/The signs say we close to the end/My mind state sober, I'm bent" —Earl Sweatshirt

"Don't stumble, serve culinary treats, bro/The herd hungry, gotta eat/Why its so muddy in the creek, poet?
Threes foes coming by the fleet/Keep low, peace, preach it/Ain't so sunny by the motherfuckin' beach/The say so, gonna phone number on the screen/Keep low, can't nobody see me sleep/I make more money on my motherfuckin' feet" —Earl Sweatshirt

"Peace to every crease on your brain/Peace to who came before me in the game/We givin' praise and glory to your name, kid/We cellophane your story so it stays/Since birth mama raised and burped me, I ain't changed/I'm a man, I'm just saying that I stayed imperfect/Earl is not my name, the world is my domain, kid/Air Max 97, traipse on the pavement" —Earl Sweatshirt

"Stuck in Trump Land, watching subtlety decayin'/I ain't touch a Xan, when it/When it's time to put my burnt body in a case/Tell my momma I said thank you/Tryna state facts, I'm tryna get through the day/I'ma play it back, I ain't into showing face, kid" —Earl Sweatshirt

"Bless my pops, we sent him off and not a hour late/Still in shock and now my heart out somewhere on the range/Outta range, picked the lock and now we elevate/We box 'em out, my shit a million miles away/Niggas featherweight/Like we making food, father's face when I'm not afraid" —Earl Sweatshirt

"Get the fuck back, you moving like they cut your 'caine/Lick the nut sack, flooted in some tear-aways/Flushin' through the pain, depression, this is not a phase/Picking out his grave, couldn't help but feel out of place/Try and catch some rays/Death, it has the sour taste" —Earl Sweatshirt