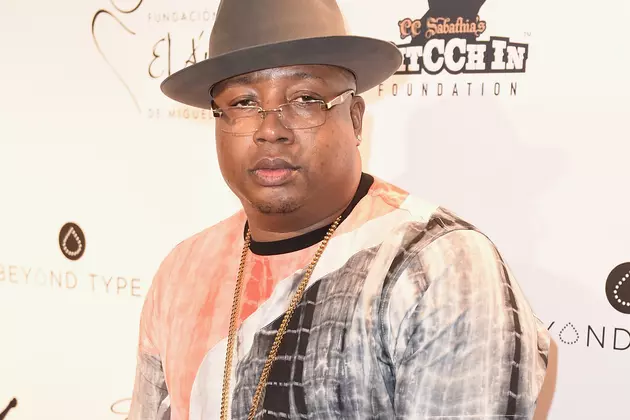 20 of the Best E-40 Songs
Nicholas Hunt, Getty Images
The West Coast is a vast land, with a storied lineage of legendary rap stars that have emerged from its fertile soil. And while Los Angeles may get a large share of the props, if you dig deep beneath the surface of West Coast rap, it's clear to see the impact that the Bay Area has had on the region, and rap as a whole. One of the original pioneers to place their stamp on the hip-hop world straight out of northern Cali is one Earl Stevens, better known as E-40, the bespectacled forefather of slanguistics and game-spitting.
With over 25 solo studio albums to his name and a career spanning over nearly three decades, E-40 is by far one of the more prolific MCs of all-time. After graduating from Dr. James J. Hogan Senior High School in 1985, the rapper didn't want to attend college or join the workforce but instead delved into a career in rap. He formed the rap group The Click and once they released their debut EP, Let's Side, in 1986, his calling was stamped in the hip-hop history books.
Beginning his career as an independent artist and the CEO of Sick Wid It Records, E-40 would unleash a solo EP, Mr. Flamboyant, in 1991, followed by his landmark solo album, Federal, in 1993. Projects like these solidified his rep as a staple of West Coast hip-hop plus his consistency as an artist releasing a steady stream of albums throughout the decade. Off the strength of Federal, his work with The Click and his first breakthrough hit, "Captain Save a Hoe," in 1994, E-40 would ink a deal with Jive Records, which would yield several major label albums, including his 1995 classic, In a Major Way.
In addition to collaborating with West Coast talent like Too $hort, 2Pac, Spice-1 and his roster of Sick Wid It artists, the label he founded, 40 Water would eventually expand his scope and begin working with southern artists, most notably the Hot Boys and Lil Jon. After switching from Jive to Lil Jon's BME Recordings, E-40's association with the Godfather of Crunk would introduce his colorful vernacular to a new generation of listeners and afford him a heightened amount of visibility throughout the aughts. In 2016, at the age of 48, E-40 shows no signs of slowing down and looks to have plenty left in the tank. He scored a gold-selling song, "Choices," in May and is preparing to drop his 26th and 27th albums, Book 1 and Book 2, on Nov. 18. There's no stopping this guy.
To celebrate E-40's illustrious career over the past 30 years, XXL highlights the most enduring songs in his catalog.
1

"Captain Save a Hoe"

E-40 Featuring The Click, D-Shot, B-Legit and Suga T

3

"Sprinkle Me"

E-40 Featuring Suga T

4

"Rapper's Ball"

E-40 Featuring Too Short and K-Ci

5

"Dusted 'N' Disgusted"

E-40 Featuring 2Pac

6

"Hope I Don't Go Back"

E-40 Featuring 2Pac

7

"Drought Season"

E-40 Featuring Kaveo

10

11

"U and Dat"

E-40 Featuring T-Pain and Kandi Girl

12

"Function"

E-40 Featuring YG, Problem and IamSU!

13

"1Luv"

E-40 Featuring Leviti

14

"Things'll Never Change"

E-40 Featuring Bo-Rock

16

"Big Ballin' With My Homies"

E-40 Featuring Nate Dogg

19

"Red Cup"

E-40 Featuring T-Pain, Kid Ink and B.o.B.

20

"Quarterbackin'"

E-40 Featuring Clipse