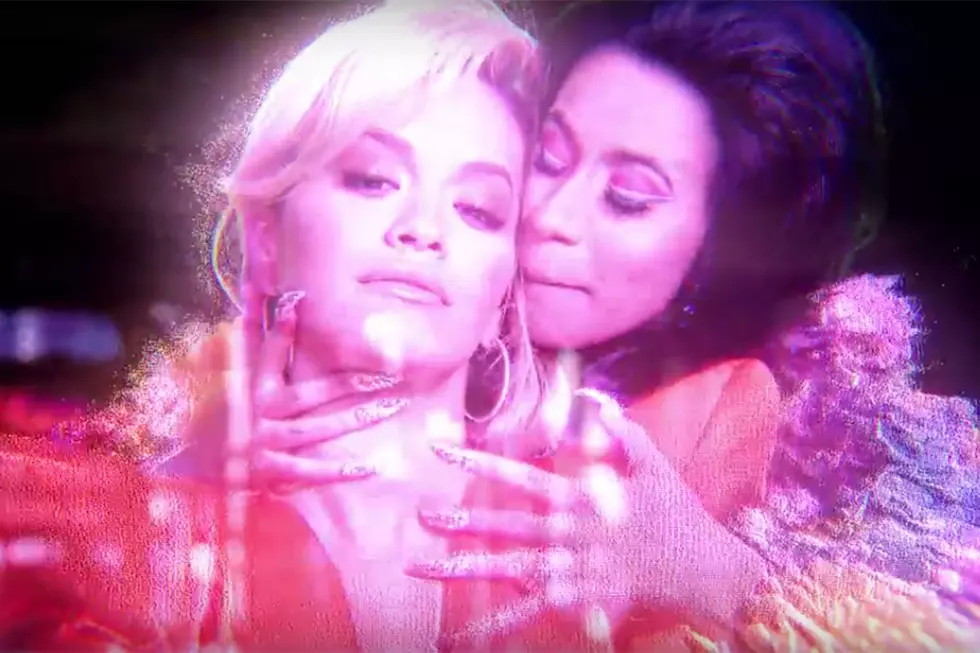 Cardi B Kisses Rita Ora in "Girls" Video
Rita Ora via YouTube
After teaming up with singers Rita Ora, Bebe Rexha and Charli XCX for the song "Girls," Cardi B joins the artists again, this time for the song's video.
Released on Wednesday (June 6), the Helmi-directed video finds the "Be Careful" rapper appearing midway as a hologram. The holographic Cardi raps her verse as Rita watches from a chair, admiring her. The rapper eventually begins caressing Ora before the two share a kiss. "Tonight, I don't want a dog, I want a kitten (eooowww)/I might French a girl from Great Britain," she raps in the video.
The release of "Girls" in May was met with backlash from members of the LGBTQ community who claimed the song did more harm than good for the community. The controversy led to Cardi issuing an apology and claiming she never meat to cause any harm.
"We never try to cause harm or had bad intentions with the song," Cardi tweeted. "I personally myself had experiences with other woman ,shiieeett with a lot of woman ! I though the song was a good song and i remember my experience."
In related news, while the New York rapper has taken a break from touring due to her pregnancy, she's hasn't stopped working on music videos. The "Girls" video is just the latest set of visuals from Cardi, who recently appeared in Maroon 5's "Girls Like You" video and dropped visuals for her song "I Like It."
Check out the "Girls" video below.
See 46 Hip-Hop Artists Who've Gone Gold in 2018