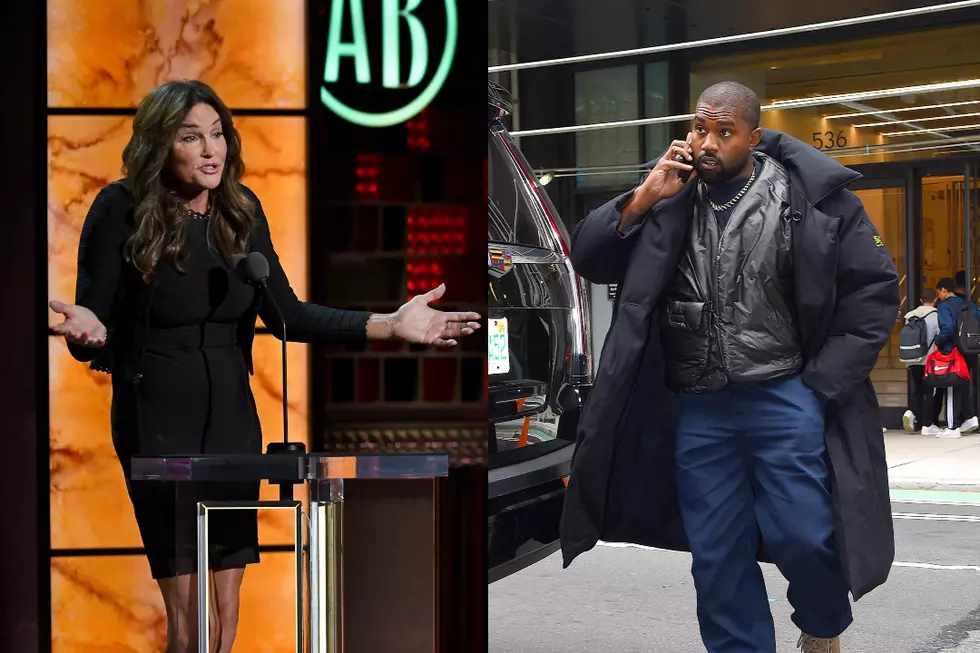 Caitlyn Jenner Admits She Doesn't Know Any Kanye West Songs
Kevork Djansezian / Robert Kamau, Getty Images
Kanye West has a career that spans over 15 years, during which he has accumulated hits upon hits upon hits. Despite being related to the rapper through marriage, Caitlyn Jenner doesn't know any of her son-in-law's tracks.
Caitlyn came clean during a Tuesday (Dec. 3) episode of British reality series I'm a Celebrity… Get Me Out of Here! As part of a feature during the show, she was asked to cover one of the rap superstar's many songs. She had no choice but to bow out.
"Unfortunately I don't know any Kanye West songs," Caitlyn told Nadine Coyle. "I'm going to get into so much trouble when I get home."
Considering Kanye and Caitlyn's step-daughter, Kim Kardashian, have been married for five years now and Yeezy is one of the biggest artists on the planet, you would think Jenner would have heard and could recite a 'Ye tune or two. However, it doesn't appear so.
Jenner will have more chances to get familiar, soon. Later this month, Kanye is dropping a new album titled Jesus Is Born, on Christmas Day. He also has a new Jesus Is King II album in the works. The project is being made in conjunction with none other than Dr. Dre. 'Ye recently commented on being able to tap Dre to work on the project. He says it was God's plan.
"I used to spend all my time trying to make my beats be mixed as good as Dr. Dre, who knew all I had to do was do an album for God and then Dr. Dre would start mixing my beats," Kanye told the crowd during a service at Greater Emmanuel Temple Church in Lynwood, Calif. "Spend your time on God and he will handle the rest."
See 50 of the Best Hip-Hop Albums Since 2000