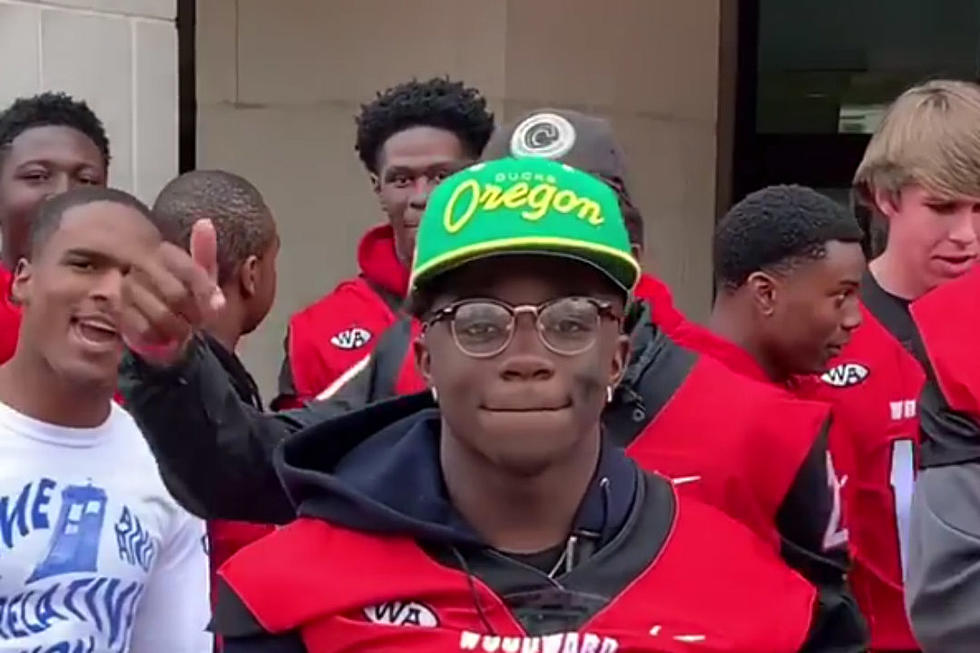 Big Boi's Son Commits to Play Running Back With University of Oregon Ducks
@BigBoi via Instagram
Big Boi had a proud papa moment on Friday (Oct. 19). The OutKast rapper's son Cross Patton verbally committed to play running back for the University of Oregon at a ceremony at his high school Woodward Academy.
Big Boi was on hand to see the big announcement. Cross offered a brief monologue before revealing his choice, while standing in front of his football team. "I just want to thank my family: mom and my dad, coach Davis, my football team," he started. "With that being said, I want to announce that I committed to the University of Oregon."
Cross is then mobbed by his teammates. Big Boi posted footage and photos of the commitment ceremony on his Instagram page. He captioned one photo of his son wearing a Ducks uniform, "Congrats Son ! We are so proud of u ! #18 @crosspatton Keep Pushing , The world is yours ! Thanks to All the Coaches and @realcoachttmp #TmpMafia #GoDucks."
Cross, who goes 5′ 6″, 170 pounds, is not rated by recruiting services. He reportedly fielded offers from FCS programs including Columbia and Butler and had interest from other bigger schools including Georgia Tech and Florida State University.
Check out video of Cross' commitment announcement below.
See Every Hip-Hop Song That Topped the Billboard Hot 100 in 2018