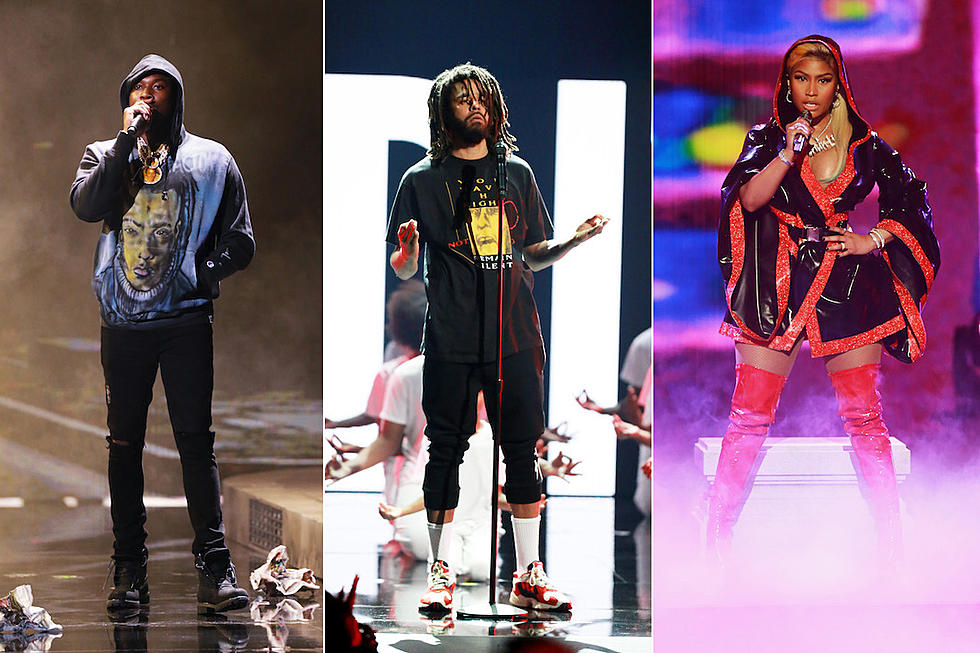 10 Best and Worst Hip-Hop Moments at 2018 BET Awards
Leon Bennett, Getty Images (3)
Up until last week, hip-hop had been in a prosperous place over the past 18 months. The biggest names in the genre—Jay-Z, Nas, Kanye West, Eminem—were steady dropping new music, newcomers like Cardi B were creating new waves of their own and the artform was being recognized by prestigious organizations, as Kendrick Lamar won a Pulitzer Prize for his critically acclaimed Damn. album.
Unfortunately though, hip-hop lost two promising voices last week in XXXTentacion and Jimmy Wopo, who were both killed last Monday (June 18) in separate incidents. Their untimely deaths raise bigger questions about violence not only within the culture, but in America as a whole.
That said, the 2018 BET Awards ceremony was an opportunity to shake off the somber vibe that permeated last week and have some fun. The festivities commemorated those that hip-hop has lost while also celebrating all of the accomplishments that have been made over the past year and a half—and there have been a lot of them.
The BET Awards has been dishing out crystal star trophies since 2001, but folks really tune in for the high-energy performances that electrify audiences every year. But just like in hip-hop, the outstanding often comes hand-in-hand with the outrageous and even downright shocking. Meek Mill, J. Cole, Nicki Minaj and others all managed to create moments of their own last night.
With the confetti now swept up off of Los Angeles' Microsoft Theatre floor, XXL breaks down some of the best and worst hip-hop moments from this year's BET Awards.
Best: Jay Rock's Opening Performance of "Win"

With the success of his latest project Redemption, Jay Rock is enjoying his moment. The album's hit single "Win" is as triumphant as it gets, making it the perfect track to open last night's ceremony.

While host Jamie Foxx cascaded around the crowd carrying a stuffed Black Panther doll, Jay Rock lit the stage up with energy as hot as the piro-techniques going off behind him.

Worst: Nipsey Hussle Gets Into Scuffle Outside Red Carpet

Nipsey Hussle has had a great 2018 with the success of his acclaimed Victory Lap album, but last night he hit a little speed bump.

After getting into what can be seen as an argument with an unknown man outside the red carpet, Nipsey took a swing at the man, managing to make some contact.

It's not known why the scuffle ensued, but Neighborhood Nip seemed more than upset after being restrained by his team.

Best: J. Cole Performs "Friends" With Wale and Daniel Ceasar

J. Cole's KOD album packs a seriously sobering punch, addressing many different forms of addiction. His performance from last night reflected that same unwavering energy.

In perhaps a preview of what's to come on his KOD Tour, Cole turned the lights low and rapped his addiction-adverse cut "Friends." With a silent cameo from Wale and a ballad-heavy assist from Canadian crooner Daniel Caesar, Cole pushed his meditation message with everyone watching.

Best: Meek Mill Debuts Emotional New Single "Stay Woke"

The past 365 days have been a rollercoaster for Meek Mill. He's been plagued by legal woes for much of his adult life due to probation that dates back one full decade. Since becoming released from jail earlier this year, he's used his platform to educate on the flaws of the criminal justice system and push for prison reform.

That righteous energy was no different during the powerful performance of his new Miguel-assisted single "Stay Woke." Dialing in on police brutality, Meek got off some solid, thoughtful verses while Miguel delivered an emotional chorus set in front of a recreation of the streets of Philly.

Best: Meek Mill and Jamie Foxx Commemorate XXXTentacion & Jimmy Wopo

During Meek's performance, the Philly rapper was draped in a custom hoodie with XXXTentacion's face illustrated on the front and Jimmy Wopo's face on the back.

Meek, who has been campaigning for prison reform, wore the hoodie as a sign of solidarity and commemoration for hip-hop's two fallen talents.

2018 BET Awards host Jamie Foxx also took a moment to commemorate XXXTentacion with a brief tribute. "No matter where you start," he said, "you have the opportunity to change."

Best: Jamie Foxx Flips His "Slow Jamz" Hook in Honor of Anita Baker

Anita Baker is one of R&B's most beloved queens. She got her flowers last night, as singers Marsha Ambrosius, Ledisi and Yolanda Adams performed some of her most classic songs as part of a Lifetime Achievement award tribute. Yet Jamie Foxx brought some hip-hop influence, leading the way by singing the chorus of Kanye West's "Slow Jamz," which celebrates Anita by name.

Worst: Multiple Awards Not Televised

Viewers were not happy about the lack of traditionally aired honors at this year's BET Awards. The ceremony didn't televise or have a typical unveil for the winners of Song of the Year,  Album of the Year, Best Female Hip-Hop Artist,  Best Male Hip-Hop Artist and Video of the Year—presumably because the recipients weren't in attendance.

Best: Snoop Dogg's Gospel Performance

Snoop Dogg is undeniably a music legend. His debut classic Doggystyle turns 25 this year and what better way to celebrate Snoop's illustrious career than with a closing performance from the Doggfather himself.

Snoop ran through a medley of hits including "The Next Episode" and "Who Am I," before transitioning to gospel mode to close out the evening with tracks from his latest album, Snoop Dogg Presents Bible of Love.

It's stunning to watch Snoop seamlessly bridge the gap between gangsta and gospel, acting as MC and preacher in the same breath.

Best: Rick Ross and Future Debut "Green Gucci Suit" Video

After the party comes the afterparty... of which Rick Ross took full advantage. Rozay, who is gearing up to drop his highly anticipated Port of Miami 2 album, premiered the video for his recently released "Green Gucci Suit" single featuring Future.

The video highlights classic Ross running through his lavish lifestyle and Future following suit (no pun intended).

Best: Jamie Foxx Calling Up Childish Gambino For A Performance Of "This Is America"

Jamie Foxx called up people from the audience all night long for impromptu songs, dances and speeches, but none were better than Childish Gambino's.

After Foxx mimicked the dances from Gambino's incredible "This Is America" video, he brought the multihyphenate up on stage for a smooth a capella version of the song. Draped in what Foxx deemed "pajamas," Gambino ran through the track seamlessly.

"This Is America" has received tremendous praise from the hip-hop community as a reflection of what it's like to be Black in America.