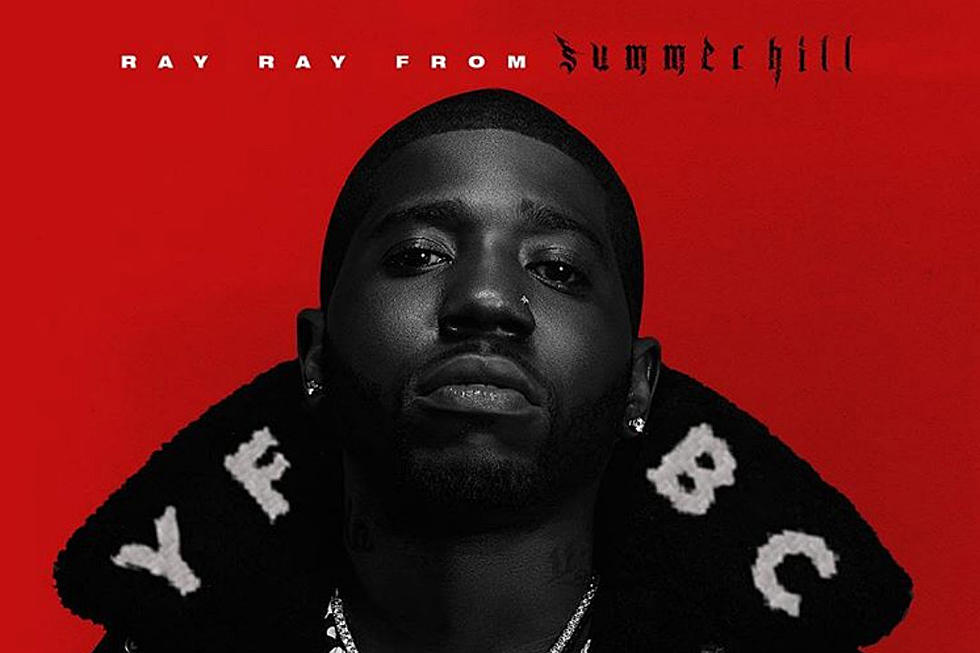 20 of the Best Lyrics From YFN Lucci's 'Ray Ray From Summerhill' Album
Think It's A Game / Warner Bros. Records Inc.
The Atlanta rap scene continues to thrive in 2018, with a number of artists from the A already making big splashes this year. Among those rising ATLiens is YFN Lucci, who has grown into a viable upstart since breaking out nationally with his 2016 mixtape Wish Me Well 2, which included his first hit single "Key to the Streets." He raised his stock even higher with the release of his debut EP, Long Live Nut, which peaked at No. 27 on the Billboard 200. That project's PnB Rock-assisted lead single "Everyday We Lit" scored the Think It's A Game Entertainment franchise player his most successful hit to date, putting him on the verge of crossover success.
YFN Lucci can toe the line between the trap and the mainstream, a quality he's recently shown via his February EP Freda's Son and his debut album Ray Ray from Summerhill. The latter features guest appearances from Meek Mill, Dreezy, Wale, and YFN Trae Pound. Producers 30 Roc, Budda Beats, Buddah Bless, Cheeze Beatz, Cuzzo, Dave-O, Jazze Pha, June James, Maxx Payne, Ness (HBTL), TiNo, Zaytoven and a host of others contribute as well. Ray Ray from Summerhill should serve as yet another treat for Lucci fans new and old. ("Down," his update of Cam'ron's 2004 classic "Down & Out," is a highlight).
XXL sifted through YFN Lucci's Ray Ray from Summerhill album to compile a list of 20 lyrics that stack up among the best that the rising star has to offer.
"Yeah, I been hated, I been loved, I been lied to/Yeah, I been holdin' in that pain swear I been tryin' to/Yeah, I done seen shit in the game that I was blind to/Yeah, and that's one reason why I ever don't want to sign, too/Hey uh, two cups and a blunt, these are Saint Laurent/Second mixtape got me a number one, I already got another one/Plus I'm workin' on another one, just got a new watch and get my brother one/I love my nigga like my mother's son, I know they love what I've become" —YFN Lucci

"See I could just sit here and lie but that'll feel strange/And rap about all the shit I don't got and not the real thing/See, you know me, I made it out and that's the real change/Where I come from you sell drugs, rap or gang bang/Damn a nigga life changed, damn I live a pipe dream/I can give a damn if no one like me, I can see my future and it's shiny" —YFN Lucci

"Too Much"

YFN Lucci Featuring Wale

"Lately I been thinking 'bout the grind you know that had much/Due with my success shit I got a whole lot on my chest shit/Plus a lot of jewels on it, your bitch tryna lay her head on me/I ain't even gotta say it homie I got the type of money you can smell on me/Ridin' round in the V12 screamin' "Fuck 12" I got the 12 on me/Gauge nigga, we was broke but we prayed nigga/Too much came I had to save nigga" —YFN Lucci

"Who gon grind like me/Who gon outshine, who gon shine like me/Tote the nine and pour lines like me/Ain't nobody gon come find me/I was in my prime when I was 19/Smokin' down 'til my eyes Chinese/Lay 'em down we want every damn thing/I was taught to go and chase your dream" —YFN Lucci

"Law came then the dawg came/Some of my dawgs changed, some of my cars changed/Can't believe already got Balmain/And I really spent a quarter on my dawg chain/Alexander McQueen for the king, huh/Whole cup full of codeine, huh/Put a bounty on your whole team, huh/I ain't gotta touch a triple beam now" —YFN Lucci

"Shoutout to the Crips and Bloods who gon bust somethin'/I ain't really never had no love for no fuck boy/I ain't really never put my trust in no fuck boy/Never gave a fuck about no niggas, we got ammunition/Nigga pillow talkin' wit they bitches, all in they feelings/Cold-hearted nigga get the boy missin' yeah, uh/Goyard edition wit a whole ticket in it" —YFN Lucci

"Boss Life'"

YFN Lucci Featuring Offset

"I gotta move a clip, in this lil' uzi yeah/They like to talk a lot yeah, but we like to mute shit, yeah/Pull up and shoot shit yeah, all on the roof and shit, yeah/Trap out the Ruth's Chris yeah, bust down your Cuban, yeah/Montana, some like Tony Montana, whole lot of drums and bananas/I don't fuck with no rappers" —YFN Lucci

"Boss Life"

YFN Lucci Featuring Offset

"I got the heart of a bear/Bustin' them down by the pair/Patek Philippe, it's rare/I'm smashin', pullin' her hair/Trap fashion, look what I wear/It's a ghost but do not be scared" —Offset

"Jealousy, envy, and greed, all of 'em/They just sum a nigga don't really need, around 'em/Act like you gone murder me, get found son/They like a fish drownin' under the water, shit sound dumb/Play dumb, alotta of food on the table, say ya grace, son/They like how I make a million with no education/I got some niggas locked up, they feel like Akon" —YFN Lucci

"All these scars but everything was worth it/God didn't make me perfect/I work hard, can't tell me I don't deserve it/I'ma break the surface/Play with the god and we handin' out hearses, to every single person/And that's on my unborn, we took a whole lotta loses but we won some/It ain't a thing in this world that I can't conquer/If anything I'ma legend or king, yeah I'm one of 'em" —YFN Lucci

"And they know I'm goin' for the gusto/One me, five hoes, Killa Cam, my flow/Hole in the boy like a pothole, die slow/Buckshot got 'em with like five holes, yeah/To tell the truth, the whole fam I would die for/Get on me some Suge shit, inject him with the die slow/Uh, we ain't gotta hide no, need no disguise no/I'm ridin' with my niggas 'til the tires blow " —YFN Lucci

"Keep It Real"

YFN Lucci Featuring YFN Trae Pound

"Told my main dude we gon make it/If we ever lose we go apeshit/Whole lot of dudes from the crew who didn't make it/I don't really know what I'ma do but whatever we do we gotta face it/Whole lotta tool for my safety, know I'm dippin' through in the latest/Know I drip the jewels know I'm cool as a glacier/Know a nigga put you on the news for the paper" —YFN Lucci

"Street Kings"

YFN Lucci Featuring Meek Mill

"Sweep ya block like a hall sweep, y'all all sweet/Never been the type to call off beef, don't call me/Nigga talkin' 'bout he gon' off me, they lost me/They tryin' do me like Jesus, they tryin' cross me/I'ma give a nigga the full clip 'til it's all E/After bloodshed ain't no sorry, I'm sorry/We was all broke now we all kings/Gotta get the fuck up out the hood by any means" —YFN Lucci

"Street Kings"

YFN Lucci Featuring Meek Mill

"When they killed Lil' Snupe, I took a L/Young trap niggas from the bottom, we prevailed/We done got expelled 'fore they taught us how to spell/We ain't never go to math but knew them numbers on that scale/Bustin' bricks sellin' bales, I ain't never tell/Only thing a nigga takin' from me is a shell/Hood of broken dreams, we ain't used to raisin' hell/If you was from my hood, you would never get a sale" —Meek Mill

"Lost my brother and it turned me to a savage yeah/I swear I never leave the house without that automatic/I put that money over bitches I'ma chase a sack/I gotta plug cross the water he gon get it back/Sittin' at the table where we count racks and bust down packs/We got AK, we got 30s, we got macks/Niggas say he want some problems and they know where we at/You know too much of that ra-ra shit'll get you whacked" —YFN Lucci

"No More / No Way At All (Interlude)"

YFN Lucci

"We puttin' numbers up, nigga get ya jumper up/I'm on the road everyday you know my duffel stuffed/Crushed whole lot of ice, crushed whole lot of choppers/Over here what we gon fight for/Heard them niggas tellin' man them folk tried to indict bruh/We don't do the internet, boy you better tighten up/Catch you at the interstate we don't like to type bruh/Man I swear ain't too many like us" —YFN Lucci

"Come With Me"

YFN Lucci Featuring Dreezy

"Catwalk me that back archy/I fuck that nigga till he back soft/Wait for it had to wait up on me/Ain't nobody gotta stay up on me/Need somebody who can take the weight, now he call me up just to lay up on me/He my type cause real niggas offend me/He know me took a date out to Beni's/Showed 'em real now he coppin' the Fendi/Yellin' fuck 'em we never been friendly" —Dreezy

"Keep Your Head Up"

YFN Lucci Featuring T.I.

"The lottery I gotta hit it or them block pigeons/So my mama ain't gotta wash dishes/Bet you can't breathe need oxygen/Say I fell off nigga wait a hot minute/On the block brand new drop wit the lil bad bitch just hopped in it/'Fore you talk bigger than the top 10, legendary status I been locked in it" —T.I.

"I want answers nigga/All day and night we get active nigga/Broad day on sight, you know we all got a pipe, plus we all got on ice/You know we strapped everywhere we go like we all got license/Yeah, don't get popped like a Vicodin/Know I put AP on, not the one from the Vikings/Never look at me wrong we gon cut out ya eyelids/I'm not the one to sleep on, what the fuck is you tired bitch?" —YFN Lucci

"Look, aye keep that Glock by my tommy/Boy you know you pussy like right beneath her lil' tummy/I am the bomb and I advise you pussies stay far from me/Nick high, come drummin', flow sick I might vomit/Drop a brick on they head they better not hit no stomach/All this lead in this pencil I'ma erase something/I'm from the gutter where snitches wear wires/Ridin' with mack and I ain't talkin' bout that boy off of The Wire" —YFN Lucci