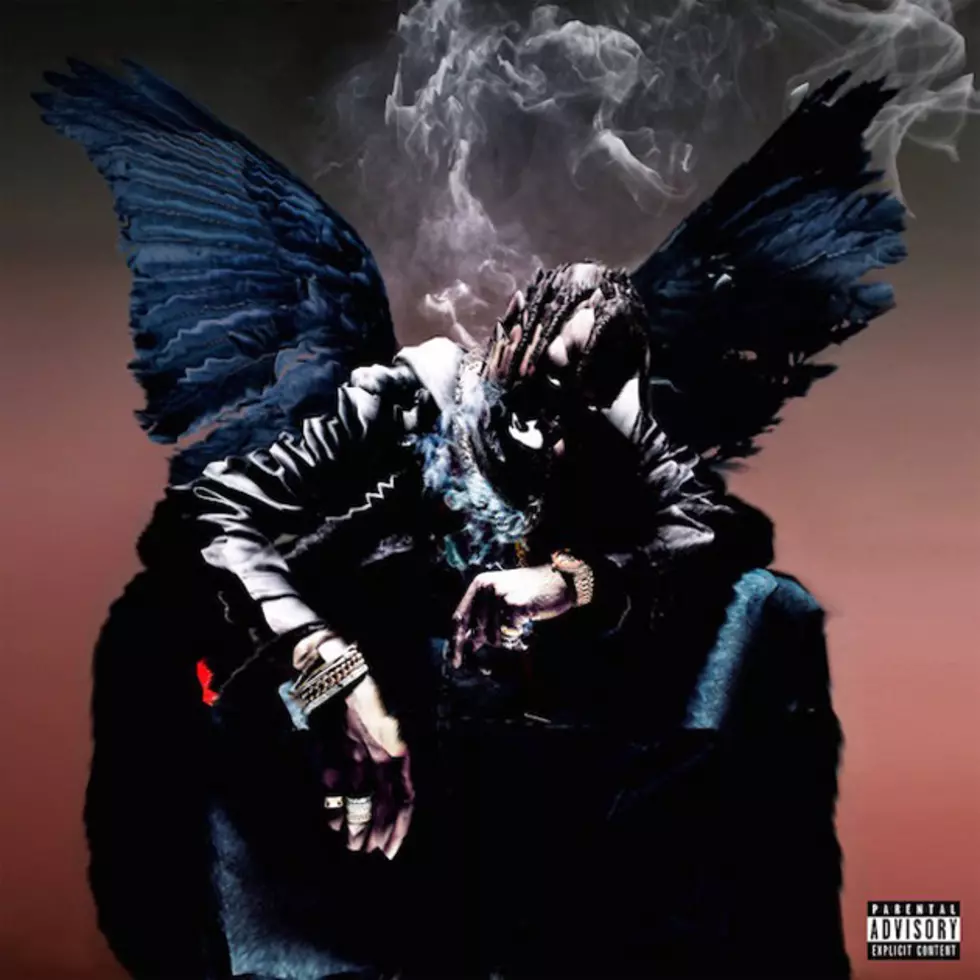 20 of the Best Lyrics From Travis Scott's 'Birds in the Trap Sing McKnight' Album
Epic
2016 has been quite a buzzworthy year as far as rap album releases go. Many of the biggest names in the business, including Kanye West, Drake and Kendrick Lamar have all dropped highly anticipated albums this year, and the latest artist up to bat to present his own project to the world is Travi$ Scott. Just last week, the high-octane hip-hop rock star unleashed his sophomore album, Birds in the Trap Sing McKnight, to his rabid fan base.
Initially finding his way to prominence through his production process, impressing the likes of Kanye West and T.I., the Houston rep would transfer his talents from the board to the booth, ultimately releasing the mixtape, Days Before Rodeo, in 2014, and debut album, Rodeo, last year. The album, which featured guest appearances by heavyweights like Kanye West, Justin Beiber, The Weeknd and Future, and songs like the rager "Antidote," would establish Scott as one of the more exciting artists in the current landscape of hip-hop, setting the stage for his anticipated return to the scene.
Birds in the Trap Sing McKnight is also a star-studded affair, with A-listers like Kendrick Lamar, Andre 3000, The Weeknd and a handful of Scott's other industry friends lending their talents to the project. Despite being available for a few short days thus far, a few of the album's more quotable lyrics have jumped out at us and have been ingrained in our conscious after giving Birds in the Trap multiple spins. We've compiled 20 of the most memorable rhymes from the album to celebrate the occasion. Did your favorite make the cut?
1

"Killer would show up with boxes of pizza/And said he had a label recruitin' people/Put that on my grandma and everythin'/My homie said he told 'em his name was Wayne/It could've been me or could've been you too/What a memory in me, needing to lose/What's gon' patch up my intertube/So I could pop a wheelie and walk it too"

2

"It's summer time, why they tryna throw shade?/All these wins I can never gold state (yeah)/UFC I'm tapping to my old ways (alright)/I'm addressing shit like I'm on ways/Showed ya love, ain't show it back in OK/Like the girl that she go both ways/Dropped the Rodeo, I dodged a bull like olé/Hopped in the Bronco, skrrt off like OJ (yeah)"

3

"Highway, dip in traffic, 2 gears, automatic/Leave the strip club tragic,2 broads going at it (It's lit!)/Me and Jacques going brazy, Me and Chase going brazy (Straight up!)/Smashin' off your old lady (Yeah!), Everythin' goin' crazy (Yeah!)"

4

Kid Cudi

"through the late night"

"Blimp's soarin', how the hell did I get in this space?/Four in the mornin', how did I get in this place?/Oh it don't matter, got smoke, drink, and I'm runnin' this space/Done contemplatin', I'ma take it in and groove in this case/N, N-Dimethyltryptamine and Lysergic acid diethylamide/The vibes are effervescent, delicious, just how they should be"

5

Travis Scott

"through the late night"

"Balance, find your balance/God said it's my talent, sprinkle a little season on the salad/Relieve my heart of malice, hit my palace/Stroke my cactus, oh, don't wait Don't play)/Play no games like the NBA, throwin' checks like the NBA/You a ring, you a ring, we shootin' shots like the NRA/Ahh, she jammin' Travis and Kid Cudi/The new Krayzie Bone and Slim Bun B"

6

"I just poured a eighth in a liter/Throw some jolly ranchers in make it sweeter/Versace my clothes I'm with a white ho/And she snortin' three lines like Adidas/Got a black girl rolling off molly/Got a white bitch snorting up snow/Say she want real niggas in the party/Parents gon' leave the keys to the condo"

7

Travis Scott

"beibs in the trap"

"Pulled out in the hood Toyota/Drove back to the hood Lambo/Crushes xans in my soda/Riding around the city with my eyes closed/Crazy girls got it poppin', AOD got it poppin'/Tryna' text my accountant/Ain't no service in the mountains (straight up!)/Won't you come to the bottom (yeah)/Know you heard a lot about 'em"

8

Travis Scott

"sweet sweet"

"Like my time, like my jokes (sweet)/We been down since in the basement with the most (sweet, yah)/Shout my town, shout my troops/Shout my jeweler, made my chain look like Fruit Loops (yeah, it's lit!)/Come get a taste, come get a scoop/I done made it out the hood through all the hoops (hula hoops)/I done finally found a way to make the loot/Link up all my niggas and my jewelers"

9

Travis Scott

"sweet sweet"

"When I ask who bigger/Ain't tryna argue with ya, I'm tryna figure (straight up!)/Who you with, who your team?/What your side? How you, how you, how you ride (how you ride?)/How you use me to survive (straight up!)Yeah, cause we up, lit at five/At the crib goin' live, oh so live (yeah)/Eric keep the strippers, order V Live/Order wings, told em' hold the side"

10

"Yeah, always got it on me baby, automatic, yeah/Where I'm at is static, but it ain't got traffic, yeah/Push up on me, them boys make you do a backflip/Balance on the beam, yeah balance on the beam, yeah/Do some shit I've never seen/Won't you come out with the team, yeah/Yeah, you might just win a ring, yeah/Why they home on they homescreens?"

11

"All my niggas outside, pillow talkin' sneak dissin'
Get a nigga jaw wide/Beat you baby mama throat so long she say her jaw's tired/Young Savage get a nigga wacked cause I got mob ties, I'm a wise guy/All my niggas in the field/I'm draped in that Biani, I ain't got a deal/Slaughter Gang and PDE, we killin' shit for real/10 bad bitches, suckin dick and eatin' pills"

12

"When I'm pullin' up right beside ya/Popstar, lil' Mariah when I text a cute game/Wildness, throw a stack on the Bible/Never Snapchat or took molly/She fall through plenty, her and all her ginnies/We at the top floor, right there off the Henny/Oh no, I can't fuck with y'all/Yea, when I'm with my squad I cannot do no wrong"

13

Kendrick Lamar

"goosebumps"

"Mama, dear, spare your feelings/I'm reliving moments, peeling more residual/(I can) buy the building, burn the building, take your bitch, rebuild the building just to fuck some more/(I can) justify my love for you and touch the sky for God to stop, debating war/Put the pussy on a pedestal/Put the pussy on a high horse/That pussy to die for/That pussy to die for"

14

"Yeah, first take, you ain't on time, you were late/When you around me, you're safe (lit!)You can't go around, fuck the heresay/I know that look on your face/You think you winnin' a race/You think all I do is play (yeah!)/I didn't put you in your place/Then why you still here in my place?"

15

Bryson Tiller

"first take"

"Shit, goddamn you feelin' yourself/Out in Hollywood, you got a nigga with some wealth/You ain't free tonight, I bet he call somebody else/Tryna tell you I'm the last real nigga left/You can hit me if you need help/With your love problems, with your money problems/I just might solve 'em, I just might solve 'em/I just might solve 'em, I just might solve 'em"

16

Young Thug

"pick up the phone"

"Pour up a four of that Actavis/Lean like my mothafuckin' granny did/Super Bowl ring with big body Benz/I stack it up now I'm just better livin'/Got screws in my mouth, I'm just preppin' it/I'm fucking this cash up, I'm not celibate/I'm packin' it up like a reverend/I need all this cash, I got hella kids"

17

"Girl you're so cute and your ass is nice/Drinkin' on four and I'm shootin' dice/Wrist polar bear, Klondike/And I'm loving all races, hell nah don't discriminize/Drinkin' on clean, sanitize/Ostritch seats with the frog eyes/If I ever call your phone baby/Best believe it's only one time"

18

"You know what, we grew on/We go back like futons and coupons/We too bad, we too wild, we too young/Shake some, my niggas gon' shake some/Fall through and break somethin'/Broad day, and take somethin'"

19

"How you been with your workout visits?/Got my prescription, guide my intentions/You know my intentions/You know that nobody know our business/God's our witness, lit like my wrist is/Only like it when you're at your littest"

20

"We just landed in your city, go time/Driving to the venue, like we're seeing no signs/She got all the passes, she don't ever do lines/Bustin' like she's single, she ain't wasting no time/You cannot record, that's for the show now/Leave your phone, you get that later on now/Pour that special drink that's for my throat now/And take a sip, oh my"