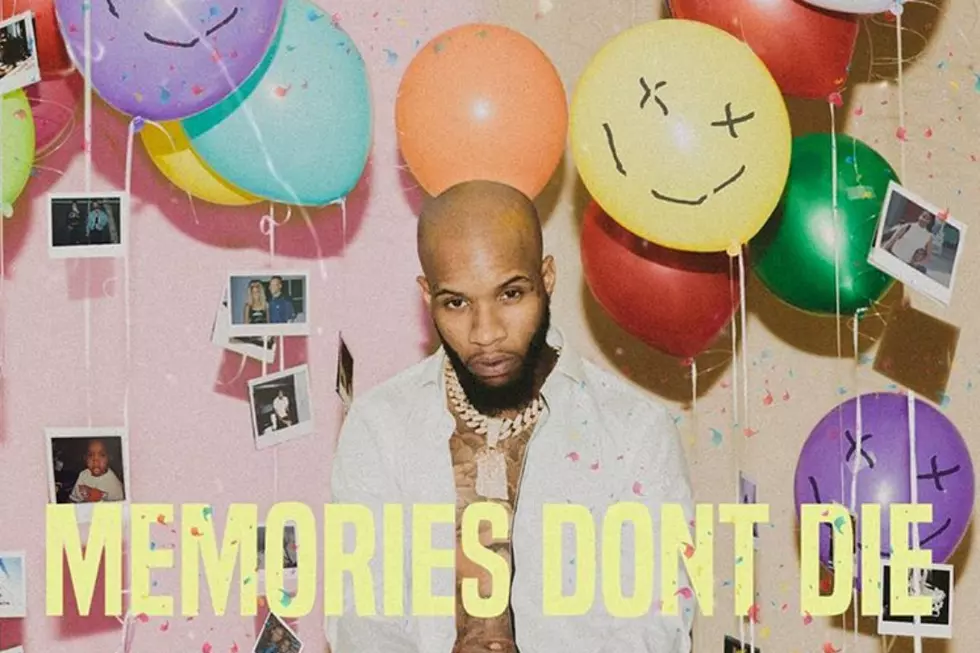 20 of the Best Lyrics From Tory Lanez's 'Memories Don't Die' Album
Mad Love / Interscope
Some entertainers become complacent after attaining success, but singer/rapper Tory Lanez has set him self apart from the pack by building a reputation for his ambition, drive, and ability to keep his name on the charts. He's been on a tear since releasing his debut studio album I Told You in 2016, scoring a pair of Top 20 R&B hits ("Shooters" and "I Sip"), delivering a number of scene-stealing guest verses and hooks and returning to the mixtape circuit with his Chixtape IV and The New Canada projects in 2017. He looks to make the leap from being a promising newcomer to a heavyweight contender with his sophomore album, Memories Don't Die.
"Lyrically and just the writing of the songs, I just think is at another level," Lanez recently told Zane Lowe of his new project. "This time, it was more so about like every piece of vulnerability and every piece of truth and things that people just want to know... That's why this album is called Memories Don't Die, because the memories of this album will never die because [of] how honest it was. And just, at that point that it's going to drop, just in music, you're just never going to forget the memory of this."
The guest list is stacked on Tory's new LP, featuring guest appearances by 50 Cent, Future, Fabolous, Mansa, Davo, Nav and Paloma Ford. AraabMUZIK, Benny Blanco, Bobby Made The Beat, Cashmere Cat, C-Sick, Happy Perez and Smash David chip in on the production side. Still, it's clear that Tory Lanez is the main event.
XXL compiled a list of 20 bars from Tory Lanez's sophomore album that are likely to be stuck in your memory upon listening.
"Old Friends x New Foes"

Tory Lanez

"Didn't love me at the bottom, but they wanna love a nigga at the top though/In here since Pac, now I got the bald head with the Pac flow/Neck lookin' like Pablo with the ki's stuffed in the Tahoe/Been licked since I blow out in Oslo with my eyes low/Said I got a million ties/You got a million ways to get it, well, I got a milly and five" —Tory Lanez

"Old Friends x New Foes"

Tory Lanez

"I just might walk in this Starlet's, just to show you that the star lit/Add a bad bitch, market/Martin tell, keep 10 shots next time that I get the ball lit/Wardrobe, crib callin', new shit that I'm on, it's/Yeah, tell 'em boys that the squad lit/All 100s, all green-blue, you swear I'm playin' for the Hornets/But I'm playin' for the T City and the Umbrella team with me" —Tory Lanez

"All these, diamonds, on me/Don't it, get you, horny?/It's late, but I, can't leave, it's lit/Rollin', top down, my shit, legit/Police tryna catch me with the shooters/You not from the ends, you cannot fool us/I caught a felony and beat that shit the next week/I stack it tall, Lisa Leslie cause" —Tory Lanez

"I hit the beach for a brief day, South Beach on a leaf case/Cash all in it and a nigga bring that shit to each state/Talkin' Miami to the Peach State, ah/Diddy to them bitches, send them out for cheesecake, ah/Intermission when I sent them niggas on a death wish for a piece day/Got a Rollie, Audemars Piguet, nigga, pete sakes/Now it's Richard Milles on the wrist, that's 'round half a mill for a clean face" —Tory Lanez

"Uh, Pablo, my chick Tata, nice breasts with the high thighs/Like KFC, only thing missin' was the hot fries/And the cold Coke, mink warm but it's the cold coat/Brown skin on a black woman, only time I'm fuckin' with the coco/Lil mama get stupider, say she want all of me, that's a kowal to me, what I'ma do with her?/My baby ma's so fuckin' lit, man, I wish there was two of her/I just put it in a new BMW 'cause the Lamborghini that I just copped not for the two of us" —Tory Lanez

"Fell asleep in first class and woke in Dubai/Club White, sparklers, lookin' like 4th of July/Instagram story clickin', tryna save the moment/Sexy woman sell the pussy but we ain't condone it/I woke up in the hospital at 2 p.m./Abu Dhabi club party, try do me in/Paramedic talkin', tell me in the ambulance/I could barely hear this nigga, just the ambiance" —Tory Lanez

"Real Thing"

Tory Lanez Featuring Future

"I be smoking Presidential, gon' elect me/All the white girls wanna give me Becky/All the time a nigga fuck her in a fresh tee/A nigga mad that I'm set, tryna threaten me/I be balling, need a ESPY/That's your girlfriend, she my bestie/If you sayin', let's be honest, girl, then let's be/I'm tryna see you and little mama on a jet ski" —Tory Lanez

"I swear, in this bitch, yeah I'm killin' this year/Them boys hated, they gon' feel it this year/I bought a 'Rari, I only drove in it once, I'm movin' different this year/I'm leavin' thousands, talkin' millions this year/When niggas really talkin', talkin' over, talk it over/Renegotiate and make the play and they cough it over/I crossed over like Iverson when he dropped the shoulder on Jordan/The feelin' more than the sport when you winnin' fuck how they feelin'" —Tory Lanez

"Me and Travis Scott almost fought at the Mala Luna/We both agreed shortly after that it was music/We possibly could be doin' that's bigger than tryna ruin it/So my apologies, nigga, just forgive me for doin' it/History made in New York City, we called a truce at the tower/I only brought a couple niggas with me/The beef was finished as soon as we took the picture, the world was watchin'/The attention in the industry started shiftin' to me" —Tory Lanez

"48 Floors"

Tory Lanez Feat. Mansa

"I can't make no dinner, but a nigga with the breakfast/We can smoke, we can fuck, what's your preference?/Wrote to Santa just to put you on my sex list" —Tory Lanez

B.B.W.W x Fake Show

Tory Lanez

"My dick giant like Fifo, if you need know/Money singin' in a C-Note like do-re-mi-fa-so-la-ti-do/Did it for my niggas back home/In a fiend house, sellin' crack on a trap phone in a crack home" —Tory Lanez

"B.B.W.W x Fake Show"

Tory Lanez

"Wintertime gettin' cold, had to go to Bramaleas/Steal a jacket up out of Jack Jones/Rogers had me gettin' mad at the phone bill, switchin' to the black phone, yeah/I had to switch to a Telus, ain't really shit you could tell us/All of y'all niggas is jealous, ah/Runnin' through the check, money upset, all of these niggas is mad at me/10 chains, buy 10 rings on a nigga, lookin' like the swag daddy" —Tory Lanez

"B.B.W.W x Fake Show"

Tory Lanez

"Trash bag full of every dollar at the bar/That you kneelin' down to pick up for these niggas throwin' it up/You hate it when niggas gettin' dirty with they ones though/They the reason why you 'bout to get them Louboutins though/They the reason why you 'bout to get your rent paid/Tell them hoes throwin' shade, they should wear their best shades" —Tory Lanez

"B.B.W.W x Fake Show"

Tory Lanez

"She gon' make a thousand on a bad day/10-hour shift and she don't ever take a half-day/She told me dancin' was her pathway/And she only did it to the fullest 'cause she hate to leave it halfway/Hol' up, bust it, I can't, trust it/Fuckin' with you got me goin' way up out the budget/Pour a shot up, this is for the last night/Last night, before I lost you to the fast life" —Tory Lanez

"Dance For Me"

Tory Lanez Feat. Nav

"She dancin' on me 'cause she saw my diamonds dancin'/Love makin' music, takin' drugs my second passion/I know some bitches that stay ready for that action/I'm a boss and I'll pay you double what you askin'/She said some pussies in my city said they lookin' for me/Got a chicken in my kitchen and she cookin' for me/Got to B-Town, all these brown boys start to lookin' like me/I'm the one they wanna see, now all they bookin' is me" —Tory Lanez

"Dance For Me"

Tory Lanez Feat. Nav

"I been on the real nigga vibe with my .40/Why you gotta lie? You ain't my shortie/Actin' like you can but can't afford me/Pants down, get the bitches 'bout my Jordie/I'm a rich nigga and you know it/Sippin' Hennessy, lil mama, pour it/I might even pull up and sip the Moet/And I pull up late nights, have you soakin', yeah" —Tory Lanez

"Dance For Me"

Tory Lanez Feat. Nav

"She love to do it with no hands for me, baby/Might fuck around and take a chance on me, baby/Rappers spendin' they whole advance on you, baby/Rollie shinin', that means it's perfect timin', that mean it's/Time to get to throwin' these bands on you, baby/Hands on you, baby/Signature, my name, tramp stamp on you, baby/Robbin' that pussy, Van Dam on you, baby/Throw the money tall like a handstand on it, ah" —Tory Lanez

"Pieces"

Tory Lanez Featuring 50 Cent

"Adrenaline pumpin', heart pacer racing, altercations, we lit/Blood drip stain the ground, boy get down, you hit/Same hood, different day, same whip, different clip/Lettin' off, somehow we end up in the same shit/Stunt, get jumped on, slashed or dumped-ons/Same block you pump on is the spot you get slumped on/Tory told me the story, it sounded a little crazy/A little Nas, a little 2Pac, Brenda's havin' a baby" —50 Cent

"Connection"

Tory Lanez Featuring Paloma Ford, Davo and Fabolous

"Ayy, I be the Puffy in your videos, dancin' in the back of you/Then take that out, put it back in you, I'm Craig Mackin' you/Whisper flavor in your ear, you my baby, baby/Know I think big but just have faith if you my lady/Bad boy, bad bitch, still a good connection/Tell me where to take it, girl, you give good direction/Slap you on your ass, girl, that's just hood affection/Fuck your ex with all that coulda, woulda, shoula textin" —Fabolous

"Hillside"

Tory Lanez Featuring Mansa and Wiz Khalifa

"'Cause lot of these niggas be fakin'/Swearin' to God that they cakin'/I walk in this bitch and the party get lit/And that patty go down like a basement/I roll me a joint and I face it/Baby girl lovin' the way that it taste/Mmm-mmm, what did you do with your day?/I put a mill in the bank, wait" —Wiz Khalifa