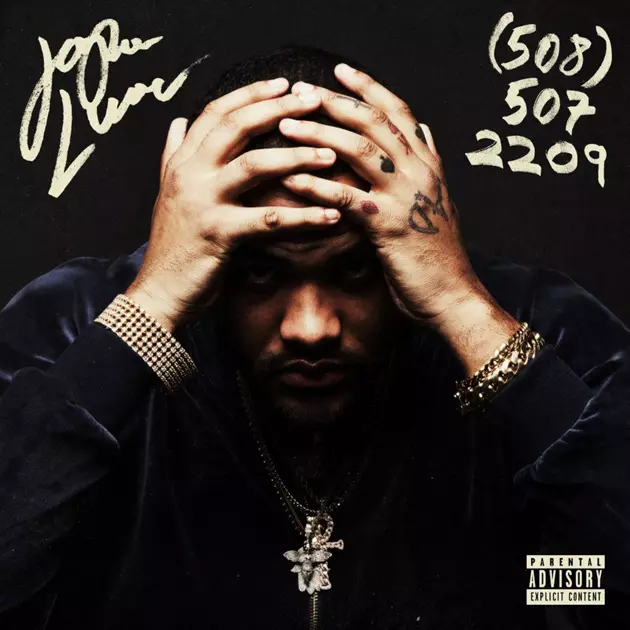 20 of the Best Lyrics from Joyner Lucas' '508-507-2209′ Album
Atlantic Records
With an endless stream of rappers vying for the public's attention and looking to be heard, it can be hard to breakthrough the static in any fashion, but particularly if you're not attempting to build a career off hits rather than through the depth and substance within your music. The latter is the path that rapper Joyner Lucas has decided to take as he looks to change his status from relative from up-and-comer to being considered one of the best MCs in the game.
A native of Worcester, Mass., Joyner Lucas caught the rap bug early, recording his first track at age 10 with the blessing of his father, an experience that would become the genesis of his desire for rap supremacy. He first began rapping under the name G-Storm, and then Future Joyner. Under the latter moniker he released the project Workprint: The Greatest Mixtape of All Time as part of the duo Film Skool Rejekts with his cousin, producer Cyrus tha Great. Once Atlanta rapper Future came to prominence, Joyner would make the switch to his government name.
Releasing his debut solo mixtape, Along Came Joyner, in 2015, Joyner Lucas would be touted as a promising newcomer to look out for, wowing listeners with his sobering brand of subject matter and his lyrical aptitude, creating a buzz that would lead to the rapper inking a deal with Atlantic Records in 2016.
Looking to take the next step in his career, this month, Joyner Lucas unveiled his major label debut, 508-507-2209, an autobiographical take at the grim realities of his life prior to stardom that pierces the soul and announces him as one of the brightest orators rap has seen in some time.
XXL selected 20 lyrics from Joyner Lucas' debut album that particularly struck a cord after giving it a spin.
"You finally got some paper couldn't wait to get it/And it don't really matter 'cause you're still lame/No matter how much cake you got, it wouldn't make a difference/I'm tired of all you rappers wantin' free verses/The fuck up outta here this how I make a livin'/I dive up in that pussy like Jamaican niggas/I spend all of my dollars on some Laker tickets"

"I mean the food gone, ain't nothing left this year/We done ate that shit/Funny how they told me to stack this year/Now a nigga get colder than central air/And your momma should aborted you and left you there, damn/I need a massage/Where the gay bitches when I need a ménage?/She said she got a porn take that I needed to watch"

"And don't nobody give a fuck when you starving though/They don't answer me when I'm hollering though/Try to cancel me like The Cosby Show/Until I put them hands on them like Rousey though/I got a hundred fans waiting in the lobby line/Taking shots like it's party time/Hands up, ain't nobody got to die/I just got four rings like the Audi sign"

"FYM"

Joyner Lucas Featuring Mystikal

"You thought I was finished, you thought it was over/You thought I retired, you thought I went fishing with Kobe/Nigga, I'm still as the illest considered as one of the coldest/Still I put a part in a rapper head like Moses/I'm throwback like I'm Motorola/But hoe, I'm cooler than a cup of yogurt" - Mystikal

"Keep It 100"

Joyner Lucas

"He walked into the same store on the block/Just so happen to be the same exact store that got robbed/What a coincidence/That shit is just as weird as I thought/The clerk rang him out and said, 'That'll be $18.25'/And then he held that hundred out with the red number written on top/And then everything stopped"

"Just Like You"

Joyner Lucas

"Show me how to be fearless often/I need real guidance, I ain't scared of options/Because of you, I've got a clearer conscience/Because of you, I'm not scared of monsters/Because of you, I'm not afraid of failure/When life was blurry, you made it clearer/And God forbid, if you died now/I know that I'd be well taken care of/I know you'll be there waiting for me"

"When you told me that you loved me boy I know you meant it/You suck the soul out of my body with your own intentions/Now I'm stuck inside a life of prostitution no discretion's/And all you do is beat my ass and leave me slowly breathless/But we don't have the type of bond we used to have before/But I ain't mad at all I just wonder if you recall when I laid in your arms and you used to sing to me like"

"Way to Go"

Joyner Lucas Featuring Snoh Aalegra

"I tried to run away from home before the ass beatings/All I wanted was some clothes but It's tax season/I love it when they black but they act Rican/A pastor think that I'm half black and half demon/What the fuck is she tryin' for? what's mine is yours/What's yours is mine and I'm down for it, we ridin' for it/We wanted this a long time ago, what you aim fo'?/Goddamn, you let me down again, way to go" - Joyner Lucas

"Way to Go"

Joyner Lucas Featuring Snoh Aalegra

"I went to work late and missed out/But Grandma told me: "In 10 days you're kicked out/Never went to sunday school, I skipped out/And then went to the mall and got draped up and tripped out/I used to listen to Bon Jovi and hang with my aunt Rosie/Then she call the cops on me/Crack in my socks runnin', my neighbor up top sold me/Nowhere to run now, "thanks a lot homie" - Joyner Lucas

"Look What You Made Me Do"

Joyner Lucas Featuring Stefflon Don

"This the flyest shit I ever heard in my life/This the type of shit that make you pull up outside like bitch/Why you bending my line /I ain't tryna fuck your nigga he ain't even my type/Told my brother that I love him then I put the phone down/Gotta be rollin' with them fellas that be in the ghost now" - Stefflon Don

"Look What You Made Me Do"

Joyner Lucas Featuring Stefflon Don

"Fuck with me nigga, I've been putting London on the map/Ain't it funny I'm the first female ting, right/Imma do it, watch me fuck it up and go ham/Gettin keys oversea just so I can bring it back/I ain't talking bout no coke bitch, I'm all about the crack/I ain't even have to pay, all I had to do was rap/Imma let that line breath, mute that/I'm gettin keys overseas just so I can bring it back" - Stefflon Don

"We Gon Be Alright"

Joyner Lucas

"I did some things I ain't proud of, but I never leave your side/Okay I never leave your side/You had some shit you were going through and you ain't even cry/So if I take advantage of you, you won't be so nice/You told me next time, there won't be no next time, look me in the eye/And I gave you a chance even though you not my type"

"Young and reckless, different women part time/And I wasn't ready for that life yet, I was in my dark prime/Me and your moms ain't get along and she gave me a hard time/I really think that we just crossed paths at the wrong time/I wasn't happy when she said she was pregnant/Probably the worst news of my life, that shit was so depressing/I told her she should get an abortion and I really meant it/I'm sorry that I said that shit, yo I was trippin'"

"And I still remember your baby shower like it was yesterday/And to your mom it was special, me, just another day/I wish that you could see the pictures, all the fake phony smilin'/Had to pretend that I was happy, deep down I was cryin'/Ma asked if I was okay, I turned around and looked away/I was dryin' all my tears, look back to say yeah"

"I Need More"

Joyner Lucas

"And all you do is flash your money and fortune/You ride around in that Ferrari and Porsches/And all you talk about is Bugatti and foreigns/You walk around like you somebody important/You surrounded by leaches and beggars/And none of them niggas wanna see you do better/I bet they plotting wanna see what you got/'Cause you brag a lot and make it seem like they jealous"

"Ain't nothing wrong with a little bit of sex, hoe/You ain't gotta stress yo/My nigga, listen, you a part of me/You get me in trouble then you fall asleep/And all it takes is some liquor and some R&B/But you gon' fuck around and turn me into Charlie Sheen"

"I ain't picture my life like this/They don't know what it's like like this/Pretending I'm happy so I can smile like this/And laugh like you/Sometimes I wonder if I ever act like you/Could I finally fit in and maybe relax like woo/Or would you feel lost without me?/'Cause honestly, I think the world is better off without me"

"Look, I really feel lost without you/I hate the fact you think the world is better off without you/And my mind's spinning, this is the line finish/Truth is, I don't care how you feel about my feelings/And I'd be lying to you if I told you I'm fine, listen/I know that you can hear me, all I need is like five minutes"

"One Lonely Night"

Joyner Lucas

"Oh shit, oh shit/Here we go again, make sure you take them clothes off, bitch I'm going in/You gon' take this dick while I press record, and tonight you my slave don't you ever tell me no again/So don't you ever tell me no again, bitch I'm possessive and I never let you go again/Who hittin' your phone at two in the morning and had to tell that nigga don't you ever text my hoe again"

"One Lonely Night"

Joyner Lucas

"Oh shit, oh shit, I don't have a visa/I think I'mma fall in love with a ballerina/Just let me hit it and I ain't waitin' for marriage neither/Cause she gon' fall and I'm gon' ball like alopecia/I said I go bald like alopecia, I turn the god, then read the Bible the grabbed the heater/I want a mansion in Hollywood and Pasadena, but I still ain't got shit and I ain't too happy neither"