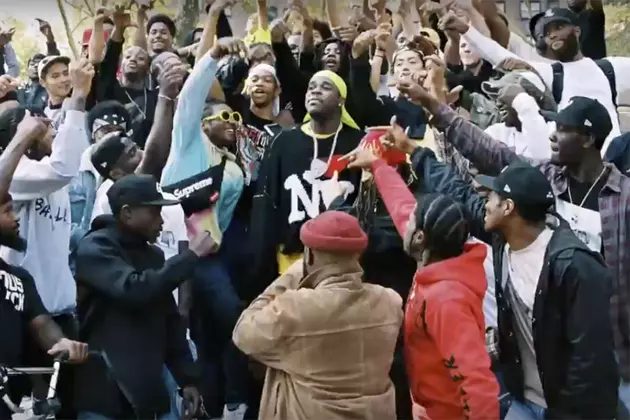 ASAP Ferg Drops "Plain Jane" Video With a New Verse From Juicy J
asapfergVEVO via YouTube
After dropping the Kirk Knight-produced "Plain Jane" in June, A$AP Ferg is back with the visuals for the song.
The "Plain Jane" video, directed by Hidji Films, kicks off with a scene of A$AP Ferg standing in an apartment hallway. While tying his du-rag, a verse from Juicy J that wasn't featured on the original song is heard. Before the Three 6 Mafia member can finish his verse, he's cut off.
The visuals then move to outside the housing project, where Ferg is surrounded by a crew of BMX bike riders. Rihanna also makes an appearance in the video when a clip of her and Ferg pops up as Ferg raps, "Please believe me, I see RiRi, I'ma eat it like panini/I go dumb up in the broad, hit the walls like graffiti."
"Plain Jane" is featured on A$AP Ferg's August mixtape, Still Striving. The 14-track project also features the songs "East Coast (Remix)" and "Nasty (Who Dat)." Meek Mill, Cam'ron, Dave East, Lil Yachty, Nav, Migos, A$AP Rocky, Playboi Carti and more all make appearances on the mixtape.
Check out A$AP Ferg's "Plain Jane" video below.
See 21 of Hip-Hop's Biggest First-Week Sales in 2017 (So Far)
Watch Celebrate XXL's 20th Anniversary With 20 Special Edition Covers