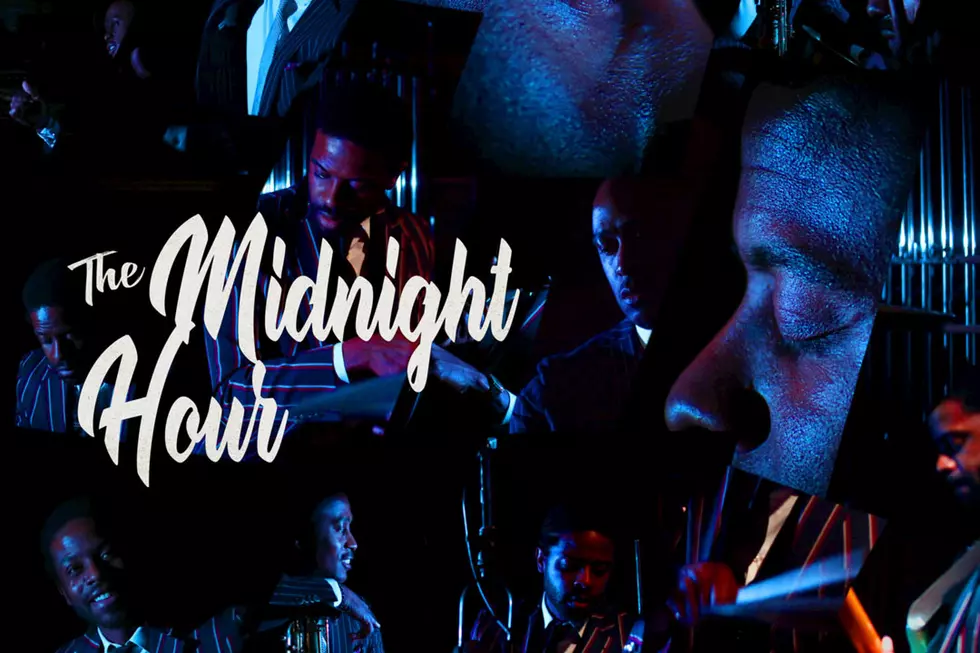 Ali Shaheed Muhammad and Adrian Younge Release New Album 'The Midnight Hour'
Linear Labs
Production superteam Adrian Younge and Ali Shaheed Muhammad are back. The duo dropped their highly-anticipated jazz fusion album on Friday (June 8) titled The Midnight Hour, complete with a rhythm section, full orchestra and features from legends like CeeLo Green, Questlove and Raphael Sadiiq.
Younge, the film composer behind Ghostfilla Killah's Twelve Reasons to Die series, first joined forces in 2013 with Muhammad, one-third of A Tribe Called Quest, to produce Souls of Mischief's comeback album There Is Only Now. Sessions for this new project began around the same time, only to be sidetracked by the duo's work scoring the Netflix show Luke Cage.
Now finally out, The Midnight Hour explores the potential for hip-hop-inflected soul revivalism. Along the way, Younge and Muhammad cover Luther Vandross' 1986 song, "So Amazing," tap Questlove and No I.D. to contribute percussion on jazz numbers "Dans Un Moment" and "Together Again," and let loose "Questions," the full version of a CeeLo Green demo that was sampled on Kendrick Lamar's "Untitled 06," from the rapper's 2016 compilation untitled unmastered.
For those who want the full nostalgic sensory experience, the 20-track project is available now on vinyl via Bandcamp, in addition to streaming platforms. Young and Muhammad have also reunited to score the second season of Luke Cage, which comes out on June 22.
Check out the tracklist and listen to The Midnight Hour below.
1. Black Beacon
2. Mare featuring Ladybug Mecca
3. It's You featuring Raphael Saadiq
4. Questions featuring CeeLo Green
5. So Amazing featuring Luther Vandross
6. Gate 54
7. Do It Together featuring Bilal
8. Redneph In B Minor
9. Better Endeavor
10. Smiling For Me featuring Karolina
11. Don't Keep Me Waiting featuring Marsha Ambrosius
12. Bitches Do VooDoo featuring Angela Muñoz
13. Possibilities featuring Eryn Allen Kane
14. Mission
15. Dans Un Moment D'errance featuring Laetitia Sadier, Questlove & Keyon Harrold
16. Love Is Free featuring Eryn Allen Kane
17. Together Again featuring No I.D. & James Poyser
18. Feel Alive featuring Karolina & Loren Oden
19. There Is No Greater Love featuring Loren Oden & Saudia Yasmein
20. Ravens
See New Music Releases for June 2018