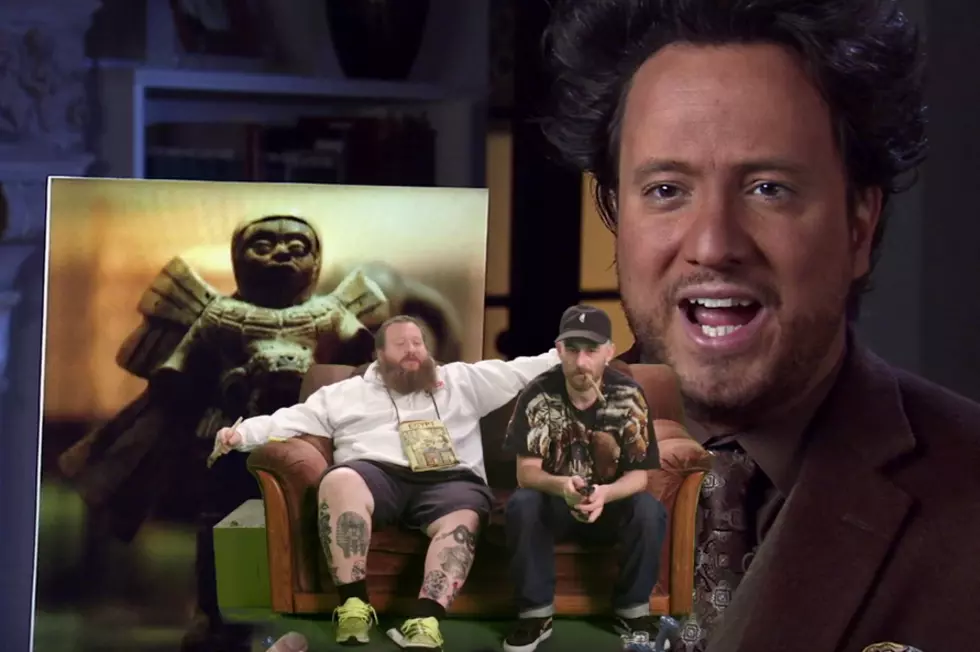 Action Bronson Will Get High as Hell and Watch His Favorite Show 'Ancient Aliens' for 4/20 Special
YouTube
Since Vice launched its Viceland channel, Action Bronson has emerged as one of its more magnetic personalities, his culinary tour of the world F*ck, That's Delicious expanding his public profile beyond rap. It makes sense, then, that Vice would tap into Bronson's sense of humor and cast of characters to produce further television programming, which is precisely the case for an upcoming 4/20 special.
The above trailer for Action Bronson Ancient Aliens 4/20 Special shows a Mystery Science Theater 3000 style show in which Bronson, along with friends such as Big Body Bes and The Alchemist (both of whom appear in FTD), watch and riff on Ancient Aliens, a History Channel show that offers theories about intergalactic visitors from our planet's past. There are of course colossal-sized joints and intricate glass pieces in rotation as well, lending further stoned-out conspiratorial depth to some of the concepts discussed in the show, which, for the special, will look at The Mayan Conspiracy.
The hour special will air on Wednesday (April 20) at 8 p.m., and based on the trailer, will include such gems from Bronson as, "Ancient Aliens was pretty much the best thing that was ever created by man," "As humans, we have that burning desire to find out who we are" and "Even though he's a genius of the genre I love."
Viceland will also be airing a F*ck, That's Delicious marathon starting at 5 p.m. EST that will lead up to the special. Bronson and crew will travel to Morocco, Jamaica, Alaska and more throughout the six preceding episodes.
Bronson is also selling limited edition F*ck, That's Delicious hoodies for one day (4/20) only. Cop them right here.
20 Albums Turning 10 in 2016