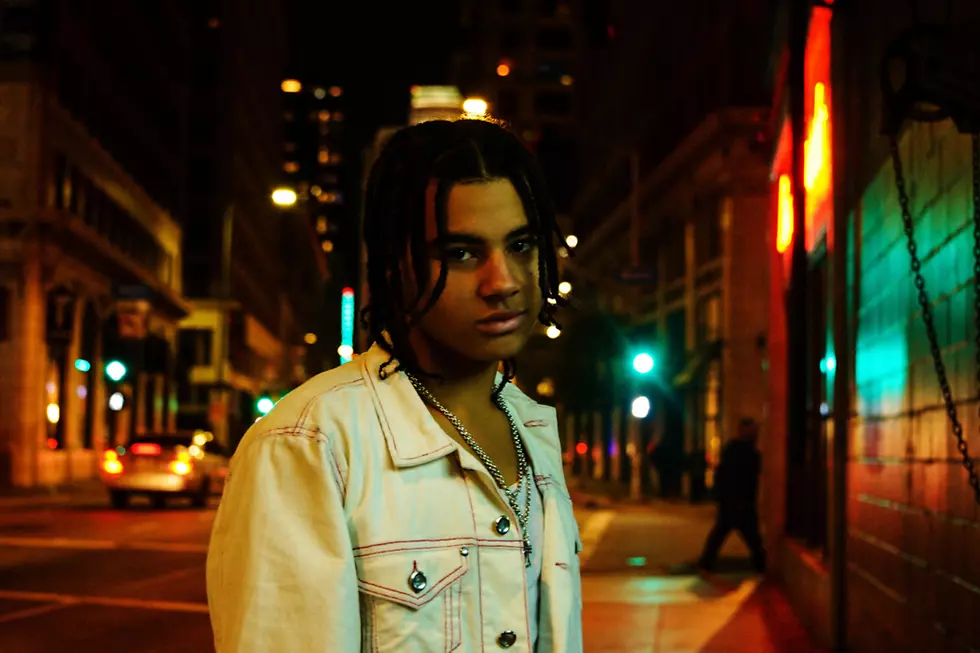 The Break Presents: 24KGoldn
Audible Treats
24KGoldn's debut project is titled Dropped Outta College, an accurate portrayal of his real life. Just last year, he was a student at USC, pursuing his goal of being a player in the financial world. The rapper decided to put that on pause to see if he could blow up through music.
"Ballin Like Shareef," his ode to highly touted basketball player Shareef O'Neal, stirred the waters, but "Valentino," a fun, catchy track about wanting money over love, took 24KGoldn to another level. The track blew up on TikTok, climbing to No. 92 on the Billboard Hot 100. With an Auto-Tuned hook that's hard to forget, the song has racked up more than 76 million streams to date and serves as further proof that 24kGoldn has true talent.
Now signed to Records, LLC/Columbia and with his aforementioned debut out in the world, 24kGoldn can rest assured that he's headed in the right direction. In this week's edition of XXL's The Break, he shares more about his background, why he plans to stick around and compares himself to a common kitchen mainstay.
I grew up listening to: "I vividly remember my mom would put on this VHS of Michael Jackson's greatest hits music videos. I'd watch that all the time. Black Eyed Peas, my dad played a lot of Miles Davis. Also, on my own: Akon. T-Pain, Snoop Dogg. My mom put me on to Kanye West, too. So, very eclectic, all-over-the-board styles of music and eras."
My style's been compared to: "With 'Valentino,' it definitely got a lot of Young Thug [and] Future comparisons. A Boogie [Wit Da Hoodie]. You have a song like 'Games On Your Phone'—people like, 'Yo, this is kinda like a new-age Chris Brown, singing on that R&B, young love kinda reflective attitude."
My standout records to date have been: "Definitely 'Valentino,' blows everything out the water right now. We're No. 102 on the Billboard chart right now, so hopefully we're gonna get added to [the Spotify playist] Today's Top Hits and we're gonna start hitting radio. Then we gonna push everybody out the way. Sorry, Travis Scott. Sorry, Post Malone. Sorry, Lil Tecca. Sorry! It's my time now. 'Games On Your Phone' is following up right behind it. 'A Lot To Lose' is really my second biggest song. That's a real song to me."
My most slept-on song: "'Ballin Like Shareef,' because that was one I released before I signed my deal. That was a song that got a lot of people's attention. A lot of people liked that more than 'Valentino,' it's just not everyone has taken the time to go a couple of songs back and check it out. That was the first song where I really found my sound."
My standout moments to date have been: "Probably Rolling Loud Bay Area. Just because, the year before, looking back and being like 'Oh there's like 50 people here, I'm just glad to be here and have the experience.' Then the next one, it's a thousand times more people. I remember walking out and being like 'All these people came to see me perform?' Kids was running to the stage. I felt so loved and that was really a sign that I was doing the right thing for the right reasons."
Most people don't know: "I used to do commercial acting. I've been in Lunchables commercials, Honda commercials, Blue Diamond Almonds commercials. And before I realized I could do music professionally, my whole plan was to go into finance and become a hedge fund manager. Thank God I didn't do that."
I'm going to blow up because: "It's inevitable, man. I've manifested all these things and I'm putting the work in, too. I'm a workaholic. I never stop. I'm always thinking about the next play, what's the next move, what could we do to be better than we are now. And I'm not gonna be satisfied until I've achieved my maximum potential. My potential is so high. Beyond just blowing up as an artist, it's creating a world. We're gonna act in movies, write movies. I'm gonna make video games. Everything is gonna be possible. Blowing up is a just a step up on the journey."
I'm going to be the next: "Combination of Drake and Justin Bieber, which is essentially sliced bread—in every house in America."
See 20 of Your Favorite Rappers Naming Their Favorite Rappers